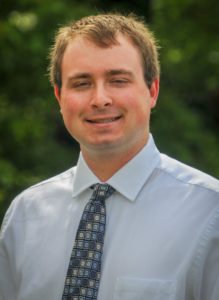 Name: Tyler Underhill
What are your parents' names? Clint and Sarah Underhill
Current Parish: Our Lady of Hope, Washington
What kinds of ministries were you involved in at your parish? What kinds of Diocesan retreats/events have you attended that have been helpful?
Around the seventh grade I began serving Mass on the weekends at my parish. I continued this, as well as serving weddings and funerals, all the way through high school. On Sundays I helped teach religious education and became involved over the summer in the Our Lady of Hope youth group, Ancora. I also ministered in the St. Vincent de Paul Youth Society for a while which would take one day a month at our local food pantry. On a diocesan level, the March for Life pilgrimage was very helpful in my own discernment. Being able to see so many Catholics and people of faith united for life made a big impact on my own faith life and vocation.
When did you start thinking of priesthood? What made you think of it?
As a young first or second grader attending Mass with my parents or grandparents, the thought of priesthood entered my mind. Watching my pastor celebrate the Mass really made an impression on me. Some years went by before I seriously considered priesthood again and it was towards the end of junior high going into high school that I really began to dwell on it. Serving Mass regularly and talking with my pastor helped me in this process.
What aspect of priestly ministry is most attractive to you? Why?
The celebration of the Sacraments, especially the Holy Eucharist and Confession, is the most attractive aspect of priestly ministry to me. Through these sacraments, Christ is made present to people. Bringing Christ to others for the work of salvation is the duty and responsibility a priest is called to do.
What gives you hope for the Catholic Church today?
In today's world, as the Church continues to struggle with vocations and other such crises, I first and foremost trust in the words Christ uttered to St. Peter when He said, "thou art Peter, and upon this rock I will build my church; and the gates of hell shall not prevail against it" (MT.16:18). Faith in Jesus Christ is the only hope necessary.
What Scripture passage hits home with you the most these days? Why?
In the Gospel of Mark chapter 8:36, Jesus says, "For what shall it profit a man, if he shall gain the whole world, and lose his own soul?"
I have been dwelling on this passage recently and I am reminded of it due to a priest who once told me, "Jesus is our only necessity."
What things do you find life-giving? (Reading? If so, what have you read? Movies? If so, what movies have you enjoyed? Music? If so, what music moves you? Hiking, exercising? Explain why.)
I love to watch movies, especially historical-fiction. I also enjoy landscaping and working in the yard. Besides listening to classic rock most days, I frequent the classical channel in my car and on my computer.
What is the hardest part of going to seminary? What are you most excited about this year for seminary?
The hardest part about going to seminary is being away from parish life. I am most excited this year because it is my senior year at Bishop Brute Seminary and there are many events and programs going on such as NCYC and the March for Life trip.