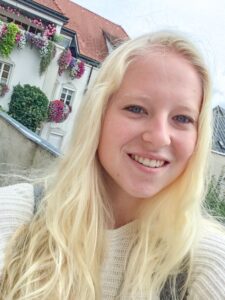 Appreciate nature and art. These are works of God and works of those created by God. Before the people of our faith could understand God's word, art illustrated biblical stories, Christian history and God's love for us. This is why our churches depict the Stations of the Cross in paintings or statues, and why church windows are mosaic and colorful glass works of art.
The most striking examples of using art to tell a story or to simply express the awe and vast power of God can be found in the churches in Rome. These places of worship were built with marble, decorated with gold trim and crowned with domes. Many are places of pilgrimage with relics from or of the saints such as Basilica of Saint Peter in Chains, which houses the chains that bound St. Peter when he was imprisoned. This same basilica also holds a well-known statue of Moses created by Michelangelo. Rome is filled with paintings, more statues, mosaics, and architecture from famed artists such as Caravaggio, Raphael and Michelangelo.
I have been to Rome twice. The first time, I traveled with my mother to visit the capital of the Catholic Church. Our tour guide told us the saying, "Every 30 meters (100 feet) you walk, you will find a church in Rome. If you counted," he added, "you would find over 900 churches in Rome."
The second time I visited Rome, I was on a pilgrimage to attend the canonization of John Henry Newman, theologian and poet from England. Many college campuses, including the University of Evansville and the University of Southern Indiana, have Newman clubs that arose as a result of a movement from his teachings. Newman believed that college students should be learning about more than just the material necessary to attain their degree. As Catholics, he felt it was our responsibility to discover the connections between God's teaching and the modern life we live. This was the explanation given to me, as a student at UE, when I first inquired about Newman. This continues to be one of my favorite descriptions of, then-Blessed and now St. John Henry Newman.
Thirteen pilgrims including Benedictine Father Christian of St. Meinrad Archabbey, UE Newman Club Director Jenny Koch, and students from UE, USI and Bellarmine University traveled together from the Midwest to Italy. The gift alone of walking through Rome and finding so many articulate churches would have been worth the trip, but we were able to experience so much more.
On the evening of the day that we arrived, we were able to attend a vigil service for Newman in the Basilica di Santa Maria Maggiore or Basilica of Saint Mary Major in English. In the largest church dedicated to Mother Mary, I was asked to read a short prayer at the service asking Mary to help us form a closer relationship to the Lord. The prayer went as follows:
"Blessed John Henry was a devoted child of Mary, Mother of the Church. He went to her in all his trials, and thanked her in all his joys. Let us pray that the humble virgin of Nazareth will be a mother to all of us, as we strive to come closer to her divine son."
The miracle recipient, Melissa Villalobos, prays often for Newman's intercession as she also went to a university with a Newman Club. One of the highlights of the pilgrimage for me was meeting Melissa at this vigil service. She is an amazing role model for trusting and having faith in the Lord, even when facing difficult situations.
In addition to Newman, four women were canonized on Oct. 13, 2019. – Giuseppina Vannini of Italy, Mariam Thresia Chiramel Mankidiyan of India, Dulce Lopes Pontes of Brazil and Margherita Bays of Switzerland. Pope Francis led the Canonization Mass at St. Peter's Square in Vatican City with over 20,000 people from all over the world in attendance.
Scala Sancta means Holy Stairs in Italian. They are the stairs that Jesus climbed prior to his trial with Pontious Pilate. Pilgrims climb these stairs on their knees to honor the Passion of Jesus Christ. Our group was able to climb these as well. I later described the moment as, "the closest I had ever felt to God," and "the most personal conversation, I have ever had with the Lord."
Here are bits of advice I learned on our pilgrimage:
Take time to slow down from our fast-paced society, and appreciate the awe of God.
Say yes to the opportunities God provides.
Cherish Mother Mary.
Get to know people.
Use your knees sometimes.
Allow the Saints to help guide you to a closer relationship with the Lord.
Notice the beauty of your church.
Hailey Rose Thayer is a Biology Education major at the University of Evansville. She is from Schnellville and is a member of Divine Mercy Parish.