The Diocese of Evansville Office of Catechesis is introducing readers to Catholics from across our 12 counties for whom sharing the beauty of the Catholic Faith is a joy.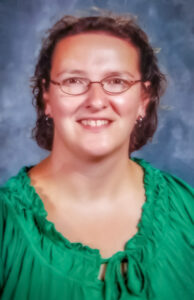 This month, we meet Leah Simon of Sts. Peter & Paul Parish in Haubstadt.
How and where do you experience God?
Anywhere, everywhere and more. He is everywhere I look if I will allow myself to see Him in all that I do and all that I am. I am ever-mindful and thankful for all I have and get to do because it's all because of Him. My life has been full of experiences. I was being called to follow God; I just need to let go of my plans and accept His plan for me.
Why is your faith important to you?
My faith completes me. It's an ever-steady part of my day from the moment I wake to when my eyes close. My faith also challenges me to be a better version of myself – each and every day.
How do you nurture your faith life?
I used to just go through the motions, always attending Mass faithfully but not truly living my life in Christ outside of Church. Something clicked, and I found a new life and desire to learn, do and give. I have strengthened my relationships with God in the last five years in ways that have changed me and my outlook on life. I found ME through HIM in devotionals, journals, scripture, daily Mass in the summer and most recently through faith formation.
How does your Catholic faith shape the way you live?
My Catholic faith is who I am today. I am a mother, wife, teacher, friend and more; but in all those roles, I am Catholic. I am filled by the Holy Spirit, nourished by the Eucharist and have been put here for a reason. I believe that reason is to spread to the word of God in creative, fun and faith-filled activities.
How do you share your faith with others?
Hopefully, I am sharing my faith by (others) just seeing me being who I am called to be: a disciple of God. I teach at a public high school, and I share myself by helping shape teens in life through math – but also in their highs and lows. I love to find ways to make them feel special, appreciated and supported. The teen years can be rough. I make it a priority to speak to each of my students every day, to attend their events and share life with them. I also teach religious education on Wednesday nights, and it by far is my favorite night of the week! The passion and love for Jesus is alive within those kids. It makes me so happy and joyful to hear them pray, sing, read from the Bible and proclaim "My mom told me I didn't have to come tonight, but I really wanted to be here." I also help with Vacation Bible School in our area. VBS is magical, like Disney. It's three short hours of singing, learning, crafting, praising, etc. for Jesus. My passion is to reach as many children (as possible), young or old, with the good news of Jesus Christ. As an educator and a mother, I want the world to be a better place; and it all starts with allowing yourself to love and know Jesus. VBS, Religious Ed, retreats and prayer are areas that we can reach kids in a creative way for them to go home, alive and filled with the Holy Spirit, to evangelize. As a Casting Crowns song says, "I am just a nobody, trying to tell everybody about Jesus."
Leah is a member of Sts. Peter & Paul Parish in Haubstadt. She is married to Corey (since 2000), and they have one son, Keith. She is a math teacher at Harrison High