By Megan Erbacher
The Message assistant editor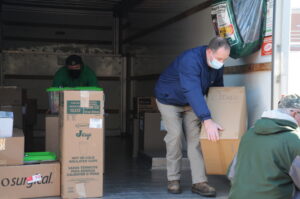 Parents want their children to experience that "special moment on Christmas morning," according to Valerie Bostick, St. Vincent Early Learning Center executive director.
Ascension St. Vincent Evansville employees helped provide that special moment for 52 families of the Early Learning Center through the 10th annual Spirit of Christmas Giving campaign. On Dec. 9, hospital employees delivered more than 1,000 boxes full of donations to help brighten the holiday season for the families.
"Even at the holidays, just to have a sense of normalcy, especially this year and last year, they need something to look forward to, and the parents need the stress to come off their plate," Bostick said. "They're working, they're providing for their families, but it's that time of year where they just need a little extra support. … Kids just know the spirit of Christmas, and they believe in Santa. They want to know that they're like other kids." 
Hospital and Early Learning Center employees formed an assembly line from a large box truck into the center to get all of the boxes inside to be organized by number for the families. Several long tables in the facility overflowed with the Christmas blessings, which included wrapped gifts and toys for children, laundry detergent, nonperishable food items, cleaning supplies, clothes, and some were given zoo or movie passes.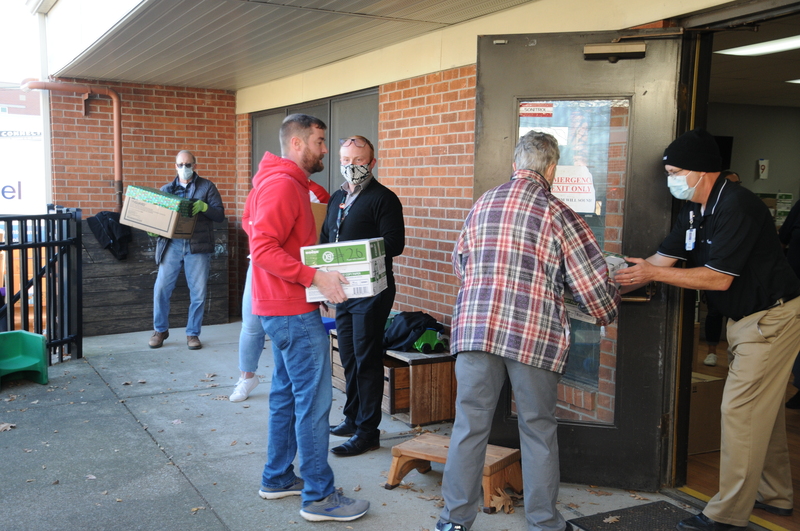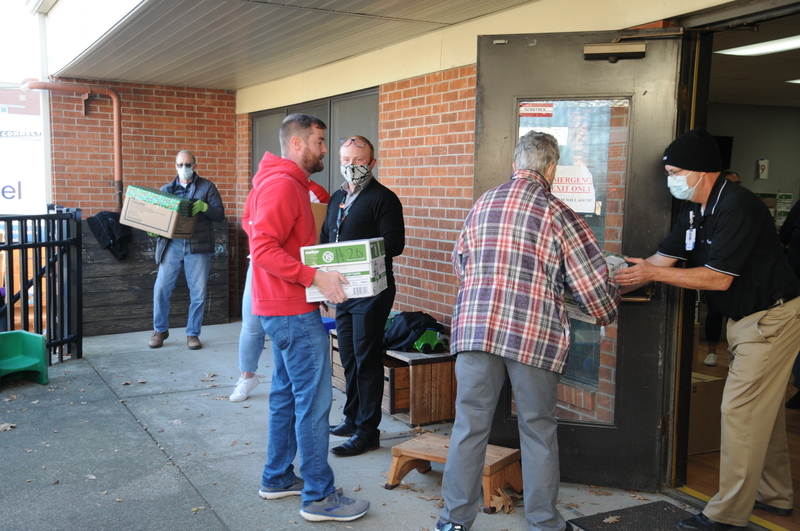 Each family is labeled by a number, Franciscan Sister Jane McConnell explained, to keep personal information confidential. Families picked up their goodies the days following the donation drop-off.
Sister Jane, director of mission integration for Ascension St. Vincent Evansville, said every year employees ask when they'll get their family so they can start shopping. She said employees see it as a "joy and a blessing" to provide gifts for the children and families each year. She said about 60 of the hospital's departments and offices – including nurses, doctors and staff members – donated items.
"Our folks just want to share their blessings at Christmastime," Sister Jane said. "Even if they're struggling themselves a little bit because of COVID and finances. … It's the spirit of the season for them and a blessing for them."
Daughter of Charity Sister Joanne Vasa, director of mission integration for St. Vincent ELC, said families show a variety of emotions when they pick up their gifts.
"Oh, they're overwhelmed – definitely," she said.
The Spirit of Christmas Giving campaign is important, Sister Joanne said, because of the "common Vincentian roots" between the hospital and the Early Learning Center. 
"That's part of who we are, giving wherever people are in need," she said. "It's the idea to raise up the spirit of St. Vincent for people who are truly in need. And they're very grateful. Some families said last year that it was overwhelming just to see all of these beautiful boxes."
To spread the generosity, families who receive the donations will again "pay it forward" this year by donating art and craft supplies to children in St. Vincent's pediatric unit. The center's families have donated many items, including coloring books, crayons, paints, crafts and more for the children at the hospital to enjoy.
"Everybody has something to help somebody else with," Bostick said.
Sister Jane appreciates the partnership and said it helps both organizations be aware of each other's needs.
Bostick expressed her gratitude for the hospital's continued partnership.
"It's a lot of hard work, and it's a huge payoff for families," she said. "We want them to know they're loved, and God loves them. They're not forgotten."
For more than 100 years, the St. Vincent Early Learning Center has been an accredited early childhood education and care center founded on the values of the Daughters of Charity.
For more information on the Early Learning Center, visit www.stvincentearlylearningcenter.org.