Special to The Message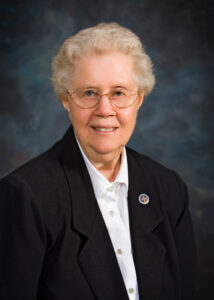 Benedictine Sister Beata Mehling, 94, of Monastery Immaculate Conception in Ferdinand, died Feb. 24 at the monastery. Among her other teaching assignments, Sister Beata served 18 years as Principal of Marian Day School in Evansville.
Sister Beata was born Augusta Mehling on Nov. 9, 1927, in Ferdinand, the seventh of nine children of the late John and Mary Ida (Schum) Mehling. She entered the Sisters of St. Benedict of Ferdinand in 1944 from St. Ferdinand Parish and made her monastic vows in 1946. In 2021, she celebrated 75 years as a Sister of St. Benedict.
Sister Beata earned a Bachelor's degree in Elementary Education from St. Benedict College. She also attended Indiana University, the University of Evansville and Brescia College (now Brescia University), and earned a Master's degree in Special Education from Indiana State University.
She taught elementary and special-education students for 25 years at St. John School in Starlight, Indiana (Archdiocese of Indianapolis); St. Theresa School in Evansville; Marian Day School in Evansville; and Madonna Day School in Memphis, Tennessee.
She served as Principal of Marian Day School for 18 years while directing a summer camp for the handicapped at Anderson Woods in Siberia, Indiana, where she supervised the handicapped-living residents for an additional 13 years. She also served as Supervisor of Adult Handicapped Living for Dove House in Jasper for four years, and for Owl House in Jasper for two years. She worked in supportive services at the monastery in Ferdinand and in Prayer Ministry in Hildegard Health Center.
Mass of Christian Burial was celebrated Feb. 28 in the monastery church. Interment followed in the monastery cemetery.
Please keep Sister Beata, her family and the Sisters of St. Benedict of Ferdinand in your prayers.