By Megan Erbacher
The Message assistant editor
On Sept. 10, Bishop Joseph M. Siegel stood outside the Vincennes Fire Station to offer special blessings on Knox County's first Safe Haven Baby Box.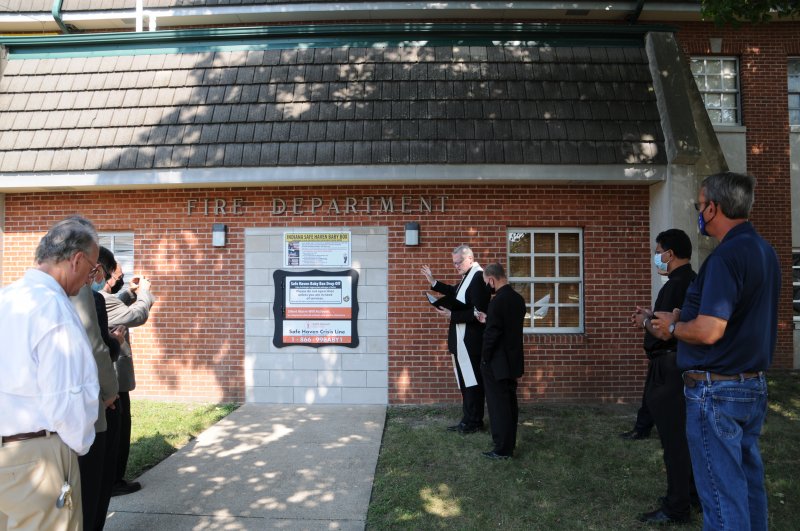 The baby box is located on the south side of the Vincennes Fire Station, at 928 Vigo Street, and it was made available to the public after a community unveiling on Sept. 3. Among those in attendance at the Sept. 3 unveiling were Vincennes Mayor Joe Yochum, Vincennes Fire Chief Brett Bobe and Monica Kelsey, founder and CEO of Safe Haven Baby Boxes.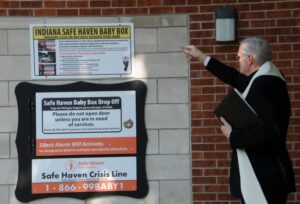 Father Tony Ernst, administrator of St. Francis Xavier Parish in Vincennes and St. Philip Neri Parish in Bicknell, and several Knights of Columbus were present for the bishop's blessing.
Bishop Siegel thanked all those who helped make the baby box possible and contributed to the effort to provide a safe haven for these children, these precious gifts of God. The bishop asked God to bless the Safe Haven Baby Box, and he prayed that it may contribute to the protection of God's creation.
The Vincennes Safe Haven Baby Box is the 40th Safe Haven Baby Box nationwide.
The closest available baby box is in Mount Vernon, approximately 80 miles away, on the north side of the town's fire station. Mount Vernon's baby box was the first in Southwestern Indiana, and the first within the Catholic Diocese of Evansville.
Indiana is one of five states with updated Safe Haven Laws. The Indiana General Assembly passed Senate Bill 340 in 2018, which permits fire stations that are staffed 24 hours-a-day to install baby boxes. It expands the 2000 Safe Haven Law, which allows people to anonymously surrender a healthy newborn without fear of criminal prosecution.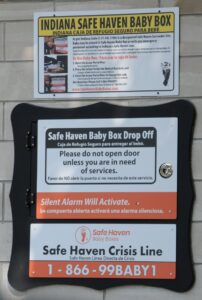 The first baby box became available in 2016 to raise awareness of the Safe Haven law and to end illegal infant abandonment.
Safe Haven Baby Boxes cost roughly $15,000 to install. Local organizations around Vincennes funded costs for the installation of the Safe Haven Baby Box, and Walker Masonry and Indian Creek Stone donated services for the installation.
The baby boxes are equipped with alarm systems to immediately notify 911 and the staff inside the fire station. The boxes also have heating and cooling features and lock as soon as a baby is placed inside.
Kelsey said in a news release that her goal with founding the baby boxes is to give women a place to safely surrender.
"The Safe Haven Baby Boxes organization provides the necessary resources for a parent who is in need of counseling and options when considering a surrender," she said. "Some parents want complete anonymity and this Safe Haven Baby Box provides that for them."
The organization also staffs a 24-hour hotline, 1-866-99BABY1 (1-866-992-2291), to offer women the opportunity to talk to a trained professional as they consider safely surrendering their baby.
To date, eight babies have been surrendered in baby boxes with four surrendered in 2020, according to officials.
"I'm happy this is available in our community but pray it's never needed," Vincennes Mayor Yochum said in a news release.