By Tim Lilley
The Message editor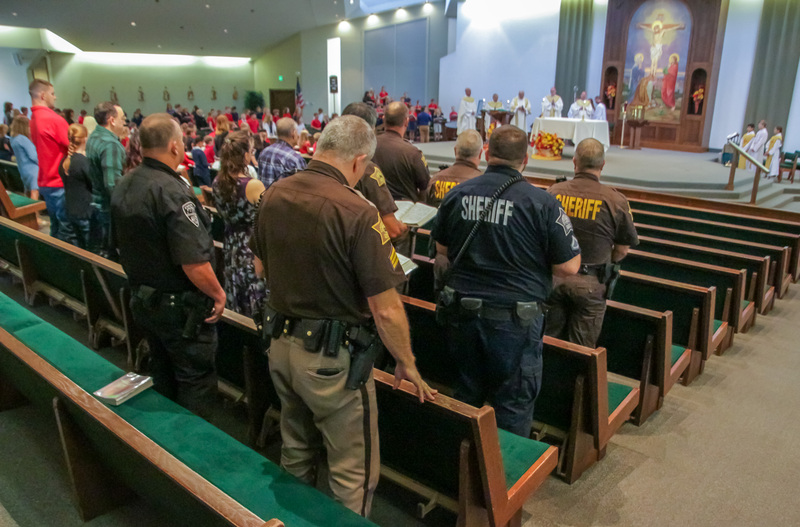 Bishop Joseph M. Siegel celebrated the Diocese of Evansville's annual Blue Mass Sept. 22 at Holy Redeemer Parish. Members of the Vanderburgh County Sheriff's Office, including Sheriff Noah Robinson; the Vanderburgh County Prosecutor's Office, including Prosecuting Attorney Diana Moers; Evansville Police Department School Resource Officer Hank Wheeler; and retired officers attended. They were joined by students, faculty, staff and school families from Holy Redeemer School.
Concelebrants included Holy Redeemer Pastor Father Jason Gries; Father Zach Etienne, Pastor of Evansville's Good Shepherd Parish who serves as an Evansville Police Department Chaplain; and Father Ray Brenner, Senior Priest of the Diocese of Evansville. Deacon Tom Cervone of Holy Redeemer assisted; and Matt Miller, Director of the Diocese of Evansville Office of Worship served as Master of Ceremonies.
Celebration of the Blue Mass in the Church dates back to 1934. Masses are celebrated annually across the nation on or near the Feast of St. Michael the Archangel, patron of those in public safety.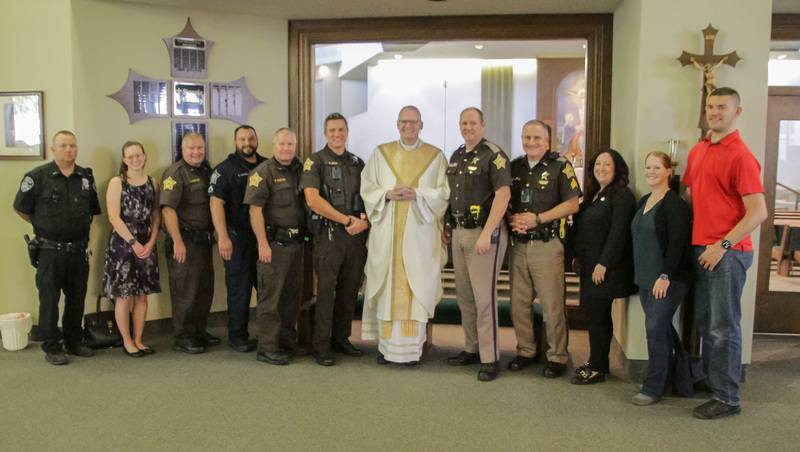 Bishop Siegel welcomed public-safety servants in attendance as he joined them in praying for the intercession of St. Michael for his protection and guidance.
During his homily, Bishop Siegel talked about the Mass' first reading, from Revelation, which began: "War broke out in heaven; Michael and his angels battled against the dragon. The dragon and its angels fought back, but they did not prevail and there was no longer any place for them in heaven. The huge dragon, the ancient serpent, who is called the Devil and Satan,
who deceived the whole world, was thrown down to earth, and its angels were thrown down with it" (Rev. 12: 7-9).
Calling St. Michael the great protector of heaven and earth, the bishop observed that the angels remind us how God uses them as messengers to guide and protect us on our earthly journeys. In union with the angels, he said those in attendance gathered to honor and thank those who protect and serve in our local community.
He said, "Any time we serve anyone in need, we are serving the Lord." He added that we all know those who serve in public service do so at great cost, but they continue to step up day after day. He added, "We ask God to bless you and protect you."
The bishop also recognized the families of those who serve, asking a special blessing on them and noting that the Blue Mass also honors them for their sacrifices and support. He also remembered those who had fallen in the line of duty, saying that the Mass honored their witness of sacrifice.
In closing, Bishop Siegel said, "Thank you all for being with us and for your service. May God bless you always."