By Megan Erbacher
The Message assistant editor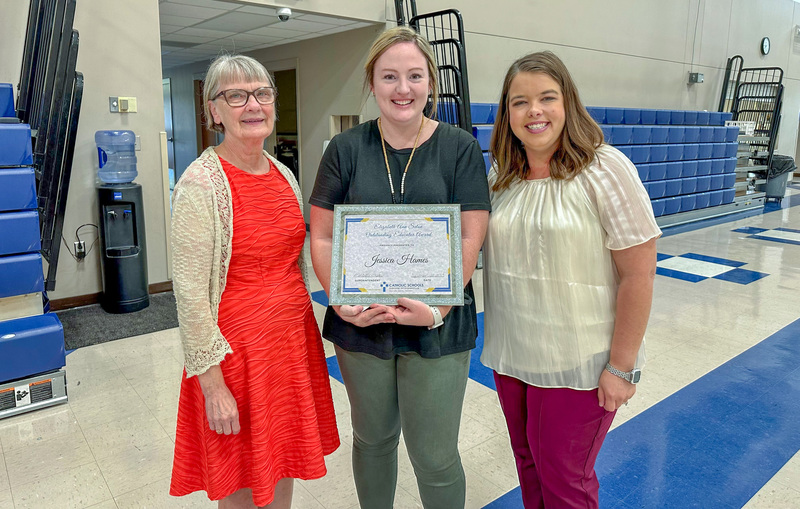 Diocese of Evansville Catholic School teachers are "our heroes," said Diocesan Superintendent of Schools Michelle Priar
"We want to highlight the many ways in which they are enriching the lives of their students each and every day," Priar said.
To recognize teachers, the Catholic Schools Office this year implemented a monthly teacher recognition initiative named the Elizabeth Ann Seton Outstanding Educator Award. Each month, deserving teachers are nominated by their fellow colleagues, and a committee selects one winner. The Catholic Schools Office then makes a surprise visit to the teacher's classroom to present them with a certificate and a small gift. All teachers in the diocese are eligible to receive the award.
On Sept. 26, Jessica Hames, special education teacher at Westside Catholic School's St. Agnes Campus, was named the first recipient of the Elizabeth Ann Seton Outstanding Educator Award. This is Hames' 11th year teaching in the diocese.
In a nomination form, a colleague said, "Westside Catholic is proud to support a lot of students with different needs academically. Jessica Hames has stepped up to start the year off right for all our students. She has updated support documents for all K-8 students, communicated needs for teachers, and arranged CSEPs for families switching students' services to our school. She has made the transition here at school so successful for students, teachers and families for our students with special needs!"
The idea for the Elizabeth Ann Seton Outstanding Educator Award came from feedback the Catholic Schools Office gathered from principals. Priar explained that a previous award, the Catholic Educator Innovative Award, was used to honor an individual annually who employed novel and innovative efforts to achieve success in student learning.
"This was a great way to recognize educators, but we wanted to broaden our scope and celebrate more teachers more often.
"We feel that Catholic schools are special places, and Elizabeth Ann Seton, who was the first American-born saint, was instrumental in forming the first Catholic schools in the United States," Priar said. "It made sense to us to use this opportunity to honor both Saint Elizabeth Ann Seton and our teachers."