The Message editor
Bishop Joseph M. Siegel celebrated the Rite of Election and Call to Continuing Conversion for Diocese of Evansville catechumens and candidates on March 10 at Precious Blood Parish in Jasper.
Twenty-seven parishes from across the diocese presented their Catechumens – those who will be baptized, confirmed and receive the Eucharist during the Easter Vigil – and their Candidates – those who will be confirmed and receive the Eucharist during the Easter Vigil. Their respective sponsors joined them in the presentation at Precious Blood Parish.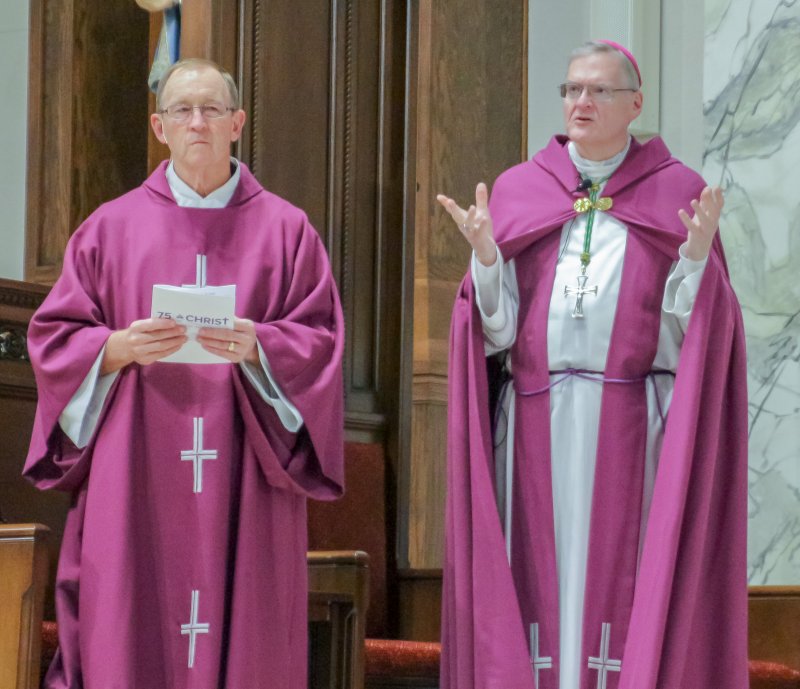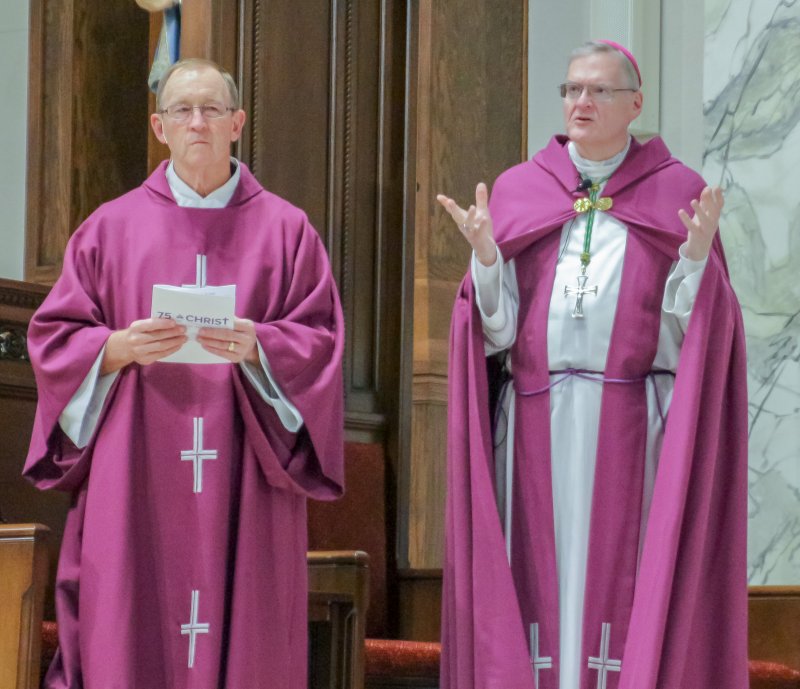 In his homily, Bishop Siegel told the Catechumens and Candidates that, no matter how they arrived at this point in their spiritual journeys, they had come to deepen their relationship with Jesus by becoming full members of the Church – the people of God.
Bishop Siegel talked about the day's gospel reading (Matthew 4: 1-11), calling it an invitation for all to "go out into the desert." He suggested that the stories of most people who are recognized for their greatness include some type of "desert experience" that involved "a time apart, a spiritual breakthrough."
To have such an experience, Bishop Siegel said that we need to leave our TVs, computers and digital devices behind – along with our favorite kinds of food and drink. The goal, he said, is to empty ourselves totally so that Jesus can fill us up.
He encouraged the Catechumens and Candidates to use Lent as a time for more intense spiritual preparation, and interior reflection that will help prepare them to receive the sacraments. He also said that our diocesan community is looking forward to the day when they will join the community at the table of the Lord.
Bishop Siegel assured the Catechumens and Candidates of his prayers and those of the entire diocesan community, and he encouraged them to continue to be at peace as they move forward. He reminded them that they are being accompanied by the grace of Christ, the intercession of Mary, the Mother of God – our diocesan patroness – and the prayers of all the angels and saints.
He concluded by asking God's blessing on them as they continued their "Lenten journey of prayer, preparation and conversion."