Special to The Message
The Diocese of Evansville's Source + Summit retreats are set for the weekend of April 17-19. This year's theme is "I Tell You the Truth."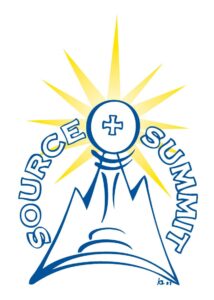 Mater Dei High School will host the youth retreat, for those ages 13-24, April 17-19. Corpus Christi Parish in Evansville will host the adult retreat, for those ages 21 and older, from 8 a.m. to 3 p.m. CDT on April 18.
Four special guests will present at Source + Summit this year:
Sister Anne, from Apostolic Sisters of St. John's St. Kateri Priory in Princeville, Illinois
Magician and speaker Giancarlo Bernini of Austin, Texas
Father Joe Freedy of the Diocese of Pittsburgh, Pennsylvania
Father Josh Waltz of the Diocese of Bismarck, North Dakota
More information about them appears below.
Bishop Joseph M. Siegel will celebrate Mass at Mater Dei High School on April 19. Other priests, deacons and religious of the Diocese of Evansville will participate in the retreats, and they will be joined by visiting members of the Franciscan Friars of the Renewal, the Nashville Dominicans, and the Brothers and Sisters of St. John.
Source + Summit retreats feature plenty of fellowship and fun mixed with Eucharistic Adoration, catechesis, Confession, Games, Mass, personal testimony, the rosary, music and skits.
About Source + Summit
Source + Summit began as a lay initiative in response to a challenge from Pope St. John Paul II (at World Youth Day in 1989) for a new evangelization of young people that would prepare them for the new millennium. Youth 2000 answered that challenge; and now, Source + Summit is answering the challenges our young people face in our diocese and beyond, responding to their particular needs, and they keep coming back for more. Source + Summit is winning our young people for Christ and building His Church. It helps them to form a Catholic conscience and gives them the courage to be lights in this dark culture.
Over 200 volunteers come from across our 12 counties to make this weekend happen, connecting our young people in a very unique opportunity to grow together to strengthen our local church.
2020 Speakers
Sister Anne of the Apostolic Sisters of St. John says, "It was during a young adult retreat with the Community of Saint John that I felt like I met Jesus in a personal way for the first time. I finally felt and believed that He loved me! He thirsts for my love. It was as if His thirst for my love met my thirst to love and be loved." Saint Kateri Priory is the home of the order's Novitiate House, where the sisters are formed in religious life as they discover the charism proper to the order's Institute through prayer, work, study and fraternal life.
Giancarlo Bernini is a Catholic magician who has astounded international audiences with an incredible magic-show experience, with multiple national television and radio appearances under his belt – including "Penn & Teller: Fool Us" and "The Jennifer Fulwiler Show." Using the art of illusion, Giancarlo is able to share a unique perspective on faith and what it means to seek truth.
Father Joe Freedy grew up in Bethel Park, Pennsylvania. He earned a scholarship to the State University of New York at Buffalo to play football, Father Freedy started at quarterback for three years. After college, he entered Seminary in Pittsburgh and was assigned to study in Rome at the Gregorian University and then the John Paul II Institute. He was ordained a priest in June 2008 and is currently serving at St. Alphonsus and St. Alexis Parishes in Pittsburgh. Father Joe is the president of Dry Bones Ministries; for more information, visit drybonespgh.org.
Father Joshua Waltz is a priest of the Diocese of Bismarck, North Dakota. Ordained alongside his brother in 2007, Father Waltz has served as the diocese's Director of Vocations since 2013. He received his bachelor's degree in sacred theology at the Pontifical College of St. Thomas Aquinas in Rome. During this time he also earned a master's degree in moral theology with an emphasis in bioethics. He is presently teaching a class in spirituality at the University of Mary in Bismarck.
To register for the Source + Summit youth retreat, visit http://www.sourcesummitevansville.org/registration.html.
To register for the Source + Summit adult retreat, visit http://www.sourcesummitevansville.org/adult-retreat.html.