By Tim Lilley
The Messsage editor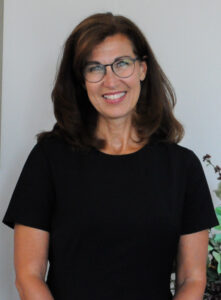 After an extensive national search, Evansville Bishop Joseph M. Siegel announced Feb. 3 that he has appointed Michelle Priar to serve as Superintendent of Catholic Schools, effective Feb. 6.  Michelle has served as Interim Superintendent of Schools since July 1, 2022.
Bishop Siegel said, "I am thrilled that Michelle has accepted my invitation to serve as Superintendent on a full-time basis. I am confident that she has the faith commitment, experience and skills necessary to collaborate with our schools in ensuring that we continue to provide an outstanding Catholic education to our students.
"Michelle brings a wealth of relevant experience to this appointment, including 32 years of service in our diocese as a teacher, principal and Associate Superintendent of Catholic Schools; and a comprehensive understanding of our parishes, diocesan offices and ministries," Bishop Siegel added.
Diocesan Chancellor/Chief Operating Officer Dean Happe said, "We are extremely pleased and blessed to have someone of Michelle's experience, commitment and passion for our diocese serve in this role. I look forward to her continued partnership with our talented school pastors, administrators,and faculty to ensure a quality Catholic education for the students of our diocese."
Dean added, "As Michelle prepares to take on this new role in a permanent capacity, I would like to thank her and the members of our Catholic Schools Office for the extra time and effort they have given during these last several months.  I also want to take the opportunity to recognize and thank all of our pastors, school administrators and staff across our 26 Catholic Schools, in collaboration with our Catholic Schools Office, for their strong commitment to providing an excellent Catholic education for our students."
Michelle earned a bachelor's degree in education, general science and biology from the University of Southern Indiana. She went on to earn a master's degree in educational leadership, administration and foundations from Indiana State University.
Before joining the Catholic Schools Office in 2010 as associate superintendent, Michelle served as principal of St. James School in Haubstadt from June 2003 to July 2010; as principal of St. Joseph School in Vanderburgh County from August 1999 to June 2003; and she taught junior high science at St. Theresa School from August 1990-1999.
Michelle said, "I truly feel blessed to have spent my educational career working with so many dedicated and gifted teachers, administrators and school pastors.  I thank Bishop Siegel for providing me an opportunity to serve in this new role as we continue working on behalf of the students and their families in the Diocese of Evansville."
Michelle's community involvement includes serving in various roles at Sts. Peter and Paul Parish in Haubstadt, including as School Council, PTO Officer, Religious Education teacher and Eucharistic Minister; a current board member of Marian Educational Outreach; and University of Evansville Advisory Board member.
The diocese will begin the search for a new Associate Superintendent of Schools in the near future.