By Tim Lilley
The Message editor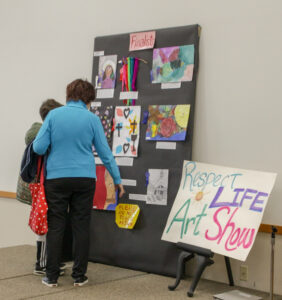 Evansville's Holy Rosary Parish held its sixth annual Respect Life Art Show Feb. 5 with an expansive display of students' works in the atrium of Holy Rosary Church. Michelle Weisman, K-8 art teacher at Holy Rosary School, noted that the in-person show was the first since COVID-19 changed pretty much everything.
Michelle said, "We are excited to be doing the show in-person again, and we displayed all of the students' works in the church atrium." The top three entries in each division earned a special display in the parish hall. Weisman presented awards to the student artists who could attend after the parish's 9 a.m. Mass.
"All the student received certificates in school over the past week," Michelle said. 
Following are brief summaries of some of the class discussions that helped students focus their projects.
Kindergarten – They talked about doves being symbols of peace and the Holy Spirit, and based their works on an image of doves flying.
First grade – Students re-told the story of Noah, and noted that God created a rainbow as a sign of His love. Student made rainbows using twigs they found outside the school – symbols of the twig that the dove returned to the Arc qs proof that the flood had receded – and multi-colored yarn.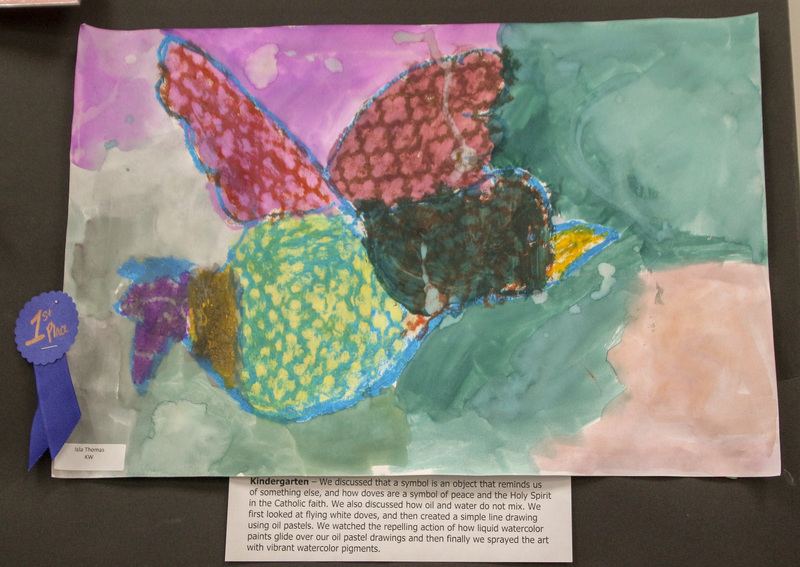 Second grade – After discussing several saints and the many things they did during their lives, students captured saints in their art.
Third grade – After watching a video tour of the Chapel of the Rosary in Vence, France, students created white windows with black silhouettes of symbols that reminded them of the holy family and our Catholic faith.
Fourth grade – Students looked at photos of stained-glass windows from Holy Rosary and other churches, then used a snowflake-like design to cut frames of black paper with a variety of shapes, which they filled with frosted paper and tissue paper to recreate the look of vibrant stained-glass windows.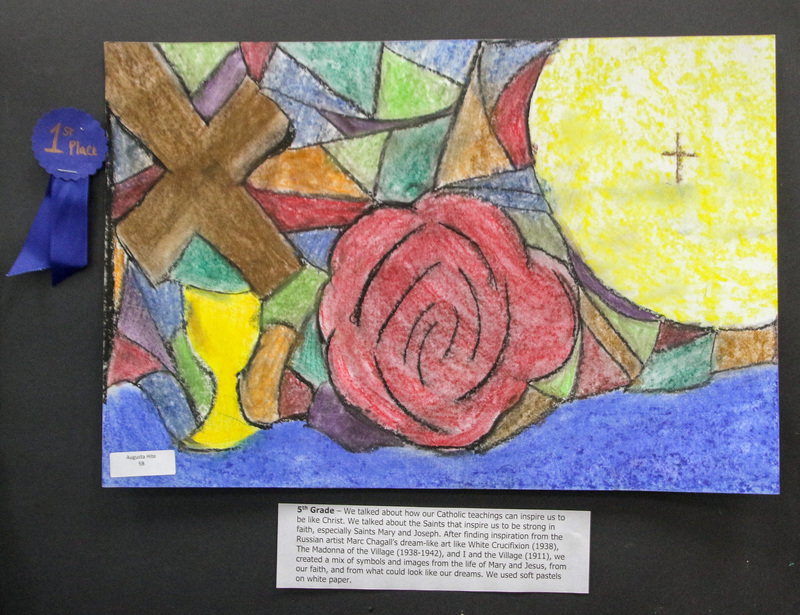 Fifth grade – Finding inspiration in the works of Russian artist Marc Chagall, students used soft pastels on white paper to create impressionistic images of the holy family.
Sixth grade – Students completed a photo tour of Holy Rosary Church and School, then used Bristol paper, ultra-fine-tipped markers and felt-tip markers to create works with images of our faith – based on images seen in the photo tour – using stippling, scumbling and hatching lines.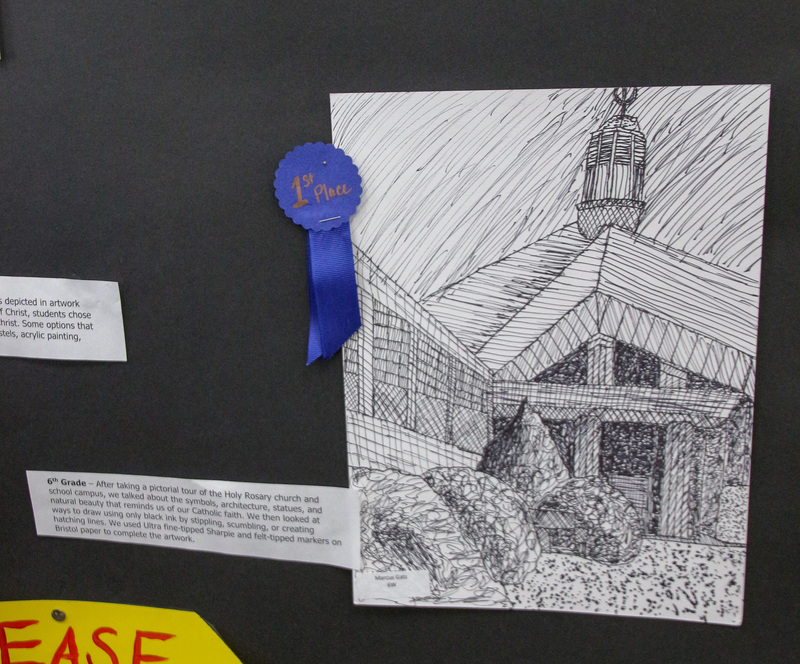 Seventh grade – After talking about Jesus and viewing many works of art from around the world, seventh-graders created portraits of Jesus using a variety of media: watercolor paints, oil pastels, acrylic paints, metal carving and mixes of media.
Eighth grade – Students watched a Respect Life-themed video by Catholic Relief services as inspiration to create sculptures using wire hangers, nylon socks and scraps of wood as the bases – including wood scraps from the creation of an angel wood sculpture on the Holy Rosary campus.
Respect Life Art Contest 
Following are the top three artists in each division:
Kindergarten to second grade; First place, Isla Thomas, kindergarten; second place, Kaitlyn Patterson, first grade; third place, Tatum Fields, second grade.
Third grade to fifth-grade: First place, August Hite, fifth grade; second place, Eleanor Legate, third grade; third place, Desiree Mahinay, fourth grade.
Sixth grade to eighth grade: First place, Marcus Gatz, sixth grade; second place, Cypress Aliotta, eighth grade; third place, Madelyn Schnur, seventh grade.