By Megan Erbacher
The Message assistant editor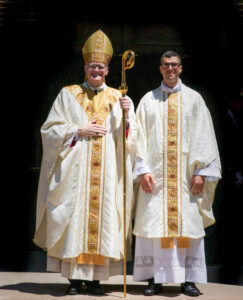 Bishop Joseph M. Siegel ordained Deacon Garrett Braun to the priesthood June 5 at St. Benedict Cathedral in Evansville.
The cathedral was packed with friends, family and faithful from across the diocese's 12 counties who gathered to celebrate with the newly ordained priest and his family.
Concelebrants included Bishop Emeritus of Evansville Gerald A. Gettelfinger, Auxiliary Bishop F. Richard Spencer of the Archdiocese for the Military Services and about 50 priests. Deacon of the Mass was Deacon Simon Hermann, OSB, with Assisting Deacon Rocky Mattingly and Assisting Deacon Jay VanHoosier of St. John the Baptist Parish.
Masters of Ceremonies were Father Chris Forler, pastor of St. John the Evangelist Parish in Daylight; Father Christopher Droste, pastor of Holy Cross Parish in Fort Branch, St. James Parish and Sts. Peter and Paul Parish in Haubstadt; Larry Durchholz and Diocesan Director of Worship Matt Miller.
Seminarians of the Diocese served as acolytes and servers for the Mass.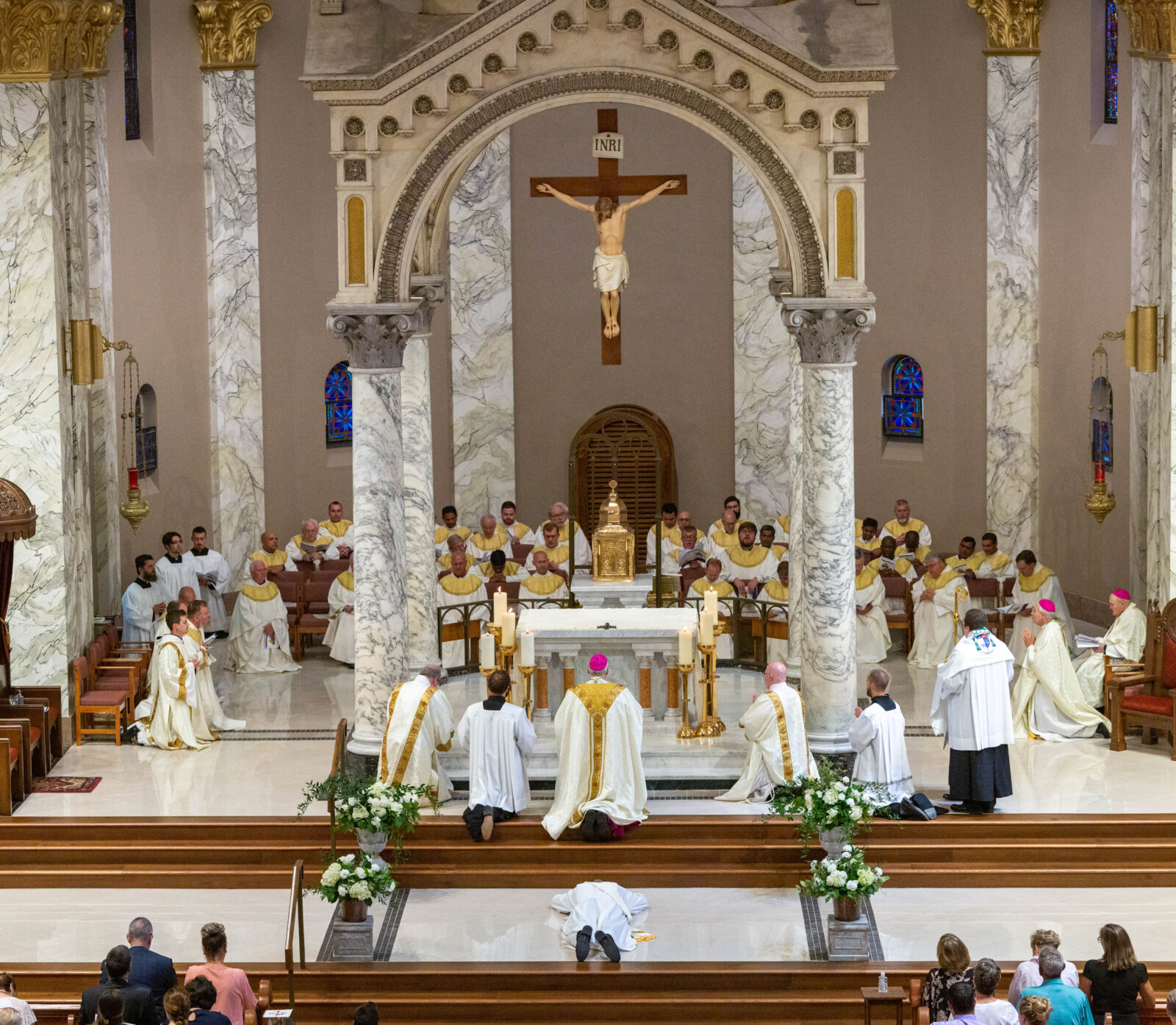 Diocesan Director of Vocations Father Tyler Tenbarge presented Deacon Garrett to Bishop Siegel during his priestly ordination Mass.
During his homily, Bishop Siegel said, by his priestly ordination, Father Garrett will preach the word of God and be the living image of Jesus Christ: Christ the priest, Christ the shepherd, Christ the Apostolic Church.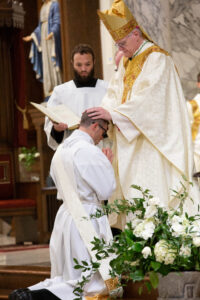 As a priest, Bishop Siegel said Father Garrett will accompany his people on their life's journey, comfort them in sorrow, rejoice in their blessings and challenge them, all while sharing Christ's sacrificial love for them so that they might go forth and share their love and service to others.
Bishop Siegel also offered a special thanks to St. Joseph, whose year, declared by Pope Francis, Father Garrett is ordained. St. Joseph was chosen by God to be the protector of the Holy Family and the family of the church, Bishop Siegel said, and Father Garrett, too, is called to be a faithful servant and a spiritual father to his people and protect them.
The newly ordained Father Garrett Braun is a Newburgh native. He is the son of Randy and Judy Braun, and he has two older sisters. His home parish is St. John the Baptist Parish in Newburgh.
Father Garrett plans to serve as a U.S. Air Force chaplain following his service to the Diocese of Evansville. He begins his priestly service on Aug. 4 as Parochial Vicar of St. Francis Xavier Parish in Vincennes and of St. Philip Neri Parish in Bicknell. He will start in August due to his summer assignment with the Archdiocese for the Military Services.