By Tim Lilley
The Message editor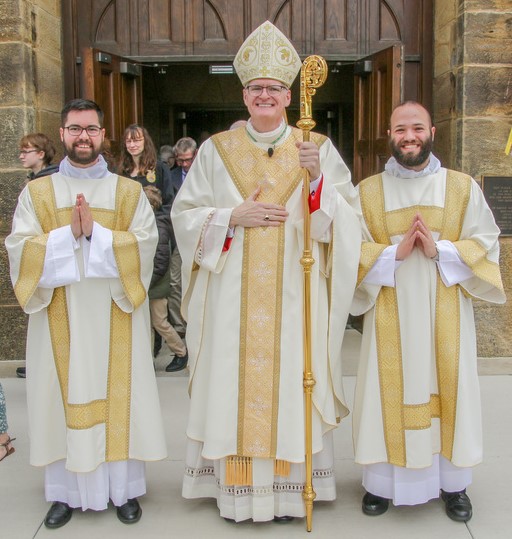 Bishop Joseph M. Siegel ordained Diocese of Evansville Seminarians Philip Rogier and Caleb Scherzinger as Deacons during an April 29 Mass at St. Joseph Parish in Jasper. Members of the Seminary Class of 2024, Caleb and Philip are on schedule to be ordained to the priesthood in 2024. They are studying at Saint Meinrad Seminary in St. Meinrad. 
Another member of the diocese's Seminarian Class of 2024, Tyler Underhill, is studying at the North American College in Rome. Diocesan Director of Vocations Father Tyler Tenbarge tells The Message that Tyler will be ordained a Deacon later this year in Rome, and is scheduled to join Caleb and Philip for priestly ordination next year in Evansville. The Message will have coverage of his diaconate ordination in a future issue.
Caleb is a son of St. Isidore the Farmer Parish in Celestine, and Philip is a son of Christ the King Parish in Ferdinand.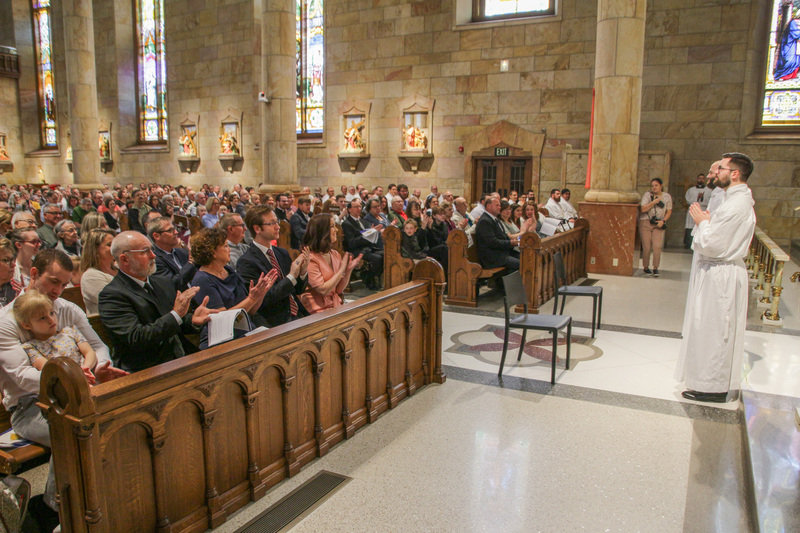 More than 30 priests of the Diocese of Evansville concelebrated the Mass with Bishop Siegel, and more than 20 deacons from across the diocese attended. Fourth Degree Knights of Columbus served as the Honor Guard.
Before the homily, Father Tyler Tenbarge presented Caleb and Philip to Bishop Siegel for election. Upon acceptance, the entire sanctuary responded with a warm round of applause. 
In his homily, Bishop Siegel thanked Caleb and Philip for their response to the vocation they discerned. He also thanked all who have helped them along the way – their parents, their teachers at Bruté and Saint Meinrad seminaries, and Father Tyler Tenbarge, Father Tony Ernst and Father Martin Estrada of the Diocesan Office of Vocations.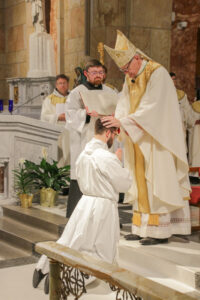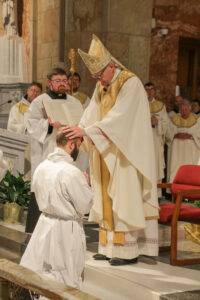 Bishop Siegel told Caleb and Philip their ministry as deacons will be reflected in Word, Sacrament and Charity. They will proclaim the Gospel and deliver homilies, sharing God's word formally. He encouraged them to embrace their efforts with fidelity and joy. Doing so, he said, is how they will verify the Word they proclaim.
They will assist on the altar during Mass and serve as Ordinary Ministers of the Eucharist, and Bishop Siegel encouraged them to assist in the sacrament with joyful and holy reverence. In charity, he added, they will provide service to the poor and vulnerable. He said that nothing can substitute for a ministry of charity that is hands-on. Bishop Siegel noted that their ministry as Deacons will only be effective with prayer, saying that their consistency of prayer is key. 
He concluded by saying he prayed that, through the intercession of Mary and all the Saints, Caleb and Philip would live with reverence, joy and generosity.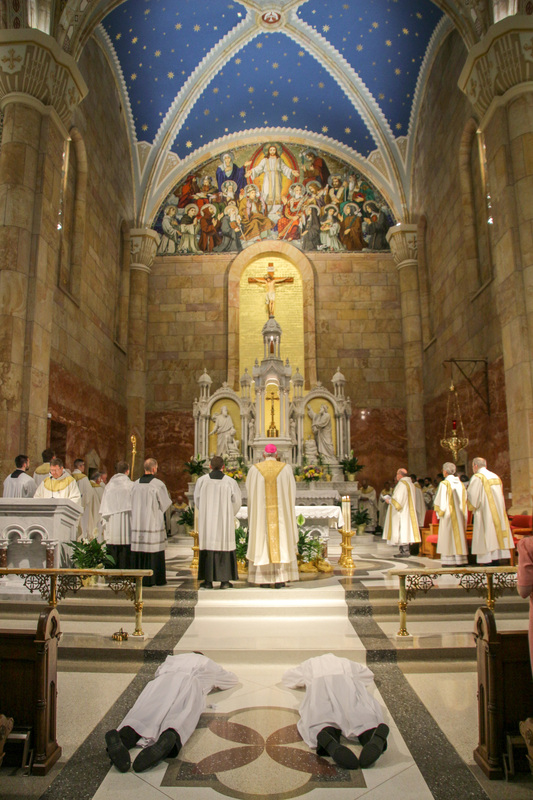 As they prepared for ordination, Caleb and Philip prostrated themselves before the altar during the Litany of Supplication. Bishop Siegel then laid his hands on them and ordained them as Deacons. They vested for Mass with assistance from the permanent Deacons of their home parishes – Deacon Mike Siebel of St. Isidore the Famer Parish and Deacon James King of Christ the King Parish.
Bishop Siegel then handed on the Book of the Gospels to the new Deacons, saying to each of them, "Receive the Gospel of Christ, whose herald you have become. Believe what you read, teach what you believe, and practice what you teach."
Deacons Caleb and Philip then assisted with the Liturgy of the Eucharist.
Following the conclusion of Mass, the priests and deacons in attendance joined Bishop Siegel just outside St. Joseph Church to greet and offer congratulations to the new Deacons. A reception followed immediately in the parish hall.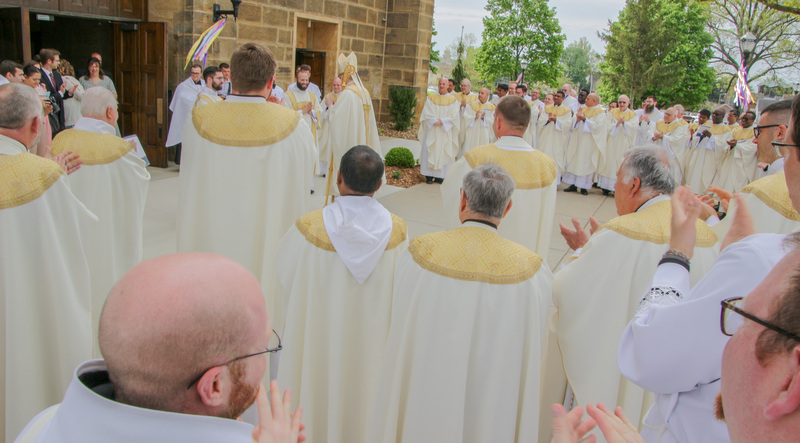 Editor's note: Deacon Stephen McGinnis, a member of the Seminarian Class of 2023, will be ordained to the priesthood for the Diocese of Evansville June 3 at St. Benedict Cathedral. More information will appear in a future issue of The Message.