By Megan Erbacher
The Message assistant editor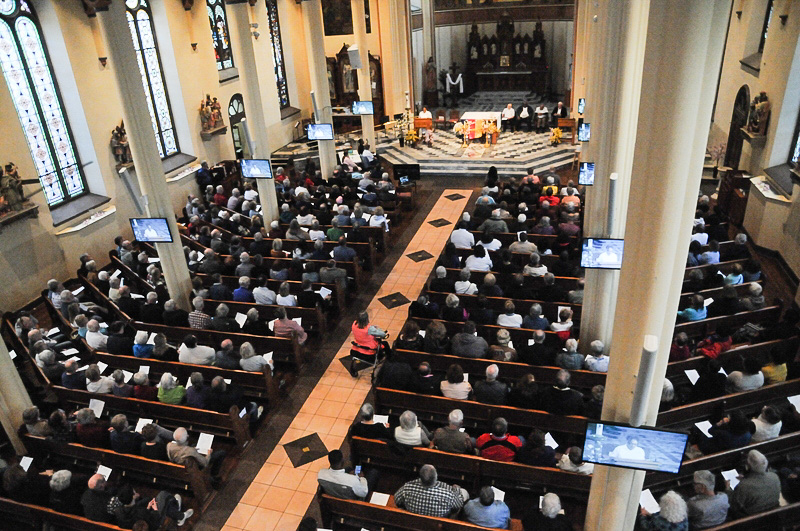 Congregations Acting for Justice and Empowerment hosted the 20th Annual Nehemiah Action May 1 at All Saints Parish's St. Anthony Church in Evansville.
CAJE, a nonprofit comprising 27 faith-based congregations in Vanderburgh, Posey and Warrick counties, hosts the public event annually "to seek commitments from public officials to adopt reasonable and well-crafted solutions around the problems that plague the greater-Evansville area." Members believe it's their responsibility to advocate for not only themselves, but also for their neighbors.
St. Anthony Church was filled with supporters who gathered to "bring greater justice to our city and region." For about 20 years, members have worked to help save lives and raise the quality of life in Evansville.
CAJE co-chair Rev. Sam Buehrer, lead pastor at Bethel United Church of Christ, called the action to order and welcomed everyone.
CAJE follows the biblical model of social justice that Nehemiah practiced. "When I heard their outcry and these charges, I was very angry … So I called together a large meeting to deal with them …" (Neh. 5:6, 7).
Having discerned problems in our community regarding unsafe housing and its solution, and affordable housing, CAJE mustered their "people-power" at the Nehemiah Action. Officials said, "Our network of justice-seekers stand tall for needed change."
Before reports from CAJE members and seeking commitments from civic leaders in a number of areas, the organization recognized and saluted founding members, Diocese of Evansville Senior Priest and former All Saints Parish Pastor Father Jay Davidson; Rev. Larry Rascoe, Sr., Nazarene Missionary Baptist Church; Rev. Gerald Arnold, Independence Missionary Baptist Church; and Diocese of Evansville Senior Priest Father Stephen Lintzenich.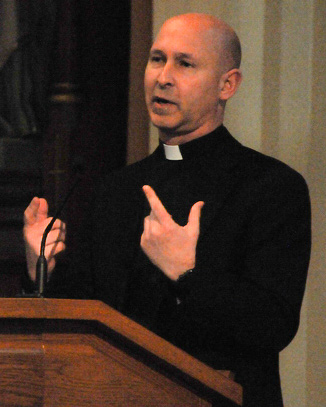 Father Alex Zenthoefer, Diocese of Evansville Vicar General and rector of St. Benedict Cathedral in Evansville, said he was humbled to be at the 20th annual event.
"I'm so grateful for the tremendous witness that you bring to our community," Father Alex said. "A witness of perseverance and a witness of hope that we don't have to settle; that there is work to be done. It is a joy to be with you as we celebrate 20 years of CAJE making a difference in the life of our community."
Pam Decker, Nazarene Missionary Baptist Church member, gave CAJE's Safe Neighborhoods report on behalf of Evansville Police Department Sgt. Joshua Brewer, who was unable to attend. Decker noted that in the second year of the gun violence intervention task force, gun violence in Evansville has decreased from 56 percent to 27.7 percent.
In order to respect everyone's time, a prepared list of questions were previously given to civic leaders before they publicly responded yes or no. Then, they were allowed three minutes to provide further comments.
The event's first request was for Evansville Mayor Lloyd Winnecke. CAJE asked Mayor Winnecke, based on the 2026 deadline to spend the $10 million ARPA funds he designated for affordable housing, will you publicly identify all ARPAcontracted and/or plan affordable housing projects prior to Nov. 1? Mayor Winnecke agreed.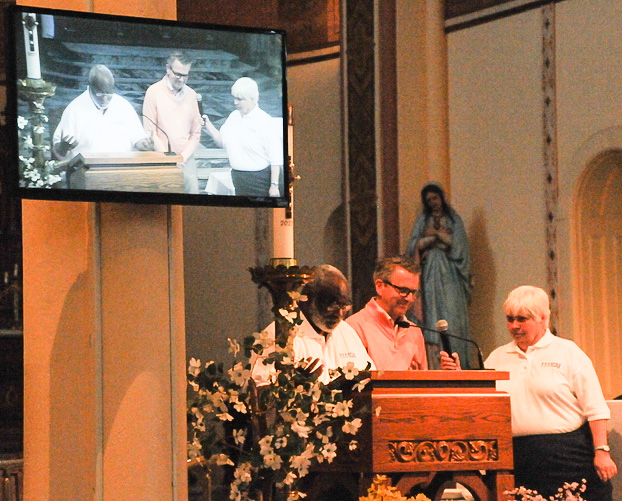 Another request for Mayor Winnecke focused on affordable housing in Vanderburgh and Warrick counties. After years of committing $500,000 annually to the city's Affordable Housing Trust Fund, CAJE requested Mayor Winnecke continue his previous commitment to annually allocate $500,000 into the fund for 2024. The mayor agreed.
CAJE also asked Zac Heronemus, Aurora executive director and City Council president, questions focused on tenant rights and safe housing conditions.
Linda Henzman offered a report on CAJE's 20 years of transformative changes, which include a dental clinic, expanded bus routes and NARCAN to first responders.
At the end of the evening, Rev. Floyd Edwards, pastor of Mt. Olive Galilee Baptist Church, offered a closing prayer.
"As CAJE members, we may not always get what we ask for," he said. "But if we keep asking, if we are persistent, God above hears our cry, and he impacts the hearts of those who lead us. As we go forward, may we never lose sight of the power of all of us that we, when we all come together as one, we are a force to be reckoned with. We thank God almighty for the strength to stand."