By Tim Lilley
The Message editor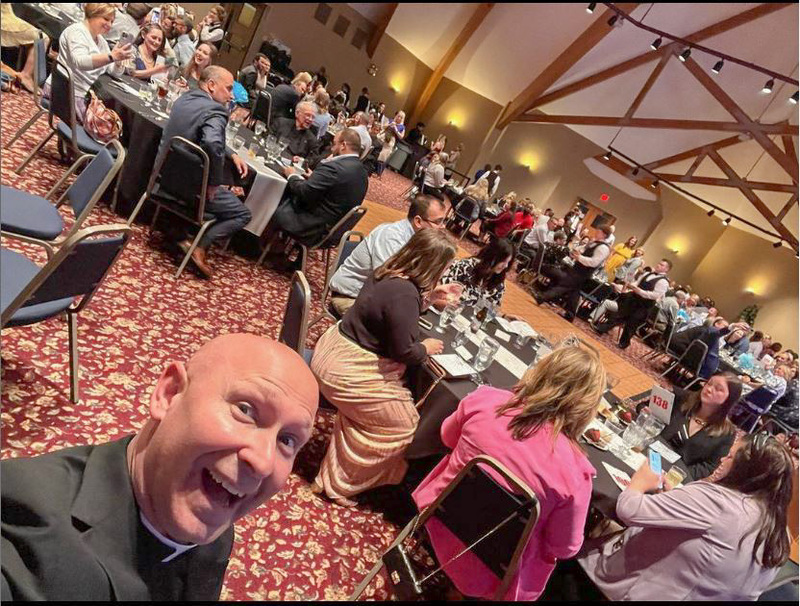 A crowd of more than 200 turned the Easter Seals Crescent Room into a Marian Educational Outreach celebration hall April 29 during an event that recognized and honored MEO's 65 years of service to diocesan Catholic schools and the students with disabilities they serve.
MEO Executive Director Emily Schnapf tells The Message that preliminary numbers show around $50,000 raised during the event to support MEO and its mission.
Emily said she was thrilled with all the new faces in the crowd, saying, "Many new faces and new donors attended the event this year, and fun was had by all. We are blessed with a community of supporters who allow the mission of supporting students with unique needs to remain in our Catholic Diocese of Evansville schools."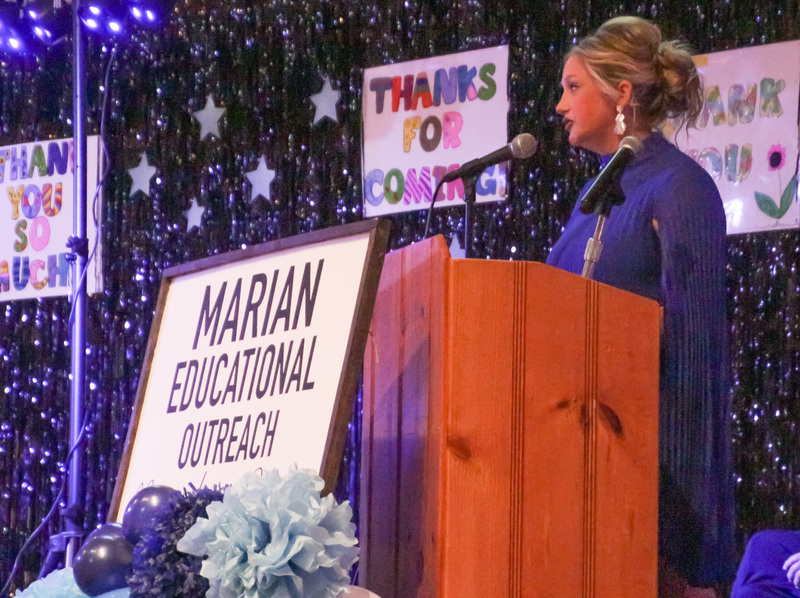 Emily welcomed everyone and provided an overview of MEO and its 65-year history. She added, "For 65 years, MEO's mission has strengthened, grown, expanded and changed. Throughout our history, however, advocacy has been a pillar of our work. It's a beautiful thing, and we know that our community efforts are paying off because of the wonderful new faces we see here this evening."
Bishop Joseph M. Siegel attended the celebration and offered the invocation to begin the evening. 
Later, as an element of raising awareness, Emily asked everyone to stand and shoot selfies with folks around them, encouraging them to post the photos to social media with a message of support for MEO. 
She said that, from the Marian Day School serving 12 students when the late Benedictine Sister Beata Mehling opened its classrooms in 1958, MEO's mission has expanded to one that now serves more than 900 students across Diocese of Evansville Catholic schools. MEO's focus is on partnering with schools so that more students can have a Catholic education. "They receive love and support, and God is included in their education," she explained.
Throughout the evening, festivities paused long enough to facilitate three moments of giving that served as the fundraising tool for the event. Each was accompanied by a story of how MEO has impacted students, their families and their schools.
MEO board member Martha Pitt recalled how her daughter Abby became the first student at Reitz Memorial High School to benefit from MEO's efforts. Within a short time, she said, there also were three students attending Mater Dei who benefitted from MEO's efforts. Across the diocese, the organization provides grants and training opportunities for Catholic schools to best prepare themselves for students with unique needs.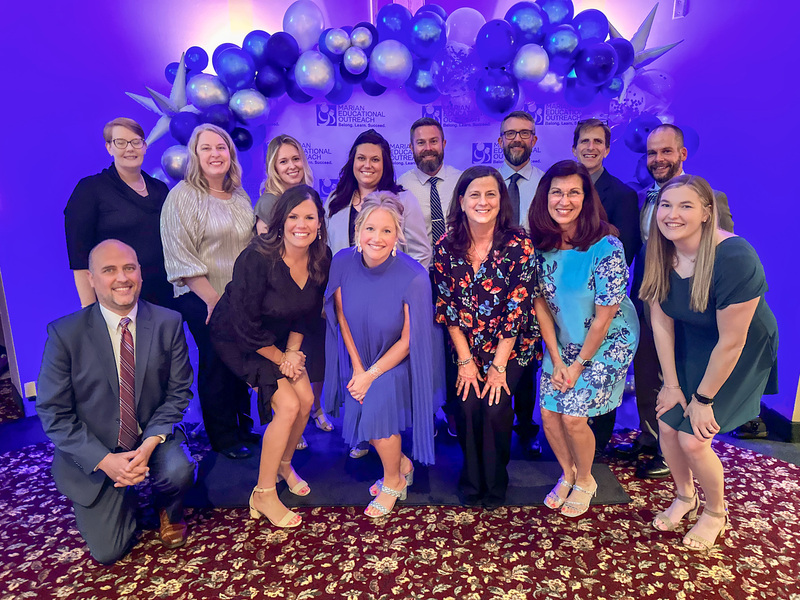 Emily said, "My hope is that every member of our diocese knows the work of MEO and is familiar with why we are called to embrace all children." She emphasized Jesus' message, as recounted in the Gospel of Mark: "Whoever receives one child such as this in my name, receives me; and whoever receives me, receives not me but the One who sent me" (Mark 9:37).
About the April 29 celebration, she added, "The evening was a true celebration and honoring of all of the wonderful work that MEO has achieved in the past 65 years. So much advocacy and support has made the work of Marian Educational Outreach vital in our Catholic school communities. Carrying out the mission of Marian Educational Outreach would not be possible without our generous supporters!"