By Victoria Arthur
Statehouse Correspondent for Indiana's Catholic Newspapers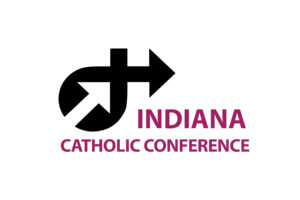 Almost all Hoosier families will have access to school choice after a dramatic conclusion to the 2023 legislative session and the passage of Indiana's next two-year budget, which also saw significant funding for a major mental-health initiative.
Following intense negotiations at the Statehouse lasting well past midnight April 28, the Indiana General Assembly passed a biennial $44.5 billion budget that Gov. Eric Holcomb hailed as one with "generational impact." Approximately half of the budget supports K-12 education statewide, with $2.3 billion in new funding that includes expanding school-choice eligibility to 97 percent of Indiana families.
"This is about as close as you can get to universal school choice," said John Elcesser, executive director of the Indiana Non-Public Education Association, which represents the state's more-than-400 non-public schools, including Indiana's 175 Catholic schools. "Thanks to this historic legislation, virtually all families in Indiana will have the ability to choose the school that is the right fit for their son or daughter."
Elcesser described the journey to this outcome as a rollercoaster ride to the end. While the Indiana House of Representatives had included a robust plan for school choice in its proposed budget earlier in the legislative session, the Indiana Senate later stripped all school choice-related measures in its version. 
The final debate on the House floor in the early-morning hours of April 28 included impassioned arguments for school choice from House Speaker Todd Huston (R-Fishers). 
"As was the case in 2021, when we had another significant expansion to school choice in Indiana, I have to take my hat off to Speaker Huston for doing everything possible to ensure that Indiana continues to be a national leader in school choice," Elcesser said. "The belief between Speaker Huston and (House Ways and Means Committee) Chairman Jeff Thompson that the state should be committed to funding students – not necessarily systems or schools – really rang true in their fight to get this budget passed."
Along with longtime allies, including the Indiana Catholic Conference, the INPEA emphasizes that school choice should not and does not come at the expense of public schools, which are vital to society. 
"We need strong public schools in the state of Indiana," Elcesser said. "The majority of kids go to public schools. But I have no problem with a small portion of my tax dollars going to support private-school choice. 
"Changing the paradigm is important right now," he continued. "In the state of Indiana, which has been a longtime supporter of school choice – both public-school and private-school choice – it's about all families being able to access that without sacrifice." 
Beginning in the 2023-24 school year, any child from a family of four that earns up to $222,000 annually will be able to receive a voucher to attend a school of their family's choosing. 
"Every family is unique, and even the highest quality public school may not be the best choice for a particular family and their individual situation," said Angela Espada, executive director of the ICC, the public policy voice of the Catholic Church in Indiana. "My daughter thrived both at public and private schools. Families are always best at making those decisions."I
n addition to expanding the financial-eligibility component of participating in school choice, the new legislation eliminates the so-called tracks or pathways to qualifying, which kept many families from participating even if they met financial-eligibility guidelines. 
These pathways included requiring a student to have spent two semesters in a public school or to live in a school district with a grade of F as determined by the state. In addition to removing those and other conditions, the newly passed budget extends school-choice access to all kindergartners. Until now, a kindergartner had to meet certain guidelines to qualify, such as an older sibling participating in a choice program. 
Another key priority for the ICC in the 2023 legislative session met with more measured success. 
Senate Bill 1, designed to transform emergency-response procedures for people experiencing a mental-health crisis, had enjoyed enthusiastic support from the General Assembly to the governor's office. Although it easily passed both legislative chambers, it ultimately fell short of the full funding called for by the bill's sponsor and numerous allies including the ICC. 
Studies had shown that Indiana would require $130 million per year to effectively implement Senate Bill 1, which aims to increase local usage of the 988 national suicide-and-crisis hotline launched last year, and continue building an infrastructure to provide for the mental-health needs of people in the most urgent situations. The legislation also calls for establishing mobile crisis-intervention teams that are trained to respond to mental-health emergencies across Indiana's 92 counties and fund additional community-based mental-health clinics statewide. 
The newly passed budget provides $50 million per year for the initiative – better than the $35 million that had been allocated prior to the final budget negotiations, but far below what advocates had hoped to see. 
"These funds will go a long way; but ultimately, we will need more to create and maintain an adequate infrastructure for dealing with mental-health crises," Espada said. "People in these situations are deserving of dignity and the right kind of care. That means having appropriate people who are trained to respond to these situations – and having appropriate places to take those who are in severe distress and in need of help."
Sen. Michael Crider (R-Greenfield), a longtime champion of mental-health legislation, had sponsored the bill and fought for adequate funding to the end. Lawmakers had looked at various options that were ultimately rejected, including a cigarette-tax surcharge.
"I am pleased that we got substantial funding for Senate Bill 1, but we need a long-term sustainable funding source that doesn't rely on general-fund dollars," Crider said. "I intend to keep working toward that goal. A cell-phone fee, a cigarette-tax increase or an alcohol-tax increase are all viable options."
One major win for the ICC and advocates for the poor was the first meaningful update in decades for the Temporary Assistance for Needy Families program in Indiana. The budget also saw increases in funding for food banks statewide. 

In addition, the ICC hailed the passage of changes to Indiana's Earned Income Tax Credit, including better aligning the state tax credit with the federal credit, eliminating the current marriage penalty, and extending credits for larger families, including those with foster children. 
"This is a big step in recognizing that married couples, foster parents and parents with more than two children shouldn't have to face penalties," said Alexander Mingus, associate director of the ICC. 
Mingus also pointed to new budget allocations of $10 million for land conservation and $30 million for trail usage in Indiana's state parks. Although those figures fell short of what the governor called for in his State of the State address, Mingus said the ICC was pleased "to see some investment in those areas."
At the conclusion of this long legislative session, which saw the ICC's steady presence at the Statehouse, Espada reflected on the past four months. 
"After every legislative session, people like to count wins and losses," she said. "The ICC is obviously happy with the expansion of school choice, the eventual increases to TANF and the success of many of our other priorities. However, we are more pleased that legislators are willing to listen to the ICC and their constituents. We are also pleased that people are willing to get engaged and reach out to their lawmakers. 
"It takes all of us."
For more information and ways to get involved with the ICC and its mission, visit www.indianacc.org.