By Megan Erbacher
The Message assistant editor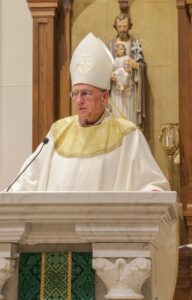 On Oct. 14, Bishop Joseph M. Siegel celebrated the annual Respect Life Mass at St. Benedict Cathedral in Evansville. Archbishop Joseph F. Naumann of Kansas City, Kansas, and chairman of the USCCB Committee on Pro-Life Activities, concelebrated Mass with Bishop Siegel, and he served as homilist.
The Diocese of Evansville's 2021 Respect Life Celebration, organized by the Diocesan Office of Family and Life, began with Mass, followed by dinner and a keynote address on life issues from Archbishop Naumann.
More than 150 people attended the Respect Life Mass. Eleven priests of the diocese concelebrated Mass with Bishop Siegel and Archbishop Naumann. Matt Miller, diocesan director of the Office of Worship, served as Master of Ceremonies.
Archbishop Naumann began his homily by thanking Bishop Siegel for the invitation to attend the annual Mass and serve as homilist. One of the joys of chairing the Pro-Life Committee, he said, is "visiting other dioceses to discuss this core moral teaching of our church about the sanctity of human life."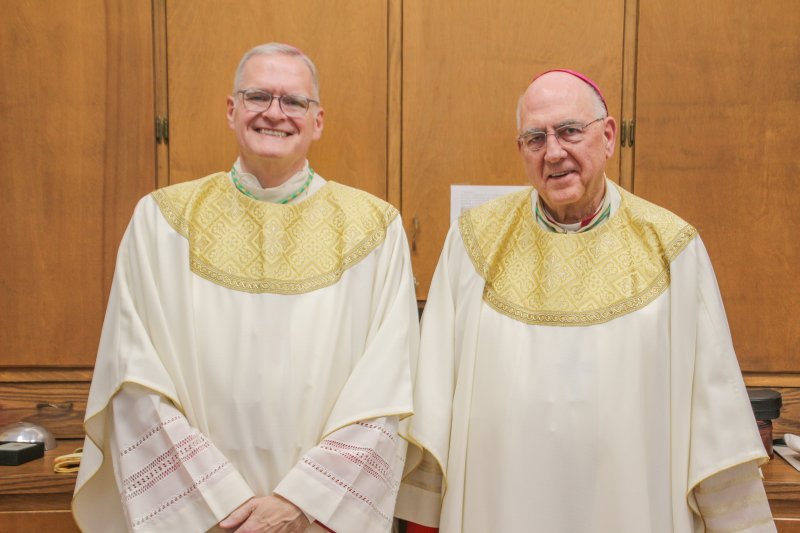 Archbishop Naumann said he looks up to many bishops intellectually and spiritually, including Bishop Siegel.
"You have a great, great bishop shepherding your diocese," Archbishop Naumann said.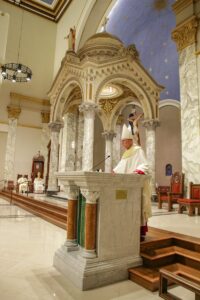 In his homily, Archbishop Naumann noted that in the evening's first reading, Ephesians 1:3-14, we heard Paul's reflection on the miracle of God's grace who, through Jesus, shares his very own life with us. The core of St. John Paul's gospel of life is understanding each human life has such worth that Jesus gave his life, the archbishop explained.
"In the gospel tonight, we hear Jesus speaking about the importance of the children," Archbishop Naumann said. "His apostles, they were slow learners. They were trying to keep the children from crowding Jesus, as was customary in their culture."
However, Archbishop Naumann said Jesus instead uses the situation as a great teaching moment, to remind us that each child is precious in God's eyes.
The archbishop highlighted the scene from the visitation, when John the Baptist is the first to recognize Jesus when he is in the womb of Mary; while John's mother, Elizabeth, first referred to Jesus as, "Lord, Jesus."
"Even in the womb he recognizes Jesus," he said. "So, the scriptures speak to us a lot about the sanctity of unborn life."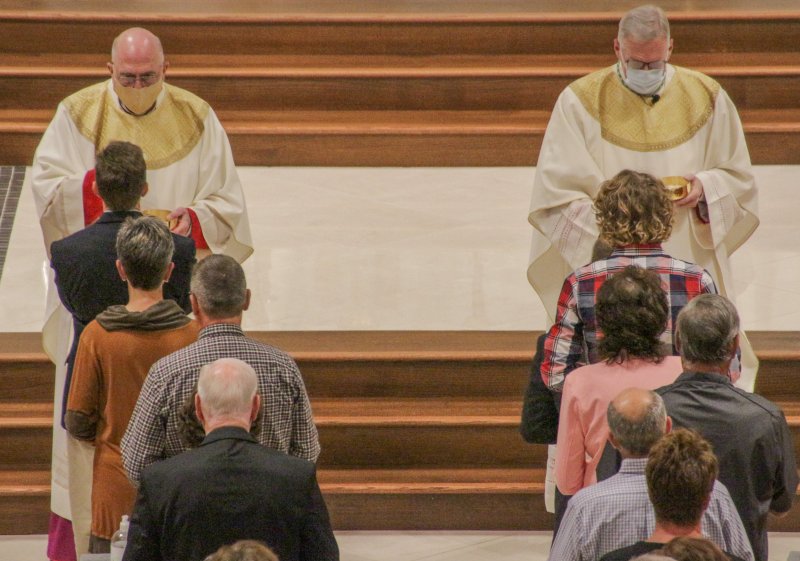 During the past several years, Archbishop Naumann said abortion advocates have become more and more radical and intolerable. Killing one's child is viewed as heroic and brave, he added.
"In this cultural immoral twilight zone, to stand for the sanctity of the lives of the unborn, you may face ridicule and social exclusion, you may be penalized in the academy and the workplace," he said. "If abortion extremists change our goals, you and I can face fines and even imprisonment for our refusal to cooperate with this intrinsic evil."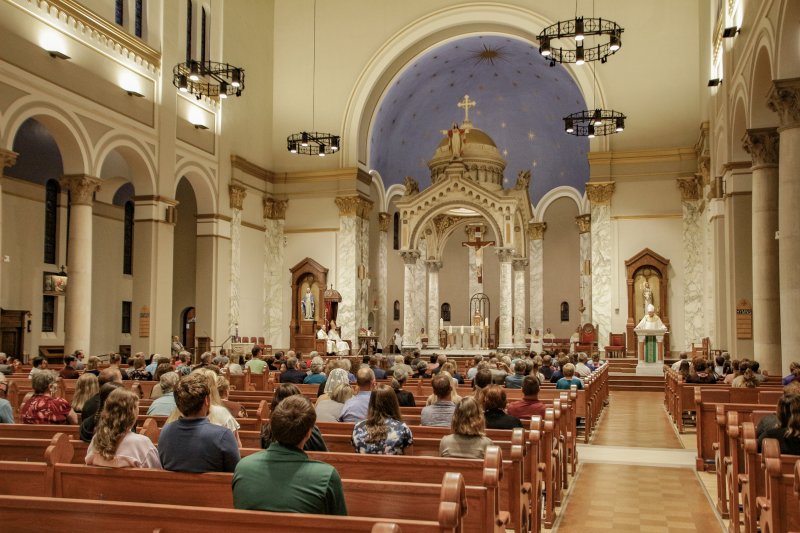 "Thankfully, not everything is doom and gloom, however. Despite the biased segment and media tactics, the persistent pro-life educational efforts which many of you have been part of have resulted in our nation's youth being more pro-life than their parents."
The archbishop reported that more than 70 percent of Americans oppose second-trimester abortions, and more than 85 percent of Americans oppose third-trimester abortions.
Archbishop Naumann stressed that we must rise to the defense of those who cannot defend themselves. He concluded by reiterating Jesus did not promise his disciples it would be easy.
"Indeed, Jesus is the Lord of life, and indeed, through him, life will be victorious. Amen."