Clint Johnson (Class of 2025)
School, Class: Pontifical North American College in Rome, Italy, First Theology
Home Parish: Holy Cross Parish, Fort Branch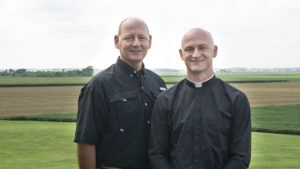 Children look up to their fathers as heroes. As I've grown older, I've been able to look back and see how my father has given me every opportunity to succeed. The gifts he has given me have no doubt been a result of a detachment from what he may want for himself. In his sacrificial love for our family, I believe he has become the greatest version of himself that he could possibly be. He doesn't get the most pleasure out of doing what he wants, but he is happiest whenever he can do something to make us happy. This is what I think fatherhood is – the outward giving of the self for the good of the family.
On Dec. 30, 1993, I was born to Angie and Roger Johnson. I have one older sister, Jamie Baehl (husband Jason Baehl), and they have three kids with one on the way. We all love spending time with each other, it doesn't matter where we are.
My dad is an extremely hardworking man in many different ways. I remember always having a lot of fun with my dad, especially when I was younger. He would come up with very creative ways to play games, and he would play with us like he was our age. Like many fathers, he doesn't really show his sensitive side, but as I've grown up, I have come to see and appreciate his deep love for the family and understand the love behind his works.
When I think of St. Joseph, I think of the man who was behind the scenes in Jesus' life. He was never in the spotlight, but without him, Jesus may not have survived as long as he did.
Because I saw fatherhood lived out in my dad, I discerned seminary because I began to think less and less about myself and more and more about what God wanted, and this led to a happiness that I couldn't achieve by doing what I wanted.
By showing me that fatherhood is the outward giving of the self for the good of the family, my father has shown me how to detach myself from surface-level desires and instead see the greater goal which has little to do with me individually but everything to do with the bond of the family. In my discernment, this has translated to a detachment from myself that I may be able to serve the Church.
| | |
| --- | --- |
| Parents' Names | Angie and Roger Johnson |
| Sibling (spouse) | Jamie (Jason) Baehl  |
| Schools attended | Sts. Peter and Paul, Holy Cross, Fort Branch Community, Gibson Southern High School, Ball State University, Washington University in St. Louis, St. Meinrad, Pontifical North American College |
| Snack Food of Choice | Cheez-It |
| Favorite Movie | "Inception" |
| Bible Verse | Matthew 25:40 |
| Favorite Sport to play | Soccer |
| Preferred Set of Mysteries of the Rosary | Sorrowful |
| Patron or Favorite Saint | Christopher is my patron saint, but my favorite saint has become St. Dismas (the good thief) because I feel I can relate to him as a sinner, but in his desire to be with Christ, Jesus has mercy on him.  |
| YouTube Channel or Podcast you most frequent | I don't listen to podcasts or channels regularly. If you have recommendations, let me know. |
| Favorite Part of Being in Seminary | Living in a community with other men who want to live for Christ. |