By Megan Erbacher
The Message assistant editor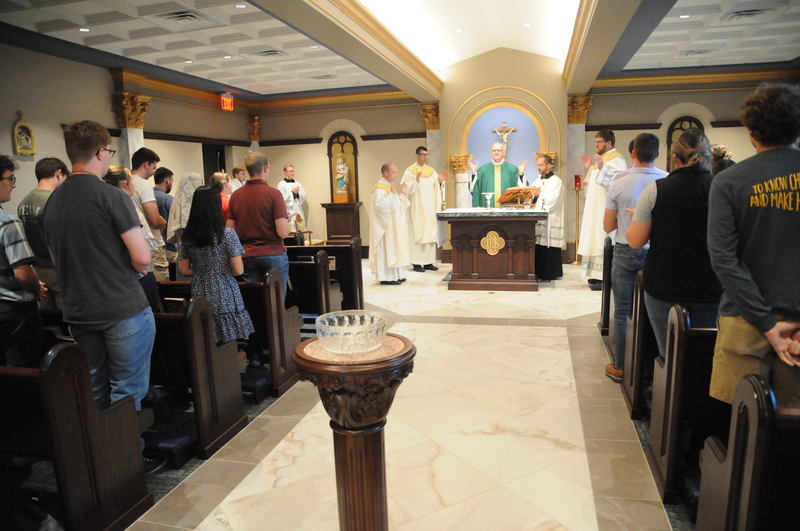 C5 – Connecting College Campus Catholic Communities – brought together about 50 local college students and young adults who gathered at the Catholic Center Sept. 22 for a multi-campus Mass and social event.
Bishop Joseph M. Siegel celebrated Mass in the Mary Mother of God Chapel with the group to start the evening. The following priests of the diocese concelebrated Mass with Bishop Siegel, Father Tyler Tenbarge, diocesan Director of Vocations; Father Garrett Braun, parochial vicar at St. Francis Xavier Parish in Vincennes and St. Philip Neri Parish in Bicknell; Father Luke Hassler, pastor of St. Mary Parish in Ireland; and Father Ryan Hilderbrand, pastor of St. Philip Parish in Posey County and St. Matthew Parish in Mount Vernon.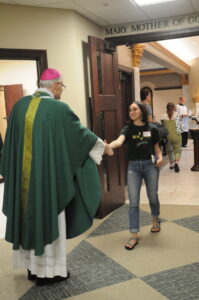 Jeremy Goebel, diocesan Director of the Office of Youth and Young Adult Ministry, welcomed everyone and thanked them for attending the event before he offered a prayer over dinner. The evening also consisted of yard games, a bonfire and prayer.
The diocese has three campus ministers. Father Garrett Braun serves as part-time campus minister at Vincennes University. Lynn Falcony serves as campus minister at the University of Evansville. Anna Schulten serves as campus minister for the University of Southern Indiana. 
"The more communities our young people are part of - within their families, friend groups, parishes, Newman groups, and now with the other campus ministries as well - the more opportunities and more strongly they will be able to build each other up as disciples of Jesus Christ," Father Garrett said.
Through campus Newman Centers and Newman Clubs, the Diocesan Office of Youth and Young Adult Ministry "seeks to evangelize and catechize the academic community by means of a broad ministry which forms the faith community, appropriates the faith, forms Christian conscience, educates for justice, facilitates personal development, and develops leaders for the future. Catholic Campus Ministry provides a vital connection between the Church and higher education."
"Friday night felt like one more piece in a beautiful mosaic that is our young adult ministries in the Diocese of Evansville right now," Father Garrett said. "Our young people across the diocese seem to be on a trajectory of holiness and conversion that is incredible to witness. The Holy Spirit is at work!"