By Tim Lilley
The Message editor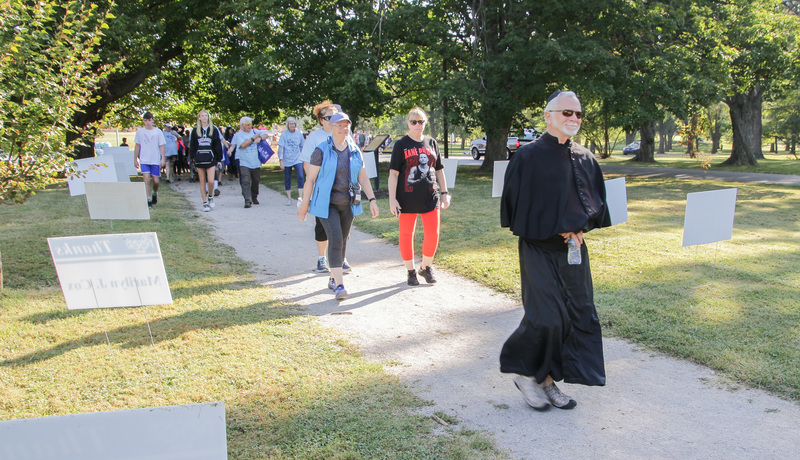 More than 200 walkers enjoyed a gorgeous fall morning by taking part in the 16th Annual St. Vincent de Paul Walk for the Poor, held Sept. 23 on the grounds of the Evansville State Hospital on the city's east side.
Bishop Joseph M. Siegel offered a prayer before the walk began, blessing all in attendance.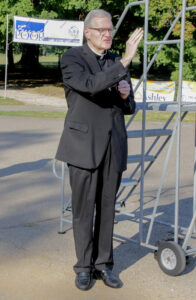 Sponsors contributed a record $34,775 for the walk, well above the goal of $30,000 set by Joe Cook, Executive Director of the Evansville District of St. Vincent de Paul. The district includes 18 parish-based conferences and one young-adult conference covering Posey, Vanderburgh and Warrick Counties, and the southern half of Gibson County.
Joe said, "Last year, I got ambitious and set a (fundraising) goal of $30,000 for this event. We came up about $400 short, but it was the largest amount we had ever raised in our 15 years of the walk. This year, I thought I shouldn't press my luck and just set the goal at $30.000 again. Thanks be to God, we were blessed to (receive) $34.775 in sponsorship this year. Thank you one and all for this tremendous outpouring of support."
Joe especially mentioned the six title sponsors for the 2023 walk: The Chad and Lori Harmon Family, Ashley HomeStore, Hometown Ophthalmology, Tri-State Bearing, Hook's Apothecary and an anonymous friend of the poor. Scores of yard signs recognizing sponsors at every giving level lined the walk's course.
He also thanked walk chairman Bill Hussman, who has served in that position for all 16 years of the event's existence; Vincentian volunteers, the staff at Evansville's Regent Promotions; and Treasurer Melanie Seibert and Staff Accountant Donna Hurm.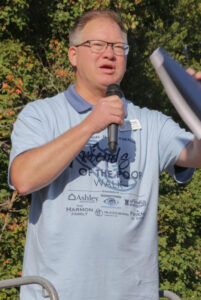 In amplifying the impact of Vincentian volunteers, Joe said, "Last fiscal year, our 365 Vincentians provided over $650,000 in direct financial assistance, helping nearly 12,000 people afford life's basic needs. We distributed over 427,000 pounds of food from our food pantry. We provided 80 beds to children to fulfill the requirements of the (Indiana) Department of Child Services for family reunification." 
Joe continued, "But even more importantly than any amount of financial help we may provide, Vincentians share a message of hope. The care and patience offered by our Vincentians may be the only kindness someone has received all week. The hand we hold may be the first touch of mercy they have received ina very long time. The prayer we offer with and for them may be the first time anyone has ever prayed with them, witnessing to them that God is love.
He concluded, "This is who Vincentians are. This is what Vincentians do. This, ultimately, is the most important part of our work; to care for the soul. And this is why I am grateful for the sacrifice you have made in being here today."