By Megan Erbacher
The Message assistant editor
After hosting a virtual event the past two years, Congregations Acting for Justice and Empowerment reconvened in-person for its 19th Annual Nehemiah Action May 9 at the Old National Events Plaza in downtown Evansville.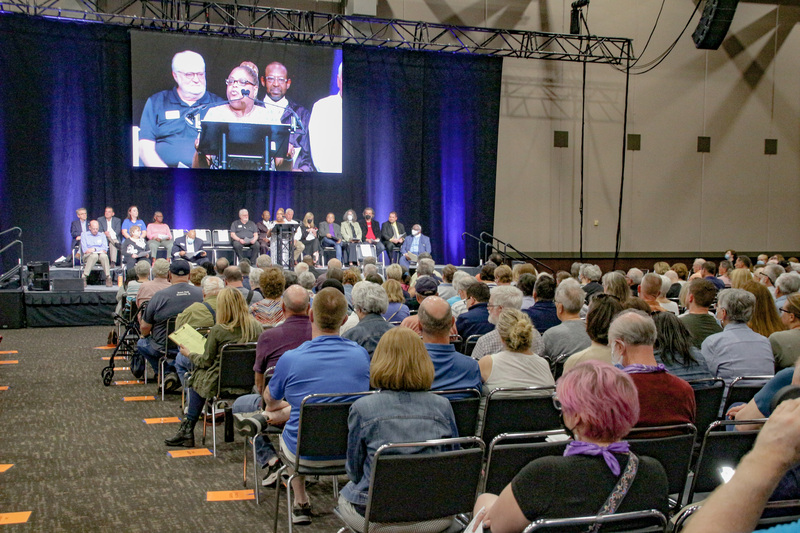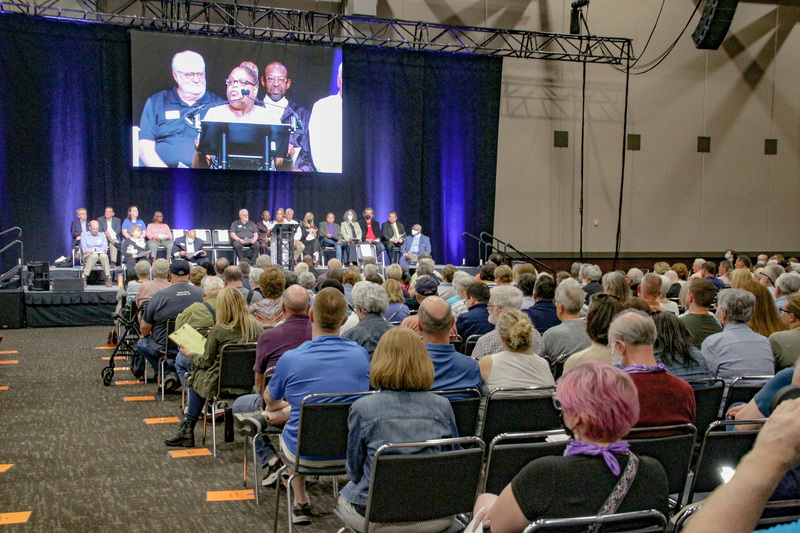 CAJE, a nonprofit comprising 27 faith-based congregations in Vanderburgh, Posey and Warrick counties, hosts the public event annually "to seek commitments from public officials to adopt reasonable and well-crafted solutions around the problems that plague the greater-Evansville area." CAJE members believe it's their responsibility to advocate for not only themselves, but also for their neighbors.
CAJE co-chairs Rev. Floyd Edwards, Mt. Olive Galilee Baptist Church, and Pam Decker, Nazarene Missionary Baptist Church member, welcomed everyone.
Decker shared CAJE's 19-year history of following the biblical model of social justice that Nehemiah practiced. The event's program noted, "When I heard their outcry and these charges, I was very angry … So I called together a large meeting to deal with them …" (Neh. 5:6, 7).
CAJE At-Large Board Member Rev. Brian Buschkill, pastor of St. Peter's Highland United Church of Christ, said over the years, CAJE has "tackled a lot of tough community problems," and the "collective people power has been responsible for transforming change in our community."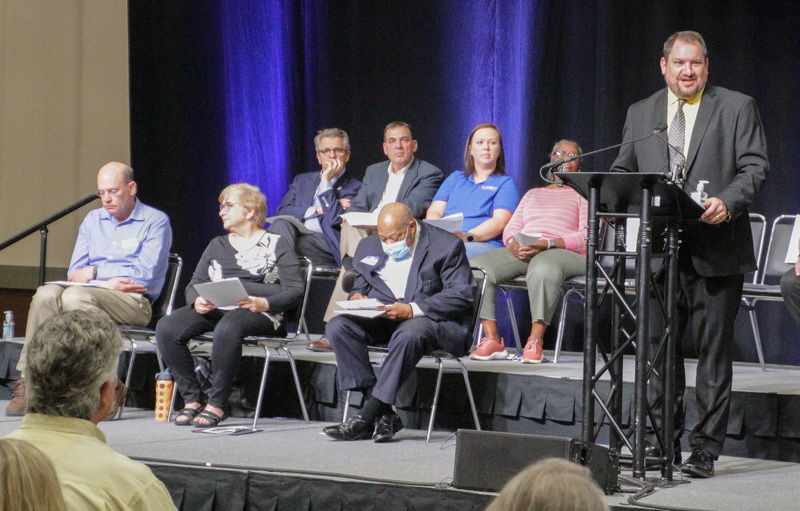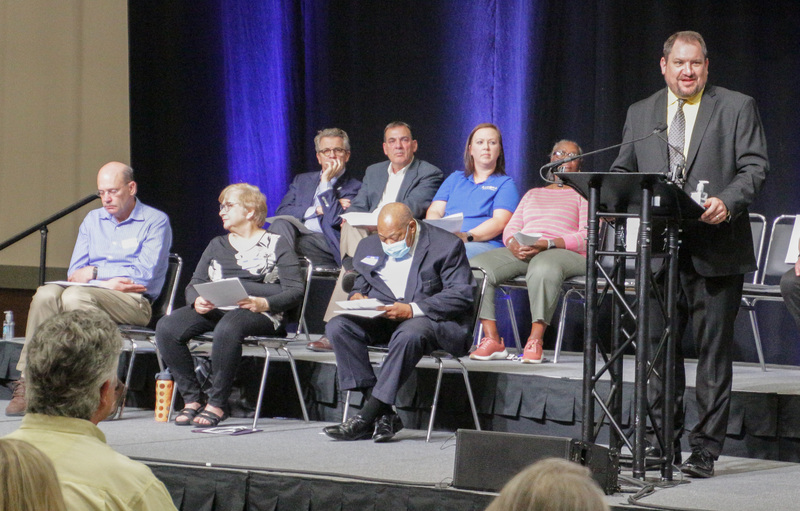 Decker explained that in order to respect everyone's time, a prepared list of questions were previously given to civic leaders before they publicly responded yes or no. Then, they were allowed three minutes to provide further comments.
"There will be no heckling, no hissing and no booing," Decker said. "That is not how CAJE operates or treats people, and it will not be tolerated."
The event's first request was for Vanderburgh County Commission President Jeff Hatfield. CAJE asked Hatfield to allocate $600,000 from ARPA funds to the Evansville Diversion Care Center for operational costs for 2022 and 2023. Hatfield agreed, but he said he will advocate for as much as he believes he can get support for amongst his colleagues.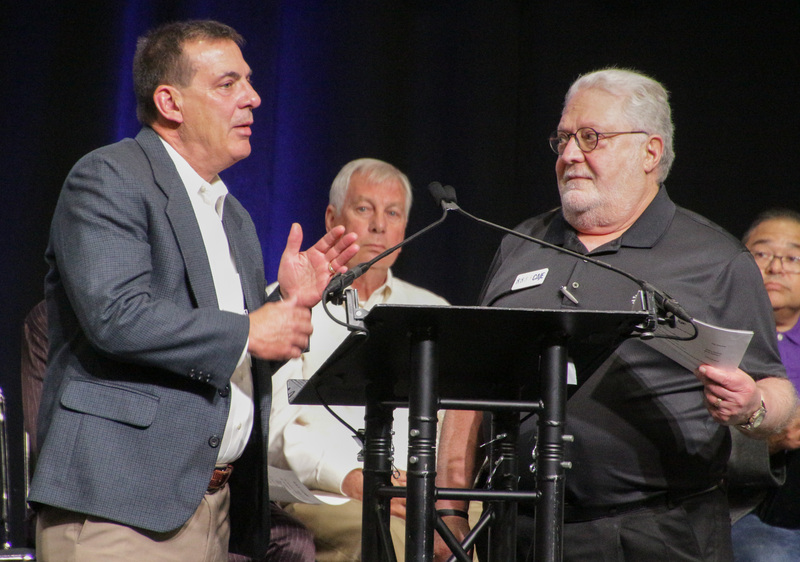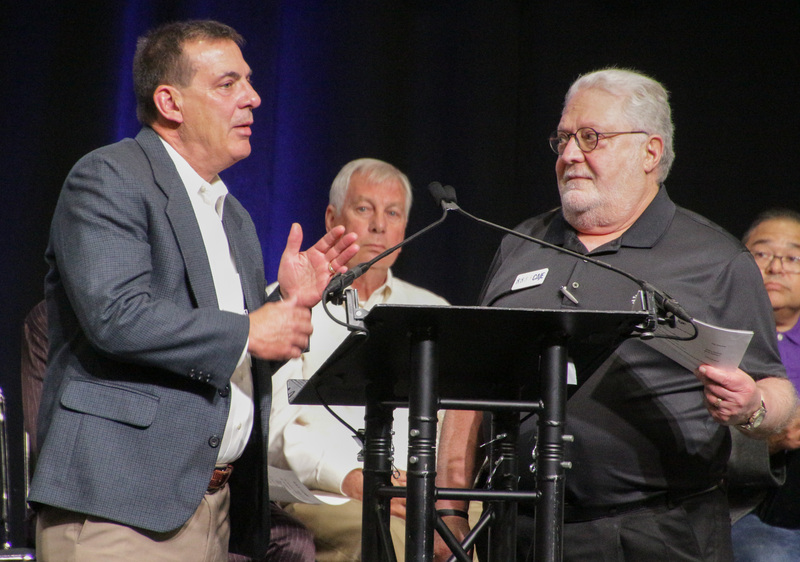 After four years of CAJE pushing for change, group members said the city has allocated $4 million for treatment services for those with dual diagnoses of autism and mental illness; but they said there is much work to do for change within local schools and at the state level. Evansville Mayor Lloyd Winnecke agreed to reconvene the Mental Health Commission with the addition of the Dual Diagnosis Task Force and conduct at least one meeting no later than Aug. 1. Mayor Winnecke also agreed to continue to conduct Mental Health Commission meetings no fewer than four times a year.
Another request for Mayor Winnecke focused on affordable housing in Vanderburgh and Warrick counties. After three years of committing $500,000 annually to the city's Affordable Housing Trust Fund, CAJE said Evansville still needs more than 1,600 affordable rental units. So, CAJE requested Mayor Winnecke continue his previous commitment to annually allocate $500,000 into the Affordable Housing Trust Fund for 2023. The mayor agreed. CAJE also asked if he would "follow through" on his commitment to budget $5,000,000 of ARPA funds into the Affordable Housing Trust Fund for 2023. Mayor Winnecke agreed.
"The issue of affordable housing is not going to go away anytime soon," Mayor Winnecke said. "We realize we have a large gap in the inventory of good, affordable housing. It will take several years to fill that gap. … It is a topic we talk about on a weekly basis."
CAJE asked Indiana Sen. Jim Tomes if he would commit to working with CAJE and members of the Energy for All Coalition to create energy reform – fair and just utility rates – statewide. In response, Sen. Tomes said he wasn't sure what they meant by energy reform, but he said he's all for getting utility bills down to more-affordable levels. 
CAJE also asked Sen. Tomes if he would introduce or support legislation to make it easier for Indiana citizens to independently choose alternative energy sources. Again, Tomes said he wasn't exactly sure what CAJE was asking, and he would like to see the language of a bill. Tomes noted that he is only one of 150 lawmakers in the General Assembly.
The final report was devoted to challenging CenterPoint to make affordable and clean energy for all its priority. CenterPoint officials declined an invitation to attend the event, but CAJE acknowledged receipt of – and shared – CenterPoint's lengthy answers via email to their prepared questions.
At the end of the evening, Decker said CAJE, a faith-based group, have seen God beat giants. Decker ended with, "our officials said yes."