By Megan Erbacher
The Message assistant editor
More than 500 Catholic educators from all 26 diocesan schools gathered at St. Benedict Cathedral for the annual back-to-school gathering and Mass Aug. 2. Educators were able to meet in person again after last year's event was held virtually due to COVID-19.
Bishop Joseph M. Siegel celebrated Mass, and more than 20 priests of the diocese concelebrated with the bishop.
Bishop Siegel thanked Catholic educators for their dedication and commitment to Catholic education. 
During his homily for the annual back-to-school Mass, the bishop said everything educators say and do in Catholic schools should be helping young people to encounter Christ. Catholic school teachers and administrators have a special privilege, a responsibility, he said, to help parents fulfill the commitment they made at their child's baptism; to form their children in the Catholic faith.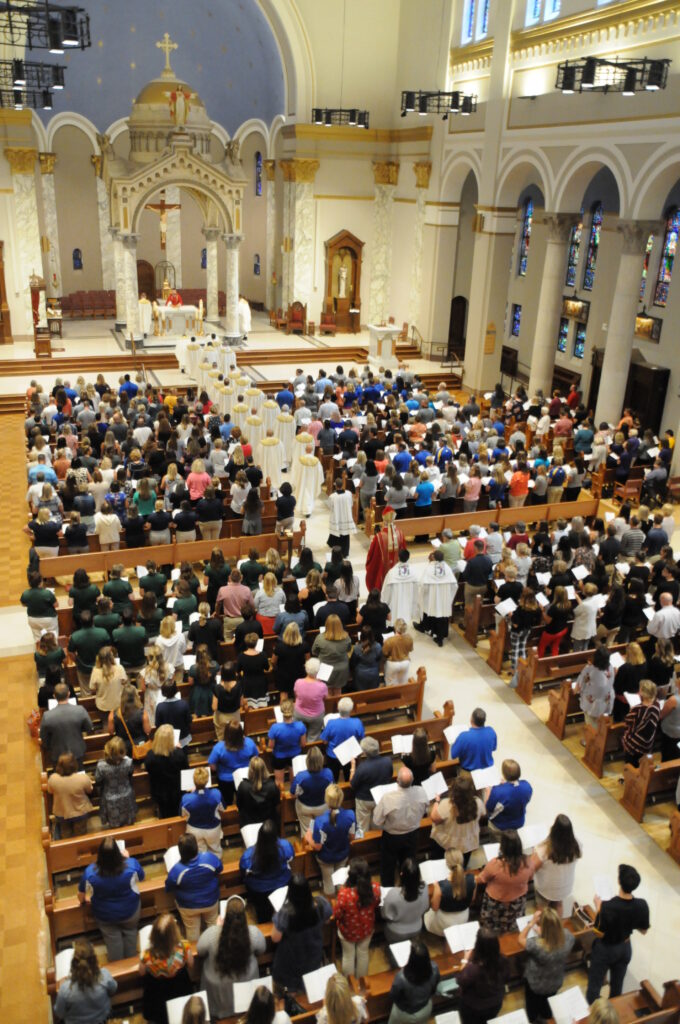 Bishop Siegel encouraged educators to become missionary disciples who use their God-given gifts to live their faith and share it with others. By witness and example, he said educators are to demonstrate what it means to be a follower of Jesus, one who strives for holiness in ways both great and small; in other words, what it means to be a saint.
Of course, it isn't always easy, the bishop said, but he encouraged educators to ask the Holy Spirit to strengthen them to be teachers and evangelists for our Catholic schools, witnesses to the good news of Jesus Christ, who is the same yesterday, today and forever.
The 2021-2022 diocesan school theme is "Catholic Schools: Saints in the Making." All educators were given a t-shirt celebrating the theme.
After Mass, Diocesan Schools Assistant Superintendent Michelle Priar announced milestone years of service award recipients as Bishop Siegel and Diocesan Catholic Schools Superintendent Dr. Daryl Hagan handed out certificates. Nearly 30 teachers and administrators were featured in the July 16 issue of The Message.
This year's Catholic Educator Innovative Award, which is given to educators within the diocese who demonstrate successful innovative and creative efforts to achieve success in student learning or to promote growth for the school, was awarded to 10 individuals.
"This past school year we applaud you for your efforts to be innovative and creative to deliver Catholic education during a pandemic," Priar said. "In recognition of the heroic efforts made last year, we will honor 10 well-deserving Catholic school employees who went above and beyond during the pandemic. We have chosen 10 categories to represent the many hands and hearts that made last year possible."
The Catholic Educator Innovative Award was given to the following individuals:

Melissa Brown, cafeteria manager, St. John the Baptist Catholic School

Darin Knight, principal, Mater Dei High School

Joe Holtz, parish manager, Holy Rosary Catholic Parish

Joe Keith, teacher, Resurrection Catholic School

Tim Steckler, maintenance, St. James Catholic School

Mary Ruth Branstetter, Youth First Social Worker, St. Wendel and St. Joseph Catholic schools

Fr. Tony Ernst, parish administrator, St. Francis Xavier Catholic Parish

Cindy Miller, administrative assistant, Holy Trinity Catholic School

Brian Heathcott, enrollment manager, Reitz Memorial High School

Tim Lilley, director of communications, Catholic Diocese of Evansville
Before Mass, Mike Patin, the "Engagin' Cajun," was a guest speaker for the gathering. Since 2003, the Louisiana native has been a "faith horticulturist" speaking across North America about connecting Catholic faith to everyday living and living life faithfully and joyfully.
Most Diocese of Evansville Catholic School students returned to the classroom this week, and the remainder of schools will start next week.