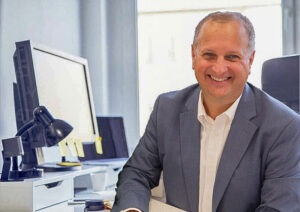 On May 16 in Washington, D.C., Dominican Sister Mary Agnes Greiffendorf, Ph.D, announced the appointment of Dr. Daryl Hagan as the first Director of Catholic School Accreditation for the Institute for the Transformation of Catholic Education at The Catholic University of America. Dr. Hagan has served the past 12 years as superintendent of schools for the Diocese of Evansville.
Sister Mary Agnes also announced that Dr. Andrew Kremer, who has served most recently as the interim superintendent of Catholic schools for the Diocese of Lafayette-in-Indiana, has been named Associate Director of Strategy and Membership.
Sister Mary Agnes, who serves as director of the Institute for the Transformation of Catholic Education, said, "I am thrilled to welcome Dr. Hagan and Dr. Kremer to the ITCE team. Their love for Christ and His Church, their passion for Catholic education, and their varied experiences in teaching, administration, and accreditation will enable the University to develop an outstanding program that promotes and advances the distinctive excellence of Catholic education. This program will offer a great service to our Church, nation, and world."
Dr. Hagan will lead and craft the design, development, implementation and evaluation of the new Accreditation Program. Dr. Kremer will develop, implement, and evaluate the process of accreditation onboarding and support, as well as develop the strategy for engagement with new member dioceses and schools.
Dr. Hagan said, "I am grateful to have served the Diocese of Evansville for the past 12 years. Together, we (Bishop Siegel, priests, administrators, faculty, staff, directors, Catholic Center staff and the Catholic Schools Office staff) advanced the mission of Catholic education for the students we served. Thank you to Bishop Siegel for supporting me as I served in this capacity. I look forward to working with the diocese in this new capacity as it relates to Catholic school accreditation."
Bishop Siegel said, "For the past 12 years, Daryl has served the parishes and schools of our diocese, and their families, with unparalleled skill driven by the utmost of faith and passion. Under his leadership, the vision statement for the Catholic Schools Office has been to 'transform the world in response to the call of Jesus Christ to educate, inspire and proclaim.' I congratulate and thank him for making that vision a reality in our 26 diocesan Catholic schools."
The Institute for the Transformation of Catholic Education at The Catholic University of America was founded in the fall of 2021. ITCE inspires and promotes the spiritual, intellectual, cultural, and operational renewal and transformation of our nation's PK-12 Catholic schools through teacher and leader degree and professional development programs, school accreditation, and research.
Dr. Hagan will assume his new duties in early July. The nature of his new position will enable him and his family to remain in the Evansville area.