By Tim Lilley
The Message editor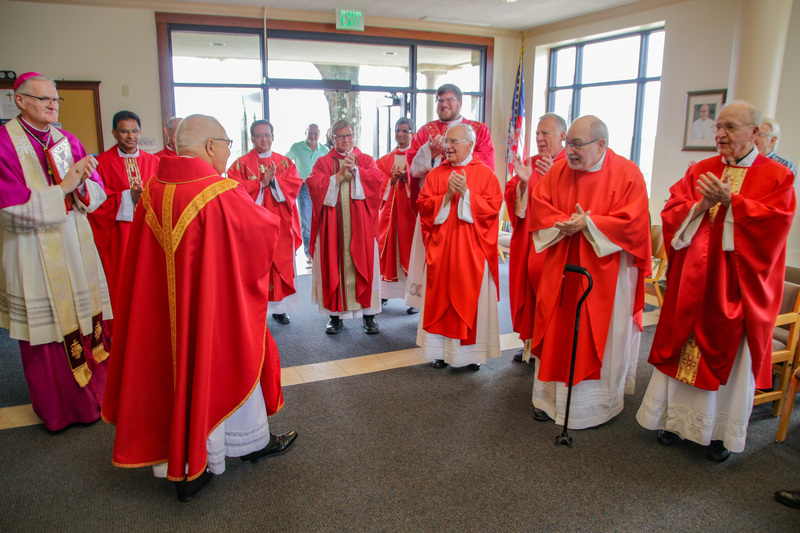 Many people from across the Diocese of Evansville joined the Divine Mercy Parish community to fill St. Anthony Church in St. Anthony to standing-room-only May 28 for a Mass celebrating the 50th anniversary of Father Tim Tenbarge's ordination to the priesthood. Father Tim was ordained May 26, 1973, by then-Bishop Francis Shea.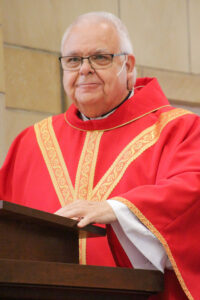 Bishop Joseph M. Siegel joined 11 priests of the Diocese of Evansville who vested for the Mass and concelebrated with Father Tim. Several other priests of the diocese attended but did not vest. Deacon Charlie Johnson of Divine Mercy Parish served as Deacon of the Altar and Homilist. Deacon Mike Seibert of St. Isidore the Farmer Parish in Celestine served as Deacon of the Word. Deacon Caleb Scherzinger, a son of St. Isidore the Farmer Parish, served as Master of Ceremonies.
Deacon Charlie talked about the Feast of Pentecost, which the Church celebrated May 28 this year. Referring to the day's Gospel – John 20:19-23 – he said that, when Jesus appeared to the apostles at Pentecost, he offered them the one thing they needed most – his peace. 
He said, "Jesus breathed the Holy Spirit on them, proving comfort that words alone cannot deliver. If we listen, the Holy Spirit will tell us what to do."
Deacon Charlie acknowledged that the Mass also celebrated Father Tim, who received the Holy Spirit at his ordination and became "a minister of God's sacraments and love. The first priests went among the people showing they were human and humble," Deacon Charlie added. "Priests still do that every day."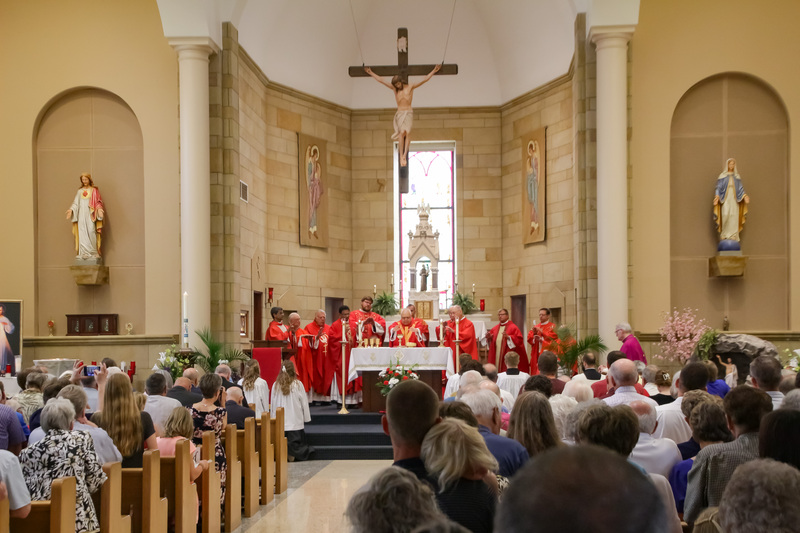 Turning to Father Tim, he added, "The love that brought you out of retirement to serve Divine Mercy Parish as Sacramental Minister is obvious." He added that Father Tim "has dedicated his life to prayer, service and teaching the word of God."
At the conclusion of Mass, Bishop Siegel offered a special blessing for Father Tim, saying that, in him, "the Lord has given us a good and faithful servant."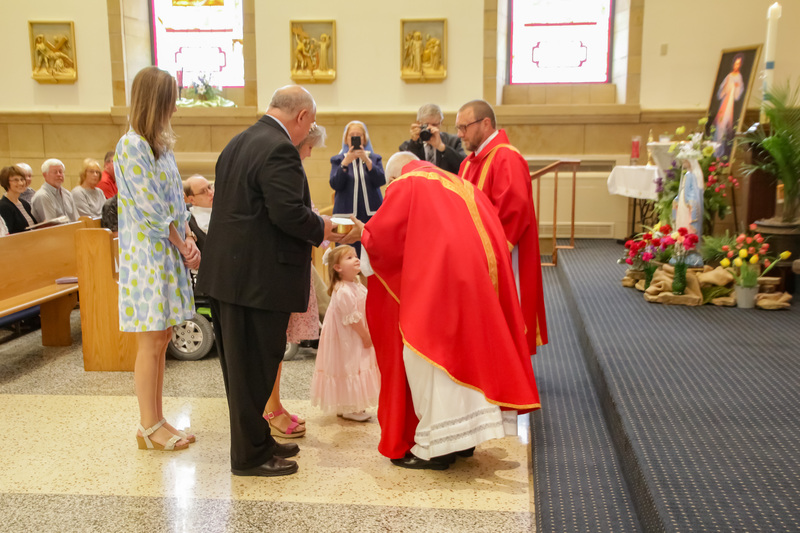 Father Tim offered some comments before the Mass' final blessing and dismissal. He said, "There are a number of people deserving my thanks who are not included in the printed program. First, I must thank God. Over these 50 years, the Lord has been my constant companion. I thank him for the trust he placed in me."
He thanked Bishop Siegel for attending, noting that his presence "reminds us that what we do here, we do with the larger Church." He thanked the brothers and staff of Saint Meinrad Seminary, where he prepared for priestly ordination.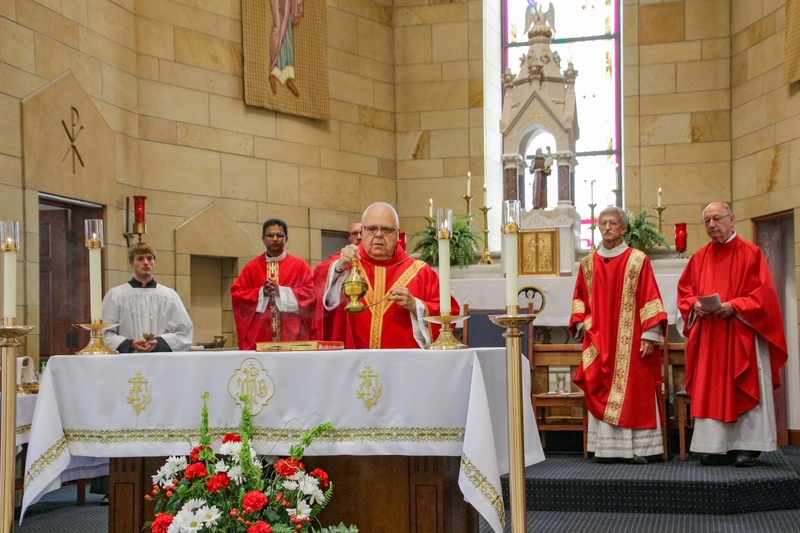 Father Tim also thanked the people of Divine Mercy Parish for their love and support. On July 1, 1997, he was installed as pastor of Saint Anthony Parish, with Sacred Heart Parish in Schnellville added to his assignment in 2005 when the two parishes were clustered. He remained pastor of Saint Anthony and Sacred Heart until December 2013, when he retired from pastoral ministry. As Deacon Charlie alluded to in his homily, Father Tim returned to Divine Mercy Parish as sacramental minister from June 2019 to July 2021.
Farther Tim said the Divine Mercy family had been at the forefront of his priestly ministry for the past 27 years. He also thanked the deacons and their wives for their service and for their friendship.
He said, "I see so many here who had an impact on my life – family, parishioners, students and friends. I have been blessed by your friendship, love and support."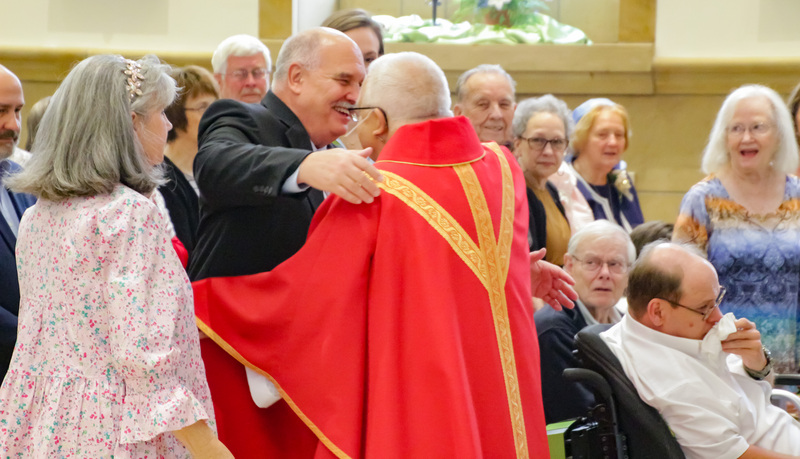 Father Tim offered emotional thoughts of gratitude to his parents and to his brother priests, many of whom attended and concelebrated, as noted above. Fighting back tears, he said, "Thank you for your willingness and effort to be here." He especially recognized Father Dave Nunning, whom he called a mentor and friend. 
Again fighting back tears, he offered heartfelt thanks to his late parents, saying, "Mom, Dad, I love you. Your memory will forever be alive in my heart."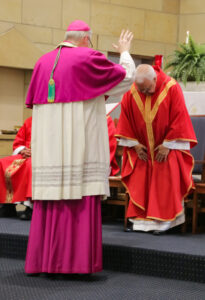 Father Tim's brother Bill and members of his family served as gift bearers. Little Company of Mary Sister Renee Cunningham and Kelly Schroering served as lectors. Carson Jacob, and Ellie, Emma and Ethan Hall were servers for the Mass, and Sherry Fischer was sacristan. The Divine Mercy Parish choir and musicians, directed by Ryan Verkamp, provided music; and Diane Verkamp served as cantor.
Although retired from pastoral ministry, Father Tim continues to keep busy helping his brother priests by serving in parishes throughout the diocese, celebrating weekday and weekend Masses; administering the sacrament of the sick; baptizing; assisting with marriages; and serving as a confessor for individuals and for penance services with school children and adults. He also currently serves on the Divine Mercy Parish RCIA committee. 
In 2013, Father Tim purchased a house on Highway 164 near Celestine. He recently told The Message that his favorite part of owning his own home is being able just to spend time outdoors mowing his yard and caring for his flowers. 
Thank you, Father Tim, for more than 50 years of ministry to the people of the diocese. May God continue to bless you.