By Tim Lilley
The Message editor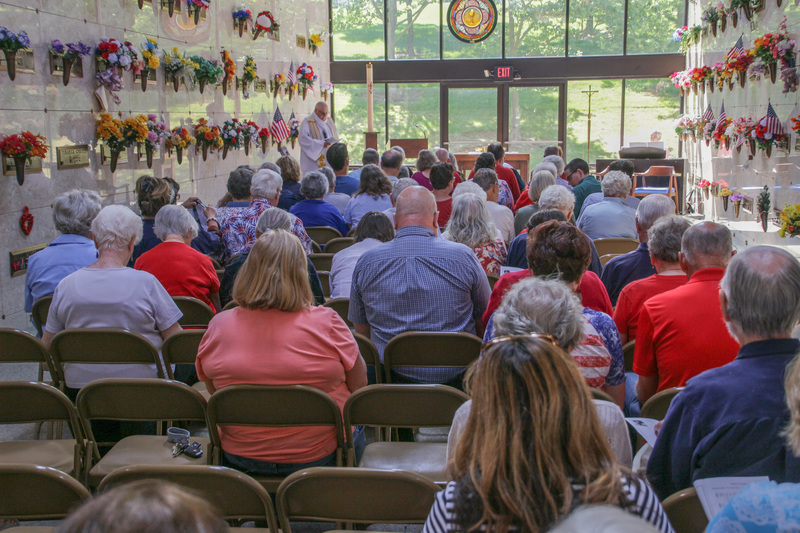 Approximately 100 people joined Father Gene Schroeder for a special Memorial Day Mass May 29 in the mausoleum of Evansville's St. Joseph Cemetery. Father Gene, Pastor of St. Joseph Parish in Vanderburgh County, serves as President of the cemetery.
In his homily, Father Gene said, "Memorial Day is a time to remember all of the people who have made heroic sacrifices on our behalf. In all my life, there has always been a war going on somewhere in the world. This is the world we live in."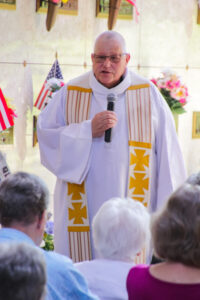 Father Gene talked about Servant of God Father Emil Kapaun, who served in the Korean War and died in a POW camp. Father Kapaun and a doctor volunteered to stay behind amid a first battle to tend to soldiers, and they were captured by the enemy and sent to a prison camp. Father Kapaun died in that camp. His remains were identified in March 2021 and returned to his native Kansas for burial.
Father Gene said, "Father Kapaun is an example of the kind of heroic actions we remember today." He also talked about Dominican Sister Lucia Caram, who has made more than a dozen trips from her convent in Spain to Ukraine with medical and humanitarian supplies. 
He also talked about Jesus' ministry and his message. "You know," he said, "there so many people who (walked away from) Jesus – and still do – because they thought he said crazy things – like forgive your enemies and do good to those who persecute you."
Father Gene added, "What we all can do is be at peace – with ourselves and with each other. If you think about it, the real reason for all this fighting involves our inability to get along. To reach peace in the world, we have to be at peace in our hearts. We want to be peacemakers."
At the conclusion of Mass, before the final blessing and dismissal, Father Gene led a prayer remembering our deceased veterans. Here is a portion of that prayer:
"Today, we come together to remember all those who have lost their lives in service to our country. Help us to treasure the gift they have given of serving a cause greater than themselves.
"As we honor their service today, Lord, help us also to remember the millions of innocent people who have also died because of our failure to live together as brothers and sisters in Christ. Hold them all, O God, in the tender compassion of your heart. Help us keep the memory of these departed brothers and sisters alive in our hearts."