By Megan Erbacher
The Message assistant editor
On Oct. 27, Bishop Joseph M. Siegel celebrated a Celebration of Life Mass at St. Benedict Cathedral in Evansville to give thanks to God for the gift of human life.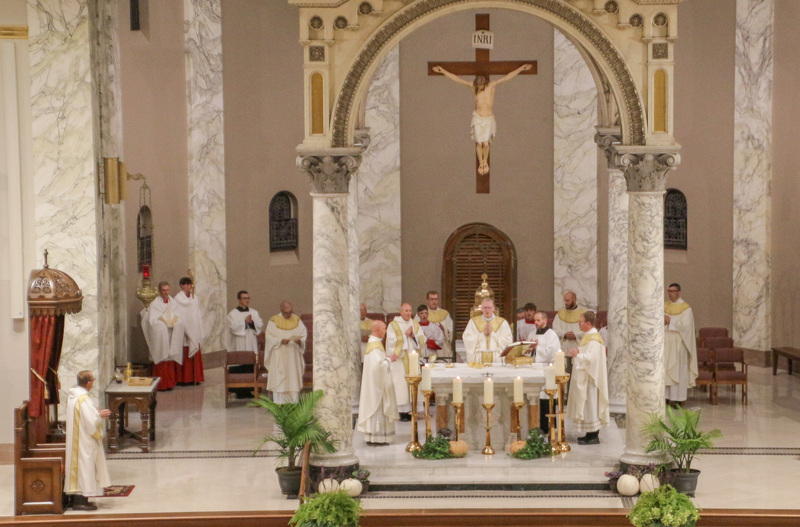 Eight diocesan priests concelebrated Mass with Bishop Siegel. Deacon Dave Rice and Deacon Ed Walker assisted. Matt Miller, diocesan director of the Office of Worship, served as Master of Ceremonies.
The Diocese of Evansville's 2022 Celebration of Life, organized by the Diocesan Office of Family and Life, began with Mass, followed by dinner and a keynote address from Sister Mercy Marie of the Sisters of Life.
Bishop Siegel began his homily by noting two significant events that happened in June. One being the start of the Eucharistic Renewal, he said, and the other being the U.S. Supreme Court Dobbs decision which overturned Roe v. Wade. Bishop Siegel said as we reflect upon and celebrate these two events, we can see how the Eucharist is the foundation of the culture of life, which we strive to build in our country.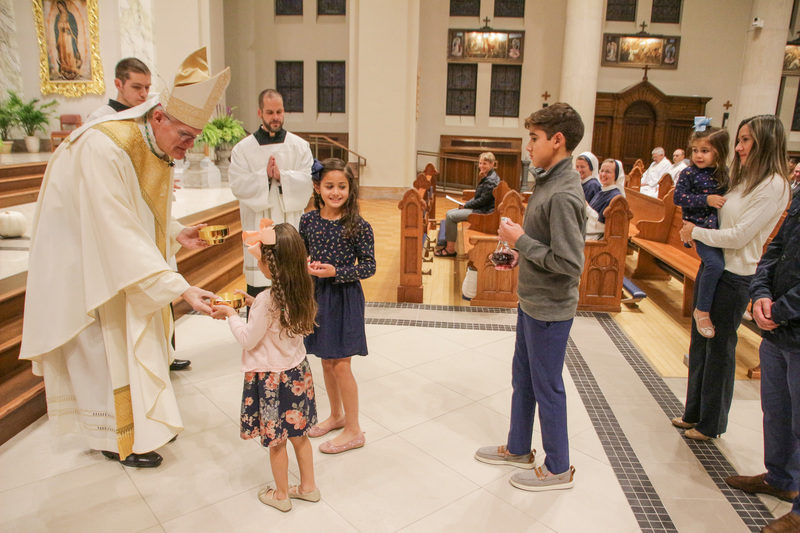 In a true culture of life, Bishop Siegel noted that respect for human life and dignity permeates society. He emphasized that it informs how we portray human life in art, literature, media, how we address human beings and how we treat one another. The bishop explained a culture of life recognizes that in caring for its most vulnerable members, it is fostering the common good in creating an environment of hope and flourishing.
A culture of life rejects death as a solution to problems, Bishop Siegel said, whether it be personal or society, whether it be the death of an unborn child, or the death of the disabled, ill, elderly or chronically-ill patient; a culture of life also does not choose between a mother and child.
During his homily, Bishop Siegel said to create a culture of life, a lot of minds and hearts need to be changed. The task for building a culture of life rests with each one of us, he said. We must take personal responsibility for this task by decisions we make, he explained, how we speak about life and how we protect and serve the vulnerable in our midst. 
In the battle for human life and dignity, Bishop Siegel said the Catholic Church has been and will continue to be at the forefront. He concluded by saying we each have our part to play, in prayer and action, to turn our society from the darkness to the Gospel of life.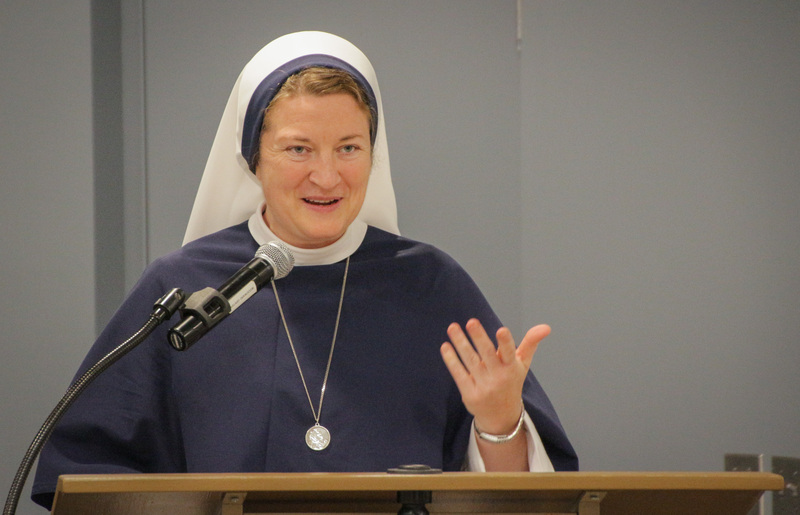 After Mass, Sister Mercy Marie spoke to about 160 people in St. Benedict's Woodward Center, followed by a question and answer session with her fellow Sister of Life Sister Maria Anne Michela.
Sister Mercy Marie was raised on a farm in Gardner, Illinois. After almost a decade in both the corporate and nonprofit sectors, she left the business world to follow the One who made the world, joining the Sisters of Life in 2014.
The mission of the Sisters of Life includes caring for vulnerable pregnant women and their unborn children; inviting those wounded by abortion into the healing mercy of Jesus; fostering a Culture of Life through evangelization; retreats; and upholding the beauty of marriage and family life.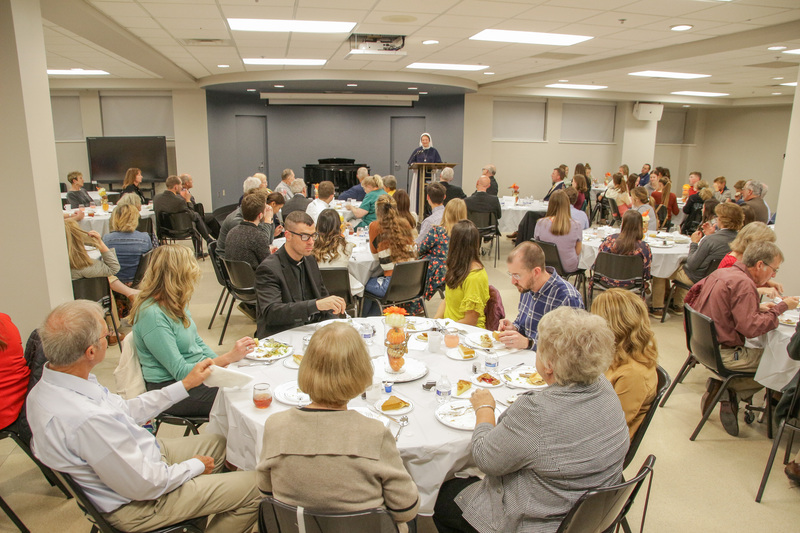 "I love Psalm 139, and not just because I'm a Sister of Life," Sister Mercy Marie said. "'Even the darkness is not dark to you.' He is not afraid of the darkness, and we don't have to be afraid."
Sister Mercy Marie quoted Carl Anderson's book, "A Civilization of Love: What Every Catholic Can Do to Transform the World," in which she said he wrote that it is our responsibility, as Christians, to transform the culture. Not necessarily by imposing values from above, Sister Mercy Marie explained, but through a subtler, yet more powerful process, living a vocation of love in the day-to-day reality of our lives.
"I think that's my invitation tonight," she said. "Just to remember how simple and how powerful our call is to live a vocation of love in the day-to-day reality of our lives."