By Tim Lilley
The Message editor
More than 600 people from across the Diocese of Evansville filled the Huntingburg Events Center to capacity Oct. 25 for the annual Clergy Appreciation Dinner sponsored by Knights of Columbus councils from Dubois and Spencer counties.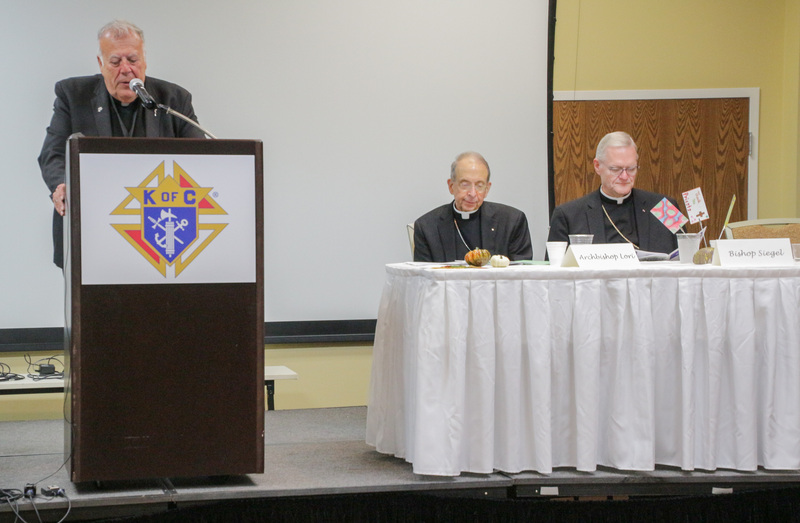 K of C State Deputy Scott Schutte called our priests, deacons, and men and women religious "our conduit to Christ. We appreciate all that they do, and I am honored to be with you to help show them our appreciation."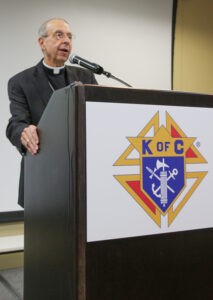 Archbishop William E. Lori of Baltimore, who serves as Supreme Chaplain of the Knights of Columbus, enjoyed a homecoming of sorts as he served as the dinner's featured speaker. Archbishop Lori explained that his family lived in Dubois County before moving closer to Louisville, Kentucky. He grew up in New Albany, Indiana.
Diocese of Evansville Senior Priest Father John Boeglin, chaplain of K of C Council #1584 in Jasper and co-chair of the dinner, located one of Archbishop Lori's eighth-grade classmates, who attended the dinner to help welcome the archbishop to his home area.
Archbishop Lori said, "I am proud to be a Hoosier, and I am proud to be among you this evening as we express our appreciation to priests, deacons, and religious women and men." He talked about his recent trip to Ukraine, where he had a chance to see Knights in action helping those suffering the devastation of ongoing hostilities. He said, "We all should be exceedingly proud of the Polish and Ukrainian Knights' response. They are really practicing charity, unity and fraternity (the K of C's foundational principles) under great duress."
During his remarks, Archbishop Lori suggested that one way to show appreciation to our clergy is to reflect on the role models that have impacted their lives and service. He said he believed there is no better role model than Blessed Father Michael J. McGivney, who founded the Knights of Columbus.
He said, "Father McGivney was the son of an immigrant family, like many of us. I am the grandson of an immigrant," he said. 
Archbishop Lori said that every member of the clergy remembers their first assignment. For Father McGivney, that assignment likely proved to be more than he expected. "He arrived at St. Mary's in New Haven, Connecticut, to find the pastor seriously ill. Within six months, Father McGivney was, in effect, serving as pastor. It fell to him to organize everything, and he did so in a winsome way."
He added that McGivney family friend Edward Downs said, "He was a man of the people."
Noting that he lives adjacent to the Cathedral of Mary Our Queen, where Father McGivney was ordained a priest in 1977, Archbishop Lori called the K of C founder "the parish priest of my soul.
"He was a priest only 13 years, but what good and lasting fruit his priesthood has produced." Ordained at age 25, Father McGivney died at age 38 during the flu pandemic of 1889-90.
Archbishop Lori said Father McGivney grew the principles of charity, unity and fraternity from the heart of the gospel, adding that "he lived them before he taught them."
Following Archbishop Lori's keynote, dinner co-chair Steve Leugers thanked sponsors, whose financial support helps make the annual dinner possible, and volunteers – including the Daughters of Isabella, who set up and decorated the events center for the evening; Holy Trinity Catholic School teacher Leslie Blume and her music students, who performed before dinner; Holy Trinity teacher Stephanie Pinkstaff and her art students, who created unique table art for the dinner; and members of the Dubois County Sheriff's Department and EMS, who provided safety support for the dinner.
The final orders of business included the presentation of $1,000 donations to Benedictine Father Christian Raab for Saint Meinrad Archabbey in St. Meinrad and to Prioress Benedictine Sister Anita Louise Lowe for Monastery Immaculate Conception in Ferdinand. Evansville Bishop Joseph M. Siegel accepted a $500 donation from the Knights for support of the Father Deydier House of Discernment. Knight Tim Jarboe of Jasper presented $500 to Benedictine Sister Jill Reuber, to support vocations, on behalf of the Father Michael J. McGivney Knights of Dubois County Fund.
Before Bishop Siegel led the closing prayer for the dinner, Leugers announced that the 2023 Clergy Appreciation Dinner will be held Oct. 24, 2023, at the Huntingburg Events Center.