By Tim Lilley
The Message editor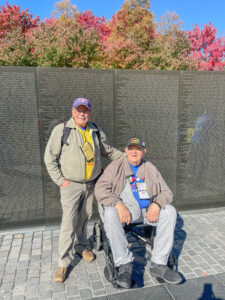 One by one, more than 80 U.S. veterans and their guardians exited an American Airlines jet about 8:45 p.m. Oct. 29 after the 13th Honor Flight of Southern Indiana trip to Washington, D.C. Among them was Father Bill Dietsch, senior priest of the Diocese of Evansville and a U.S. Navy veteran who served in the Vietnam War. 
Joe Holtz, parish manager of Evansville's Holy Rosary Parish, accompanied Father Bill and served as his guardian on the trip. Joe's wife Julie serves as president of Honor Flight of Southern Indiana, and she joined them on the trip with other Honor Flight representatives. The trip accommodated over 80 veterans and their guardians, and more than 20 Honor Flight staff.
The group left Evansville early that morning and completed a whirlwind trip that saw them visiting the memorials in Washington and Arlington National Cemetery.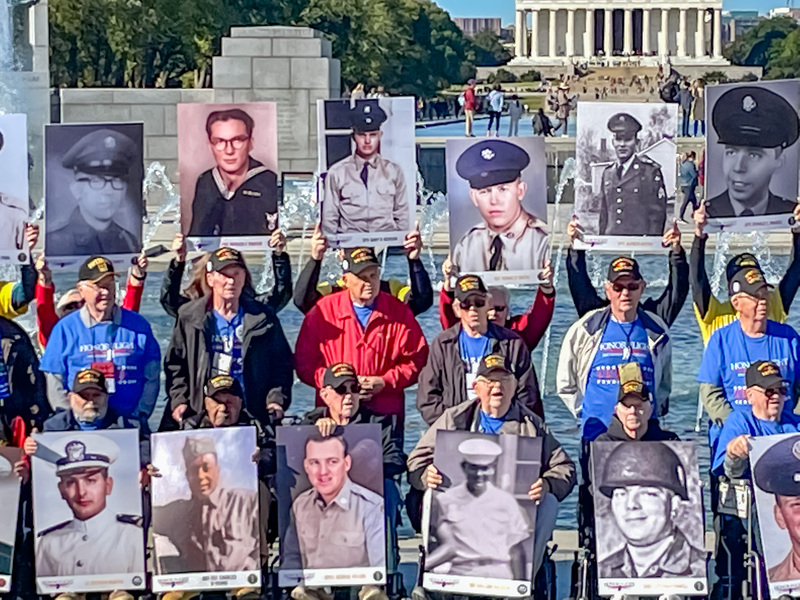 Back in Evansville, as they were getting in line for an amazing welcome-home parade and celebration at Evansville Regional Airport, Father Bill told The Message about his day. He said, "It was wonderful; beyond words, really. The monuments are very impressive tributes to the accomplishments of our service people."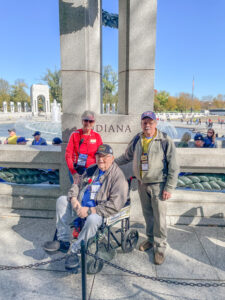 Joe added, "Our visit to the Vietnam War Memorial was especially emotional. Father Bill served during the Vietnam War, and we found the name of someone Father Bill knew on the wall, Lawrence J. Zeller from St. Wendel, who gave his life for his country." Father Bill said, "I asked a lady at the memorial for the location of his name; she gave us a number, and we found it in less than two minutes."
Joe said, "It was a whirlwind day. People we didn't know were thanking each veteran for their service. Father Bill had visited Washington D.C., before, but he had never visited the memorials." Hundreds of people awaited the Evansville veterans' arrival in Washington, and they welcomed them with scores of handshakes, thank-yous and cheers. 
During the flight home, Honor Flight provided each veteran with a bag of letters from all over southwestern Indiana and across the country thanking them for their service. As they exited the jet-way from their plane at about 8:45 p.m., volunteers who stayed behind in Evansville surprised each veteran with another bag of letters of thanks.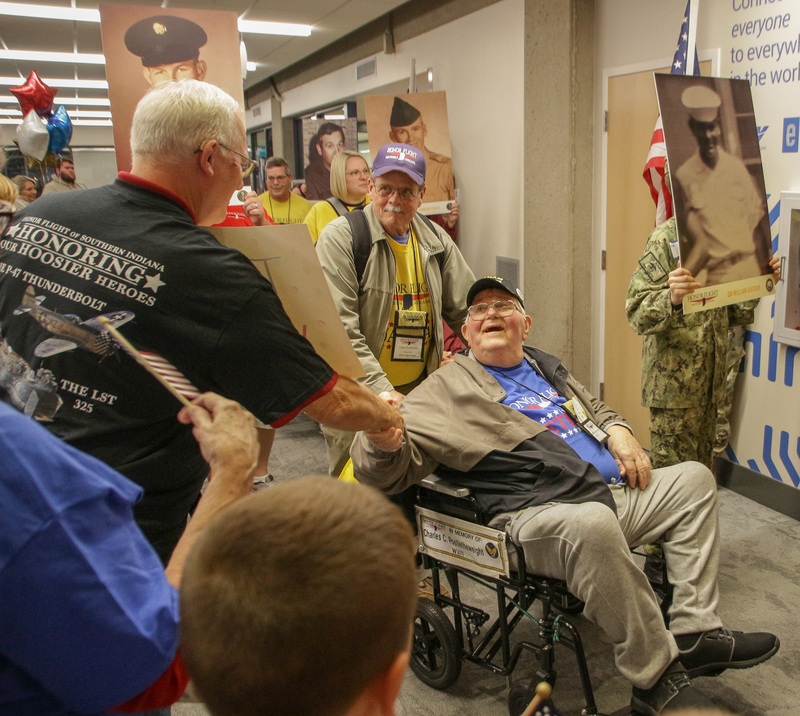 From there, the veterans enjoyed a parade through the entire outer concourse of the airport and back along the outside to baggage claim – where people were lined six-or-more deep to cheer them, shake their hands and thank them. WEHT/WTVW Eyewitness News meteorologist Ron Rhodes served as the emcee for the welcome-home celebration. He introduced every veteran to the crowd, which cheered enthusiastically for each introduction.
Father Bill raved about the Honor Flight staff and volunteers. He said, "The Honor Flight people are very passionate and very organized. The whole experience of everyone involved was wonderful. All of the people were very friendly and helpful. I was humbled by all of the well-wishers who shook my hand and thanked me for my service."
Joe clearly enjoyed the experience as much as Father Bill. He said, "I was humbled and honored to be in the company of all these men and women who served their country from WWII, the Korean War and the Vietnam War. They deserved to be honored, and what a great way to do just that. I am grateful to be able to accompany Father Bill on this trip. When I see a veteran in the future, I'll be sure to thank them for their service."