By Father Tyler Tenbarge
Special to The Message
On the evening of July 18, a half-dozen priests joined the faithful for a 5 p.m. Mass at Sts. Peter & Paul Parish in Haubstadt. As they prayed together, a grey sky gave way to the lightest sprinkling; and what would come next was not expected.
Cars filled up quickly with young people and parents from all across the diocese, and so did the parking lot of the Haubstadt Old Gym just two blocks down from the parish church. Soon, the wide, wooden bleachers of the old gym were filled with more than 200 fans anticipating a spectacle; and four teams took the court.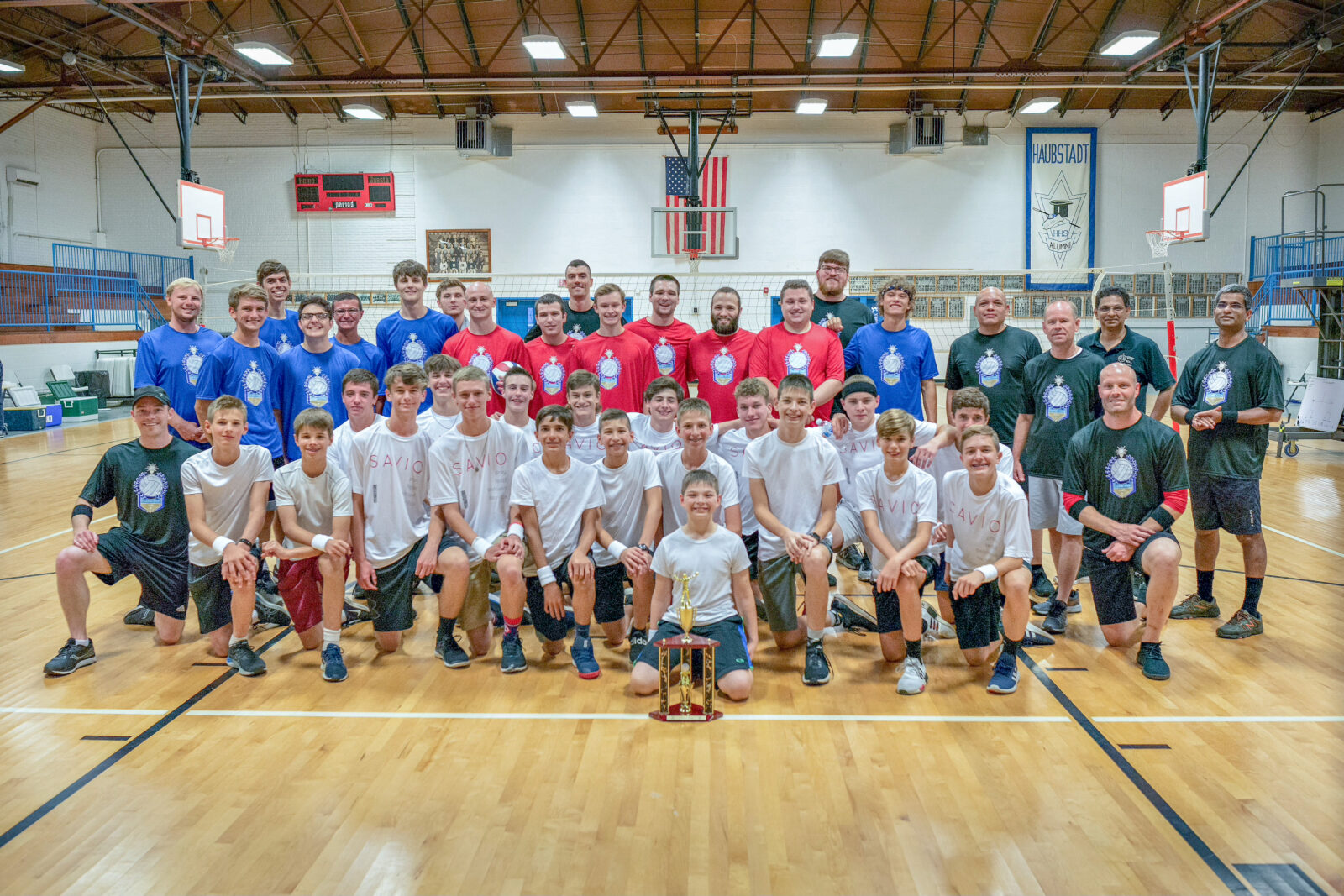 The Vocations Office hosted a "Cleric Cup" volleyball tournament pitting teams of priests, seminarians, former and current House of Discernment residents and Savio guys against one another. The event was intended to give each of these groups a chance to interact on a court different than ones that typically bring them together – like faith formation classes, ordinations or even just weekend Masses. But the result was far more than fellowship among men who are discerning or have discerned their vocations. 
The stands filled with families, including more than a couple dozen kids, catching up on life, sharing laughter, rooting for their parish priests or the young men they knew from diocesan events or Monday Nights. The Serra Club, who served sandwiches and drinks, had to go back out to the grocery store for more supplies. As the whistle blew and games began, the roar of the crowd echoed in the gymnasium. It didn't subside for two hours, and it was clear that something good is happening in our diocese.
Vocations flourish where we are united in the heart of the Church and to the hearts of one another. Our priests have always had a special bond with their people, and seminarians are given so much unearned support by our parishes. With the House of Discernment alumni pool growing in number and with the ranks of young men in Savio skyrocketing, more and more families have found the bonds of communion that reach across parish boundaries. In fact, those beautiful and fulfilling relationships – united around our shepherd at the Eucharist – are the very substance of what constitutes a diocese. 
As a diocese, have experienced tremendous fruit in the Cursillo movement; in years of March for Life pilgrimages; at more than two decades of Source+Summit; in gathering to acknowledge Bruté recipients; and in many other diocesan ministries. In time, perhaps the good that is happening due to so much prayer and encouragement for priestly vocations will likewise continue to bear fruit for our diocese. 
All it takes is you. 
Applications for the 2021-2022 year at the House of Discernment are still being accepted. If you know of a young man (18-30) who might benefit from a Catholic community of prayer and fraternity while continuing his career or college, please have him contact House Director, Fr. Tyler Tenbarge ([email protected]). 
Father Tyler is Director of Vocations for the Diocese of Evansville.