By Megan Erbacher
The Message assistant editor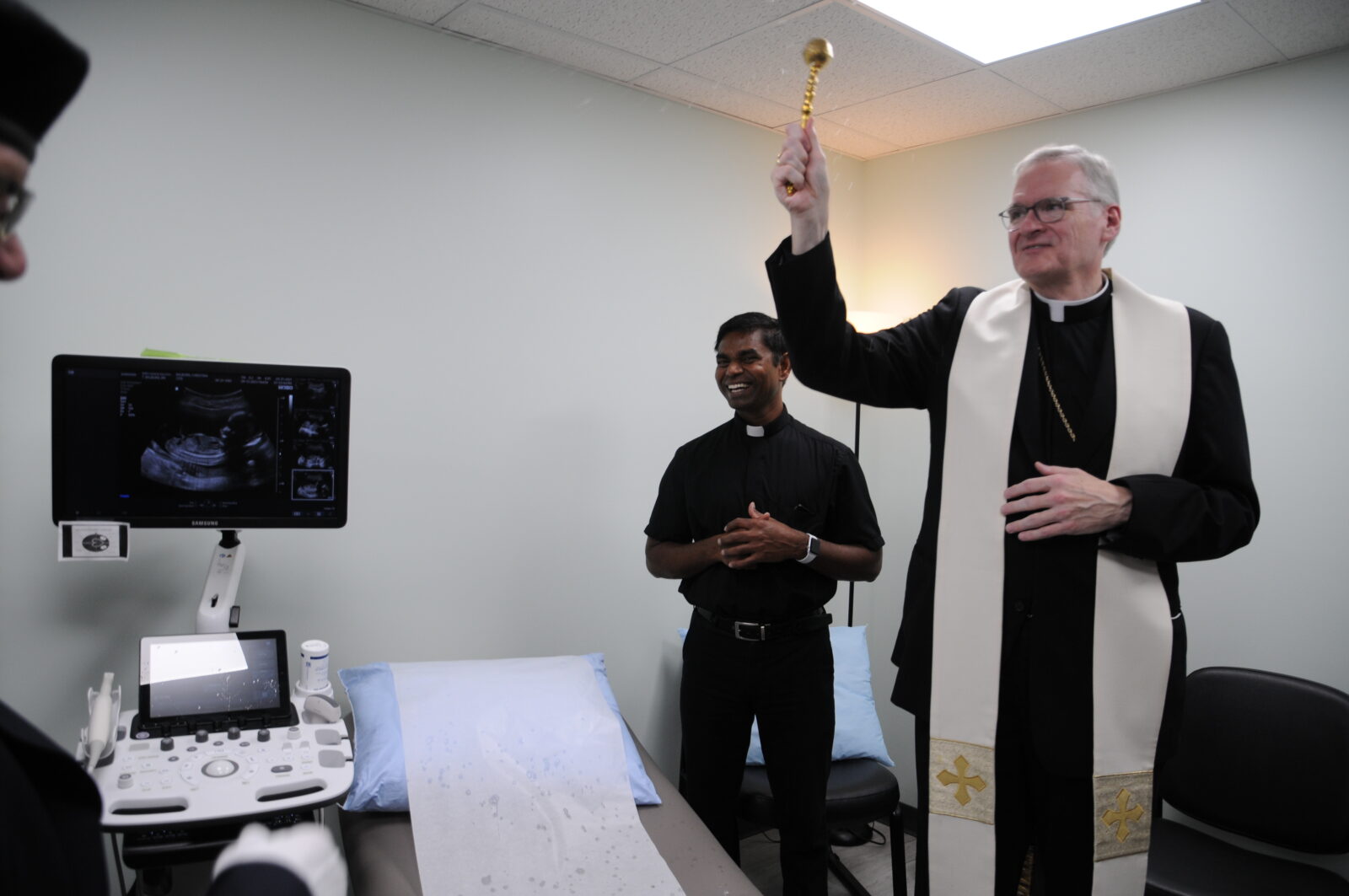 On July 29, Bishop Joseph M. Siegel blessed a new ultrasound machine at First Choice Solutions, formerly known as the Pregnancy Care Center, in Washington.
First Choice Solutions collaborates with local Catholic parishes to provide needed pregnancy support services in their communities. The center recently received a new ultrasound machine, which was funded by the local and national Knights of Columbus.
Many priests of the Diocese of Evansville, several Knights of Columbus, diocesan employees and community members were present for the bishop's blessing.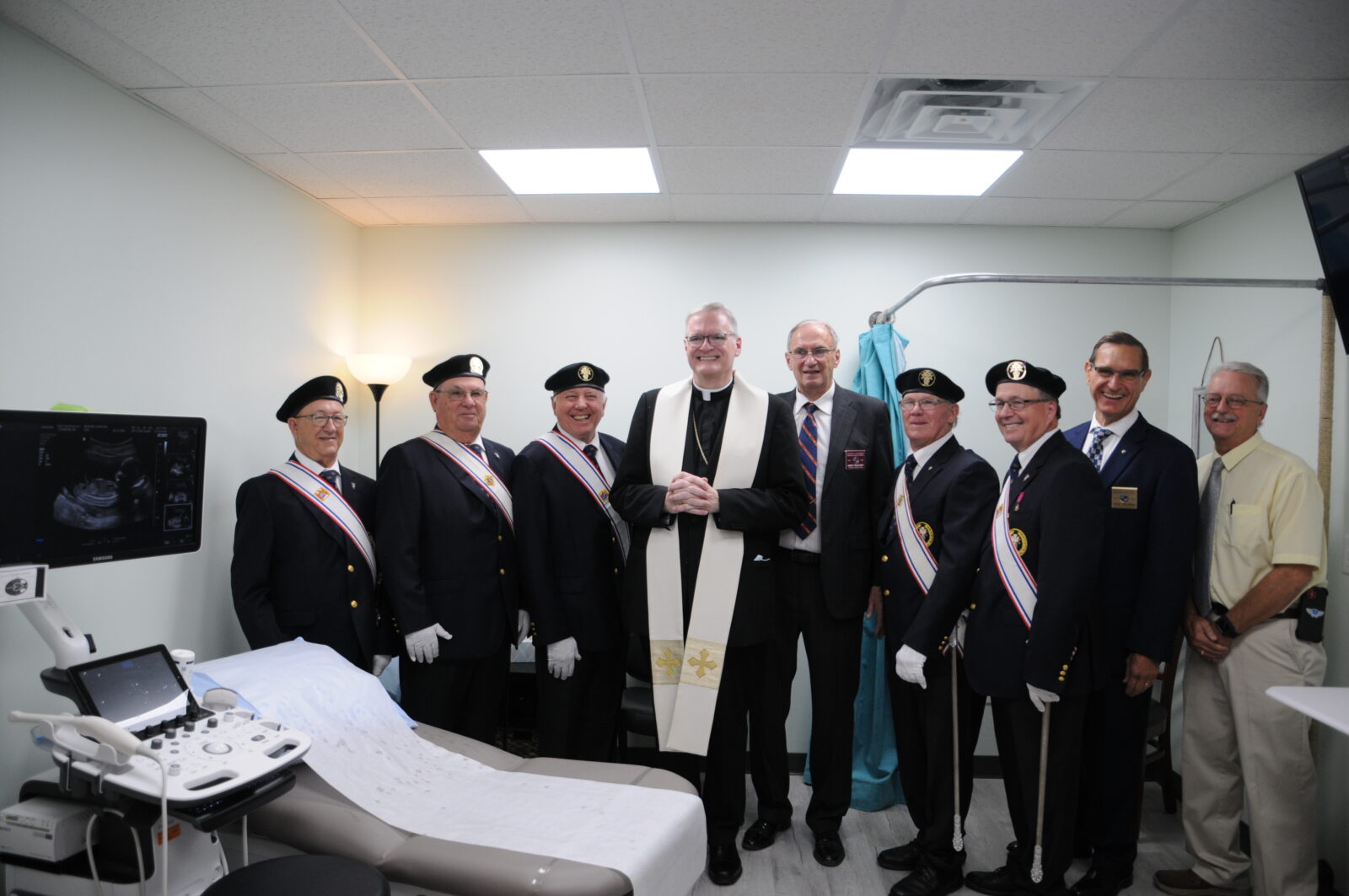 Bishop Siegel thanked the K of C for providing the new ultrasound to First Choice Solutions. He said the gift will be a great help for women to choose life. He also thanked the people who run the pregnancy care center and those who support it for giving women the option and support they need to be able to choose life and to welcome the child, a gift of God, into their lives.
Bishop Siegel sprinkled holy water on the new ultrasound machine and offered a special blessing, asking the Lord to always send His angels to watch over and protect the facility and all who come there and to give them the strength and graces they need to choose life, to hold precious the gift of God within them.
The bishop said the Church upholds the dignity of all human life from conception to natural death, and medical technology like the ultrasound can be crucial in caring for pregnant mothers and the vulnerable lives they carry inside them. The ultrasound also shows to the world that this truly is a life, he said, a person made in the image and likeness of God, deserving of human dignity and respect.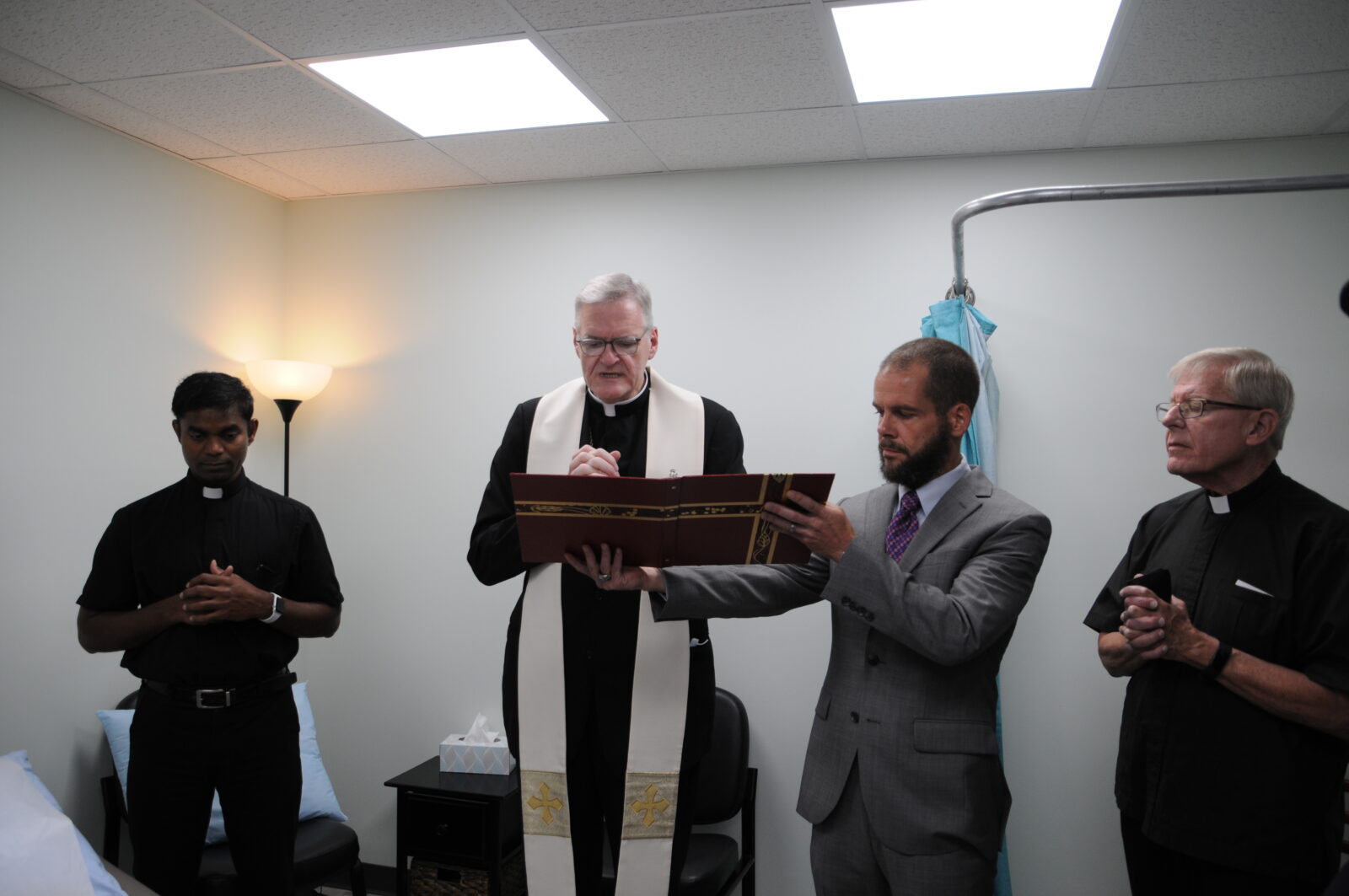 Following the ultrasound blessing, Bishop Siegel walked through the building and sprinkled holy water in each room to offer his blessings. 
Yolonda Taylor, executive director of First Choice Solutions, then provided a tour of the facility.
Established in 1999, First Choice Solutions is a nonprofit medical clinic that supports women and families who are affected by unplanned pregnancy. The clinic offers services, free of charge, including pregnancy testing, pregnancy options counseling, limited obstetric ultrasound, parenting classes and more.
Taylor said the new ultrasound machine is very important because moms get to see their baby early and see their heartbeat, which helps them to see it is a life.
"I believe it's very important for the community of Christ to come together, and to bless what we do, bless these mothers, bless the babies; it's pretty overwhelming and exciting," she said.
Taylor is grateful for the blessings she said the facility has received.
"God has just been so good to us as a ministry, and if it weren't for Him working through His people, we wouldn't have what we have," she said. "All glory goes to Him, but He uses His people, so it's really nice to have a group of people who are supportive of what we do."