Special to the Message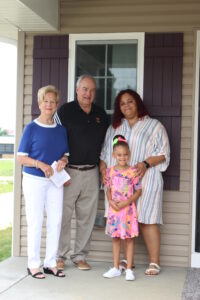 Cassandra R. smiled, with her daughter standing next to her, as her new Habitat for Humanity Evansville home was dedicated July 29 in the 700 block of Herndon Drive in Evansville. It's the fourth completed house in St. Theresa Place, a 14-home Habitat for Humanity subdivision located in the Diamond-Stringtown neighborhood.
Ground was broken for St. Theresa Place in August 2020. The subdivision shares the land formerly occupied by St. Theresa Parish with the new home of Catholic Charities.
Cassandra and her five-year-old daughter, Jhe'Nyla, currently live in a two-bedroom apartment in an area Cassandra described as "rough." She was ready to make a change when her cousin reminded her about the Habitat for Humanity homeownership program.
"I'm excited because this will be the first time I've owned my own house, and my daughter will be able to go out and play in her own backyard," Cassandra said.
Cassandra's home is sponsored by Alan and Sharon Braun. The couple has been involved with Habitat Evansville since the "early days when Habitat founder Millard Fuller would visit Evansville back in the late 1980s and early 19990s," Sister Jane Michele McClure, Habitat's Major Gifts Officer, said.
Those who know Cassandra describe her as a caring individual and loving mother to her daughter, who will be in kindergarten this year. The two enjoy going to the zoo and shopping together. Cassandra works full-time as a dispatcher at Professional Transportation, where she has helped ensure people get off the trains safely for the last three years.
"Since working toward a Habitat home, my life has changed a lot," she said. "I have set goals of things I need to do."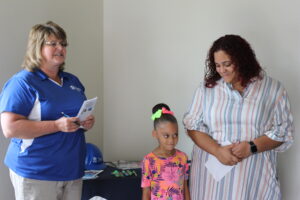 Future Habitat homeowners are required to put in 300 hours of sweat equity, building, taking financial-literacy classes and being involved in the community to complete the program. Cassandra has already exceeded that by nearly 73 hours, and she plans to continue to help build Habitat homes and volunteer at the ReStore.
"I want to help others build their homes from the ground up," she said. "To those who helped get me here, thank you! I appreciate everything you are doing for my family. Core Crew, thank you for showing me how to build and for teaching all of us (future homeowners) the things we need to know as we become homeowners."