Special to The Message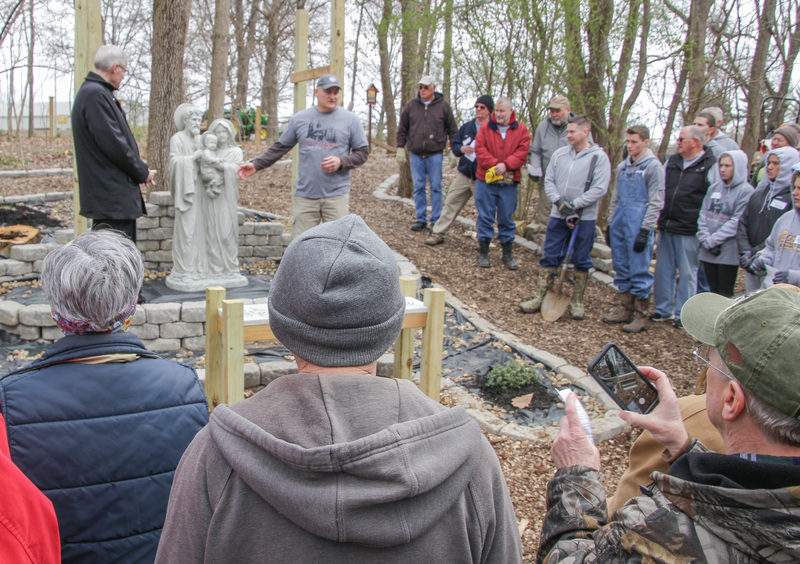 Evansville's Corpus Christi Parish welcomed more than 90 volunteers from across the Diocese of Evansville for the 2023 Saint Meinrad Day of Service. The parish also hosted the 2022 event, which focused on the initial work to create a walking Stations of the Cross and Calvary Cross display. This year, volunteers spent time on campus grounds cleanup and initial work on a Holy Family Shrine along the walking-stations trail.
Day of Service Site Coordinator Craig Blessinger, a Corpus Christi parishioner, said the late Father Jim Blessinger, who served many years as Corpus Christi pastor, had the original vision of creating a walking Stations of the Cross on this property. The parcel of native woods was farmland once owned by the Tekoppel family and purchased by Corpus Christi.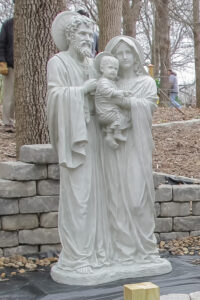 Craig said, "It was Father Jim's vision that provided inspiration for the entire project." He said that three years of planning and preparation went into the effort.
He explained, "In early 2021, my wife, Tara, and I formed a committee that included fellow Corpus Christi parishioners Ed and Thuy Kuhn, Ray Gries, Tom Haas and Thom Knapp. Work soon began thereafter. Current Priest Moderator Father Tyler Tenbarge was approached later in the year and asked about the planning work already in progress, and if he would consider Corpus Christi as a host site for the Day of Service. Father Tyler approached me and the team, and we accepted. We have had an overwhelming response to assist from volunteers."
Craig said the Holy Family Shrine is being built to simply honor them for their sacrifices, Jesus Christ died on the cross, and the Holy Family gave everything so we could live. It is fitting we recognize them, and this shrine is a physical manifestation of that very deserving recognition. He added that finding a suitable statue to serve as the shrine's centerpiece proved challenging.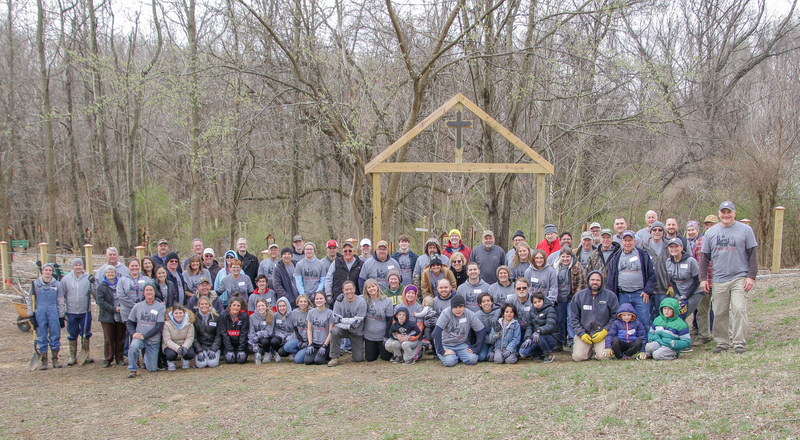 He said, "Tara and I were having difficulty finding fitting statues of the Holy Family until a college visit to see my daughter, Anna, in 2022. We attended Sunday Mass at St. Mary Parish Church in Lafayette and noticed a wonderful Holy Family statue in front of the church's administrative offices. I contacted the parish's director of operations about the statue, and he directed me to Design Toscano, Inc., where the purchase was soon made. The Holy Family statue is a work by Italian artist and sculptor Carlo Bronti."
Bishop Joseph M. Siegel visited the site during the March 11 Day of Service and helped Blessinger unveil the statue and offered prayer for the volunteers and their efforts. 
Craig said there is still work to be done on the Holy Family Shrine, including installation of a roof over the statue. That work is slated to be completed later this year. As for the walking Stations of the Cross, signage also will be placed around the paths this year. The final phase of the Stations will include construction of a Marian Grotto and prayer area to honor the Blessed Mother, which will likely be completed by 2024.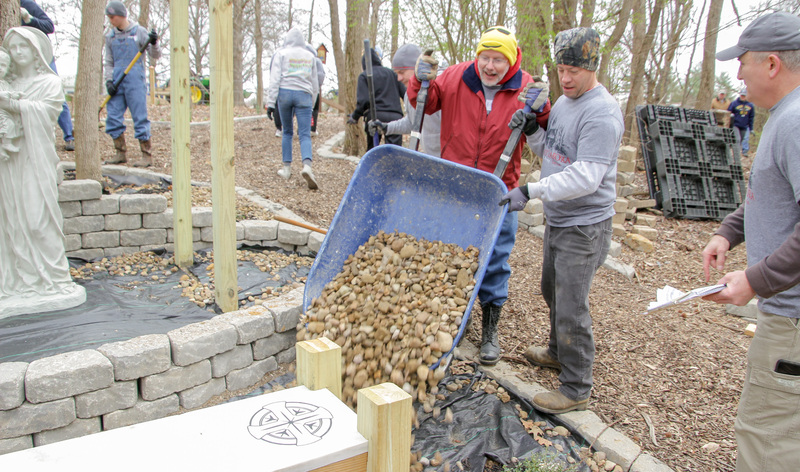 Craig noted that numerous individuals and businesses made the Stations and Holy Family Shrine projects, and the two St. Meinrad Days of Service, successes. They include over 25 private donors, the Corpus Christi Men's/Women's/Seniors Clubs, Knights of Columbus Auxilio Council, and in-kind donations from Donut Bank, Mark, Mary, Mike and Michelle Eickhoff, John Schroeder, Lowes West/East, Marx Barbeque and Catering, Midwest Roofing and Sheet Metal, Audie and Kami Wilson c/o Coca Cola, Jerry David Enterprises, EBN Industrial, Schenk & Sons Tree Service, and the St. Meinrad Archabbey and Seminary and School of Theology Alumni Relations Office.
He added, "We are called to be the hands and feet of Jesus Christ, and the 2022 and 2023 St. Meinrad Days of Service at Corpus Christi have truly given numerous volunteers the opportunity to fulfill that task while honoring the Holy Family in the process."