By Megan Erbacher
The Message assistant editor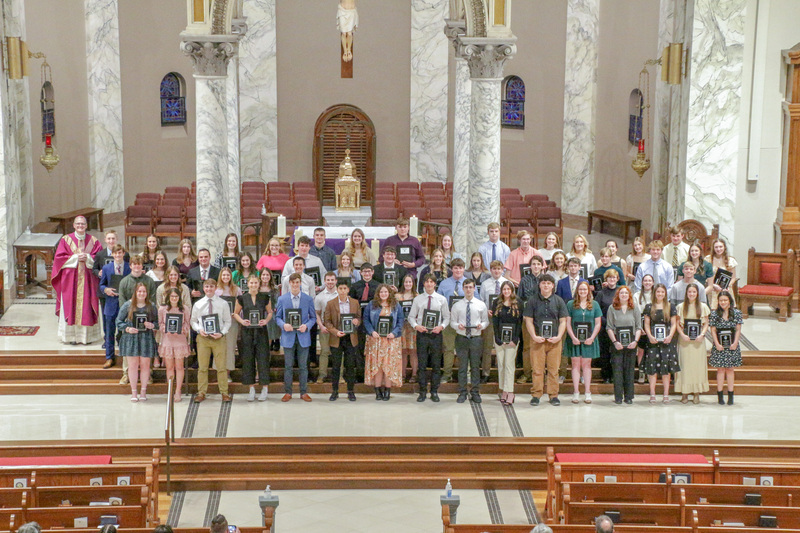 St. Benedict Cathedral in Evansville hosted the 2023 St. Maria Goretti Youth Distinction Mass and awards presentation on March 12 to honor 67 young people from across the diocese for their outstanding contributions to the life, mission and ministry they provide to their family, parish, school and community. Bishop Joseph M. Siegel concelebrated Mass with 19 priests of the Diocese of Evansville.
Deacons John McMullen of Annunciation Parish in Evansville and Ed Walker of Resurrection Parish in Evansville assisted. Matt Miller, director of the diocesan Office of Worship, served as master of ceremonies. Honorees Allison Weber of St. Philip Parish in Posey County and Ty McKnight of Holy Name Parish in Bloomfield served as lectors. Gift bearers were Grace Lewellyn of St. Peter Parish in Linton and Jovan Graves of Holy Name Parish in Bloomfield.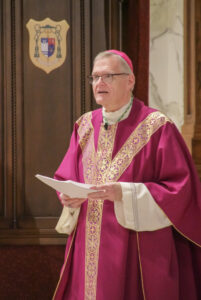 During his homily, Bishop Siegel encouraged the honorees to always look to St. Maria Goretti's examples of courage and faithfulness. As they are tempted to go against what they know is right, he said, may St. Maria Goretti's simple, yet profound, faith inspire them to be strong in their commitment to Christ and the church, to be a witness to the Lord by their service to others, and to always be grounded in their relationship with Christ.
Bishop Siegel said St. Maria carried the crosses of her life with patience, hope and a maturity level far beyond her 11 years. She couldn't read or write, he continued, so she only learned about Christ by being taught by her catechists. However, he said she knew and lived her Catholic faith perhaps more profoundly than any theologians.
Bishop Siegel noted that St. Maria believed it was a privilege to be loved by God and to love him in return, no matter what. Her deep relationship with Christ gave her the strength to stand up for her beliefs, he said, even at the risk of her life.
Bishop Siegel talked about the gospel reading of the day, John 4:5-42, in which Jesus speaks of a spiritual thirst that each one of us needs to fulfill. There's an emptiness and a void, he explained, that can only be filled by God. Jesus reminds us, Bishop Siegel said, that it's only when we open ourselves to God's life, grace and forgiveness that we can find true fulfillment in our lives.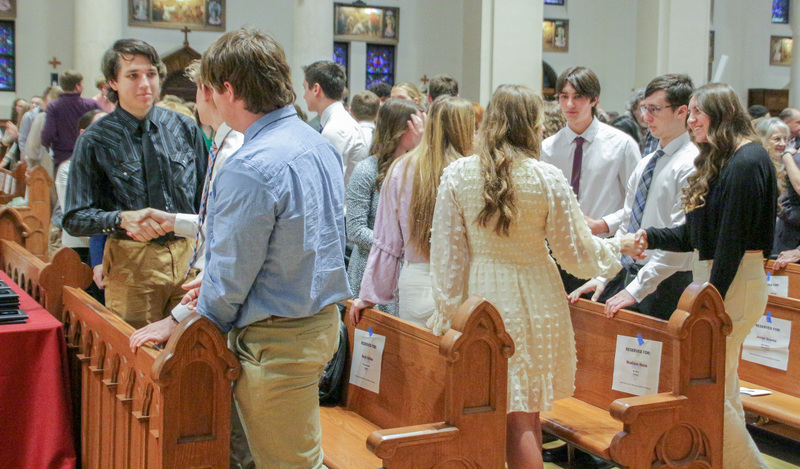 Jesus is calling us into a relationship with him, the bishop added, for it is only in and through this union with him that we'll find peace in our hearts and satisfaction for the inner thirst we experience. Bishop Siegel said only Christ can calm the restlessness in our hearts and our lives.
In conclusion, Bishop Siegel congratulated the honorees and expressed that their families, parishes and the diocese are proud of them and believe they will accomplish great things in their life as you put their Catholic faith into action through whatever vocation God calls them. He offered the Lord's blessings over them and the Lord's guidance on them and their journey of life and faith.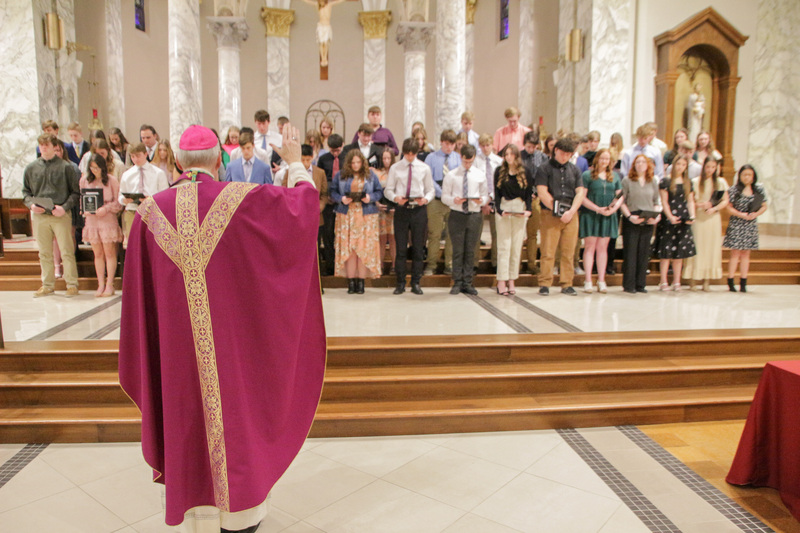 Following Mass, Bishop Siegel presented individual awards to the 67 honorees and, as he concluded, blessed the group and thanked them again for all they have done in their families, schools, parishes and communities.
After Mass, Diocesan Director of Youth and Young Adult Ministry Jeremy Goebel thanked everyone who assisted with the Mass and awards ceremony. Goebel then asked those who minister to youth to stand for a round of applause, and he thanked everyone in attendance.
"If you're here, odds are you've made a great impact on the lives of these young people," he said. "Thank you for the role that you've played. They couldn't be here without you."