By Megan Erbacher
The Message assistant editor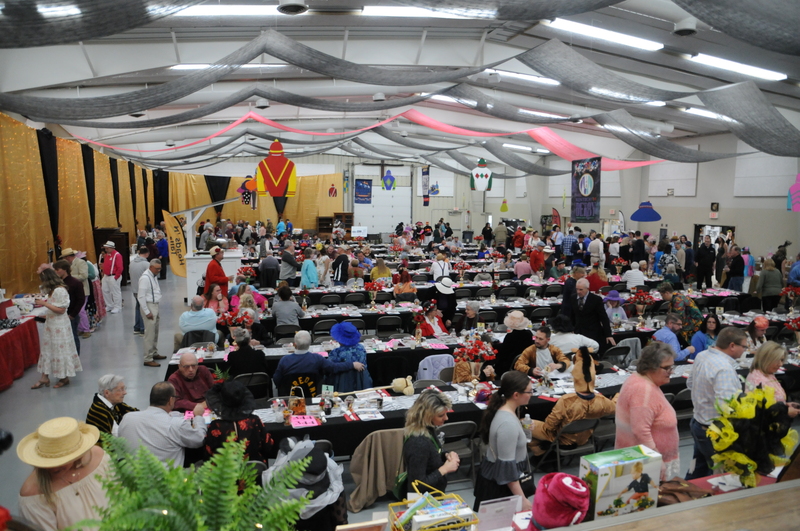 A sell-out crowd of nearly 400 people was off to the races for the 23rd Annual St. Matthew School Benefit Auction at the Posey County Community Center on March 11. This year's "Run for the Roses!" theme treated attendees to a night at the Kentucky Derby to raise money for St. Matthew School.
The center transformed into Churchill Downs Racetrack for an evening of bidding on horse racing and dining on southern fare worthy of any derby soirée, including derby pie and the traditional Mint Julep beverage. The evening also featured a best hat and bowtie contest.
St. Matthew School Principal Christan Shockley said the school and parish community "really know how to plan an elaborate event."  
"It feels like you are stepping away from the rural community of Posey County into a night on the town. … It is truly a classy event," Shockley said. "It's great to see so many people and local businesses come together to support St. Matthew School."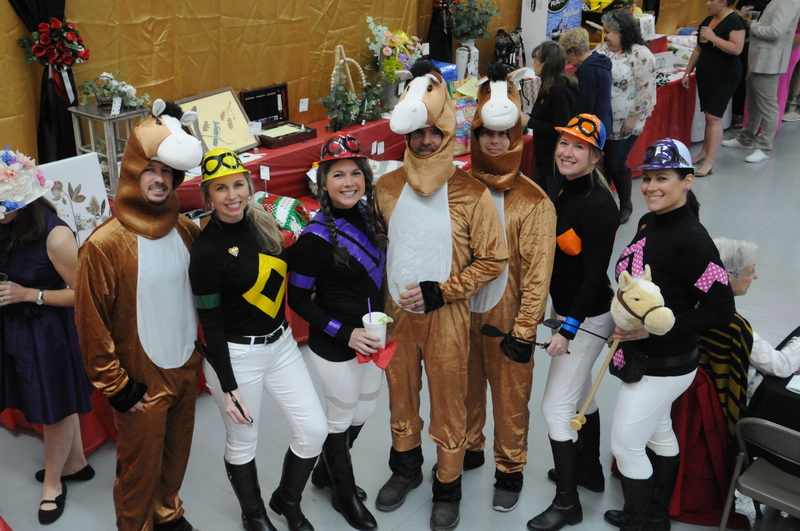 The auction is the largest fundraiser for the school and Child Care Ministry, according to organizers. Proceeds provide the funds to purchase equipment and make repairs necessary to maintain a safe and healthy environment for the school and parish families.
Frank Winiger and Tom Hoehn, St. Matthew graduates, lifetime parishioners and Men's Club members, have been involved with the auction since the beginning. Frank is one of four auction founding members.
"To start with, we have God in our corner," Winiger said of the event's success. "And we've got a wonderful group of people who work together for a common cause. We're all centered on it."
Hoehn added, "We have a lot of people from a lot of different areas pull together for one cause."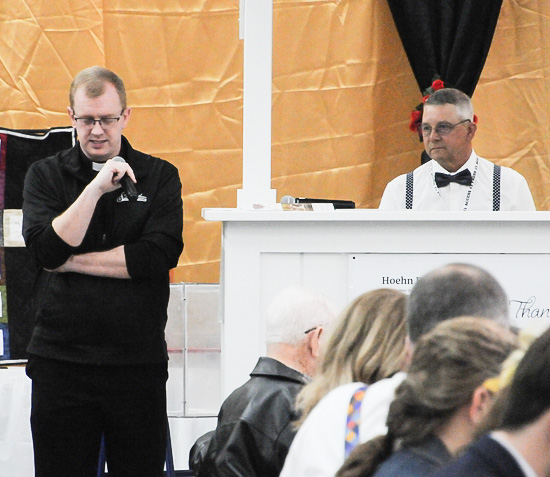 Andy Winiger, Frank's son, has served as the auctioneer since the first event. Andy's wife Keely and their three daughters joined him in the second year. Their three girls all attended St. Matthew, so the family has always been "big supporters."
Andy and Keely agreed their driving force to make the auction a top-notch event year after year is their love for the school.
"I think it's because of the love that we have for the school," they said. "But it's also a community event now. It's become a good time for everybody."
The support is not just from parishioners, Frank explained, it's an ecumenical gathering.
"The school has been a cornerstone of Mt. Vernon since 1867," Shockley said. "There is a great deal of community pride in having the tradition of a private, Catholic School in such a small town. The community is very generous in making donations and bidding up the prices of items on the live auction."
The silent and live auctions were both hits, as usual, with auctioneer Andy providing a fun and fast-paced live auction.
Hoehn recalled the advice Hugh B. Miller of CM Benefit Auctions gave organizers that first year: offer items that "no one can buy anywhere else."
Nearly 300 items were donated for the silent auction and bidding frenzy, as well as an additional 41 items for the live auction. Some auction items included a Murder Mystery dinner; coon hunt; pony party; class projects; dinner packages; hayrides; a Santa visit and Grinch visit; hand-sewn quilts; family night packages; wall décor; a photo session and homemade desserts.
This year's Fund-a-Need portion of the auction raised money to help replace the school's roof, particularly over the gym and cafeteria.
A final figure for the 2023 benefit wasn't available by print time. Frank said funds raised exceeded $1 million during the 17th benefit, and proceeds continue to grow steadily.
Over the years, auction proceeds have paid for many school improvements, including interactive whiteboards, iPads, classroom computers, replacing classroom windows, and upgrading the security system, heating system, air conditioning and restrooms.
St. Matthew's current enrollment for preschool through fifth grades is 98 students, and all faiths are welcome. 
The 32-member committee is already working on next year's auction, a Masquerade Ball on March 9, 2024.