Special to The Message
The Daughters of Isabella Washington Ave Maria Circle #598 gathered May 25 at the Corning Irish Center to celebrate their 85th anniversary and milestone anniversaries of individual members.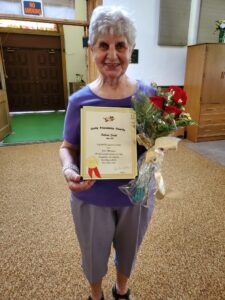 Roberta Smith, a long-time member, celebrated her 70th year in the D of I. Smith was recognized for her support to Circle #598 for her work on many successful fundraisers and chairing the annual sale of nuts. Over the years, she's held many offices and is a strong support to the current officers.
Other members who were honored for milestone anniversaries include Colleen Behme, 55 years; Barbara Wininger, 45 years; Kay Heffernan, 20 years; Anita Cornelius, 10 years; Mary Lucille Ray, 10 years; Phyllis Daily, 10 years; Helen Evans, five years; and Rebecca Kitts, five years.
The women who were recognized received a certificate for their years of membership.
To congratulate and thank members for their continued membership and support, the evening was spent sharing a meal and enjoying fellowship. The celebration was attended by Karen Taggart, Phyllis Daily, Shirley Wade, Vicki Catt, Kay Heffernan, Cynthia Warne, Mary M., Cheri Parker, Vicki Marchino, Melea Lunsford, Rose Ann Halter, May Jean Bassler, Donna Kenworthy, Roberta Smith, Ramona Garcia, Diane LaGrange, Peggy Ryan, Joyce Brochin and Maureen Strange.
The motto for the Daughters of Isabella is "Unity, Friendship and Charity." This year, Circle #598 members volunteered 3,275 hours and completed 1,900 spiritual activity hours.
The organization is not affiliated with a specific parish, Regent Rose Ann Halter said. Circle #598 members are from local parishes.
If anyone is interested in joining the Daughters of Isabella, contact any member or call Halter at 812-254-5373.