Special to The Message
Editor's note – The following information appears in the digital and print editions of the May 8 issue of The Message under "People We Care About" on page 2.
Deacon Levi M. Schnellenberger, 77, of Jasper, died May 2 in the Franciscan Hospice House in Indianapolis, surrounded by his loving family.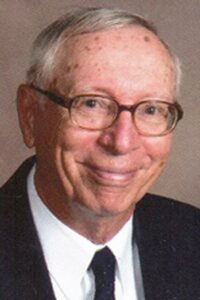 He was ordained a deacon for the Diocese of Evansville in 2005 and served St. Joseph Parish in Jasper.
Deacon Levi was born Oct. 7, 1942, and was raised in his beloved St. Meinrad, Indiana, the son of Edwin and Gertrude (Vaal) Schnellenberger. He graduated from St. Ferdinand High School in Ferdinand in 1960. He served in the United States Army from 1961 to 1964, which included 26 months in Hanau, Germany. Deacon Levi developed his love for travel while serving in Germany; he took many trips throughout Europe while on leave from duty. After serving his country, he attended Lockyear Business College in Evansville, Brescia College in Owensboro, Kentucky, and Indiana State University, eventually earning his bachelor's degree in Accounting and a master's degree in Business Administration.
On Aug. 26, 1972, Deacon Levi married Thelma Waninger. They raised their three children in Jasper. He often commented that the best years of his life were when he was raising his family. He devoted countless hours to youth sports in Jasper as a coach and board member, including Jasper Youth Soccer Board, Little League Baseball Board, softball, basketball, and the Dubois County Track Club. He was always a favored coach due to his calm demeanor and respect for his players. He always had the "big picture" in mind in youth sports. Deacon Levi also enjoyed his years with the Jasper Band Parents, where he served as treasurer for many years. He was also a member of the Dubois County John Purdue Club as well as accounting organizations.
Deacon Levi worked as a CPA, eventually retiring from the Dubois Rural Electric Cooperative. After his retirement, he was ordained a permanent deacon in 2005 for the Diocese of Evansville. He served St. Joseph Parish in Jasper for 15 years, where he also was a religious education teacher, lector, and a member of Friday Memorial Hospital Communion Committee, Legion of Mary and the St. Vincent de Paul Society.
His passion for service continually helped the struggling in Jasper as he met with them to determine needs of the St. Vincent de Paul Society. As a deacon, he was known for his personal, practical sermons. His influence in the Jasper community and his circle of acquaintances broadened throughout his life as he became a well-known, respected Jasper resident, known for his humility, authenticity, generosity, positivity, kindness, outgoingness, wisdom and sense of humor.
He was an avid Purdue University sports fan and football season ticket holder. Deacon Levi also cherished the Indianapolis 500. He was a lifelong learner, enjoyed reading, and he was proud of his family. His warm and easy-going personality brought comfort and joy to many as he was a man of great virtue and moral character.
He was preceded in death by his parents, Edwin and Gertrude Schnellenberger; sister, Marlene Pund; brother, Walter Schnellenberger; nephew, Rodger Schnellenberger; and grandson, Ryan Schnellenberger.
Survivors include his wife of 47 years, Thelma Schnellenberger, of Jasper; three children, Sandra (Pat) Haney of Shelbyville, Indiana, John (Julia) Schnellenberger of Stow, Ohio, and Karen (Keith) Gerhart of Plainfield, Indiana; seven grandchildren, Brooke, Joshua, Bryce, Natalie, Andrew, Emilie and Luke; two sisters, Doris (Charles) Seng of Jasper and Betty Millay of Evansville, as well as beloved cousins, nephews, nieces and friends.
Private funeral services will be held at Becher-Kluesner Funeral Homes in Jasper, with interment to follow in St. Boniface Cemetery in Fulda, Indiana.