By Tim Lilley
The Message editor
More than 150 candidates for Confirmation – young people from across the Diocese of Evansville – attended Alive in the Spirit, which was hosted Feb. 11 by St. Joseph Parish in Jasper.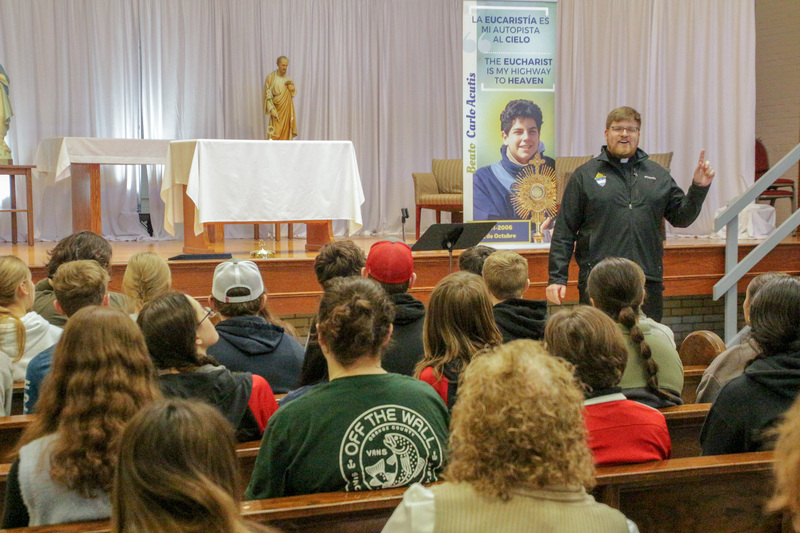 They heard from a Diocese of Evansville seminarian, a diocesan priest and two young evangelists who are active in ministry. Small groups met with catechist volunteers after each presentation to talk about what they learned from the presentations.
The day concluded with Eucharistic Adoration that included praise and worship, followed by Mass in St. Joseph Church. The diocesan offices of Catechesis, Hispanic Ministry, and Youth and Young adults coordinated Alive in the Spirit, which is a kind-of reimagined version of the annual confirmation spectacular.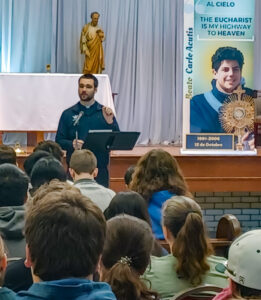 Seminarian Aaron Herrenbruck opened the day with a presentation entitled "Who is God, and who are you?" Small groups broke off to talk about Aaron's presentation. Organizers expanded the number of small groups, and volunteer catechists from across the diocese led the groups.
Father Luke Hassler, pastor of St. Mary Parish in Ireland, gave the second presentation, "What is Confirmation?" This story will focus on that presentation since it relates directly to the sacrament the young people were preparing to receive. 
Father Luke began by explaining that, to understand what Confirmation is, we have to understand all the sacraments – and the Church. He asserted that the Church is not an organization; it is an organism – the Body of Christ. He added that we were baptized into that body, and we go to Mass and other liturgical services because Christ gives us His grace through the sacraments. 
Father Luke said Confirmation is the final sacrament of initiation – the three are Baptism, First Communion and Confirmation. Through Confirmation, we receive the gifts of the Holy Spirit – and God sends us out to evangelize.
He noted that, as he confirms us, the bishop makes the sign of the cross on candidates' foreheads and says, "Be sealed with the gifts of the Holy Spirit. God bless you." Why the sign of the cross?
Father Luke explained that, in Jesus' time, the cross represented the most painful and humiliating form of torture there was. Through the cross, Jesus died for our sins. As a result, the sign of the cross confirms our roles as soldiers for Christ.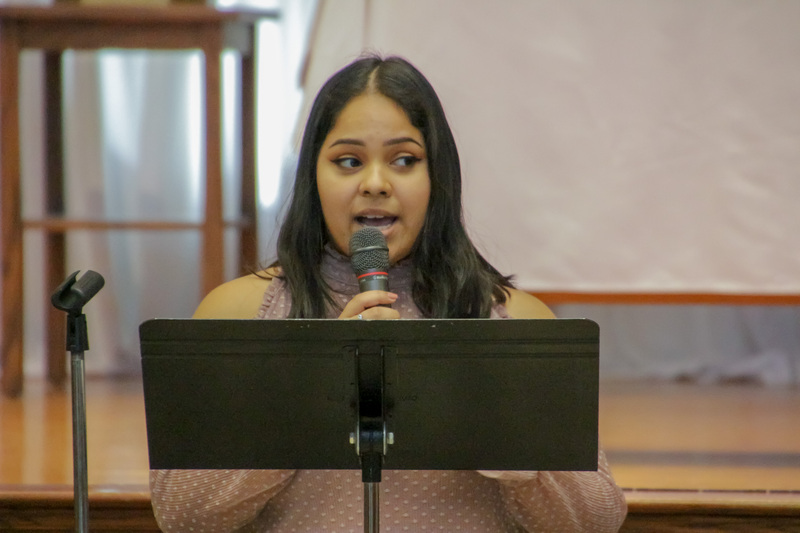 Another chance for small groups to talk about what they learned during Father Luke's presentation. Next up was a personal witness from Claudia Hernandez of St. Francis of Assisi Parish in Dale, who recounted her journey to America from Mexico and the challenges she faced as she prepared for Confirmation. 
Doug Orzel of the NET ministry, which is active in Dubois County, followed Claudia with the day's final presentation: "What is your mission and purpose?" 
Adoration immediately followed Doug's presentation, with the 4:30 Mass concluding the day.