By Megan Erbacher
The Message assistant editor
After his first pilgrimage to World Youth Day in Lisbon, Portugal, 17-year-old Gus Hagedorn said he believes God wanted him to learn that it's important to stay faithful in a world where it can be easy to lose track of your faith.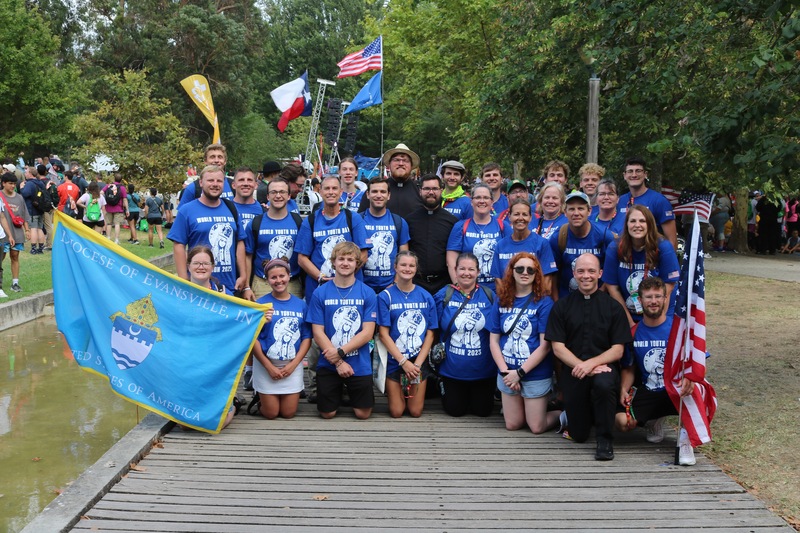 Hagedorn was one of 30 Diocese of Evansville pilgrims who attended World Youth Day in Lisbon, Portugal. The group departed for Europe July 28, and they arrived home Aug. 8. WYD was Aug. 1-6, and this year's theme was, "Mary arose and went with haste" (Luke 1:38).
Hagedorn attends Forest Park High School, and he's a parishioner of Christ the King in Ferdinand, Indiana.
"The amount of people in attendance was a very powerful way that, I think, God wanted me to realize the importance of faith," he said. "I realized that WYD would not have been the same if just one person lost faith because it takes everyone to make it happen."
In December 1985, Pope John Paul II announced the institution of WYD. It's a worldwide encounter with the Pope, typically celebrated every three years in a different country, to experience the universality of the Church, deepen in faith and grow closer to Christ.
Some of the sites the diocesan group visited included: the Hungarian Stations of the Cross to Aljustrel in Fatima; the site of the Eucharistic Miracle of Santarem; the chapel of the apparitions in Fatima, where they attended Mass and a candlelight vigil; and a walking tour of Lisbon. Several churches housed the relics of blesseds and saints who are patrons of WYD. The pilgrimage concluded with Mass with Pope Francis and pilgrims from across the world.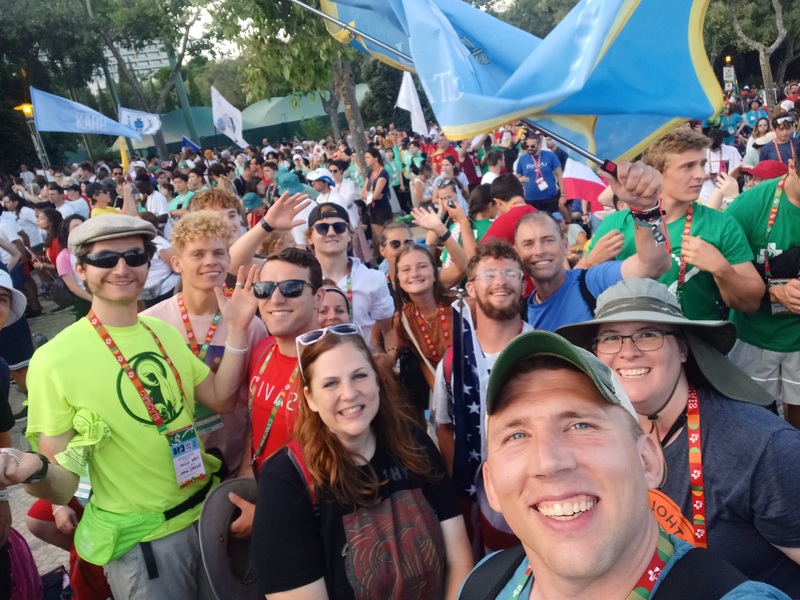 Jeremy Goebel, Diocesan Director of the Office of Youth and Young Adult Ministry, said his first WYD pilgrimage was "an unforgettable experience" that was "grace-filled." He experienced God through the people around him. 
"God is certainly moving through the young Church across the world and in our diocese," he said. "I also had a powerful encounter with Our Lady while praying in Fatima. Her maternal intercession has always meant a great deal to me. It is through her intercession that I am able to draw closer to her son, Jesus, in the Eucharist."
Jordan Bacon, 17, wanted to experience the joy of being Catholic and to be inspired for the future of the Church. A junior at Mater Dei High School and parishioner of St. Philip in Posey County, Bacon experienced God through the virtue of humility. 
"On this pilgrimage, time and time again, I witnessed someone putting the needs of someone else before their own," she said. "This was a reminder to me of how little acts of love and generosity to others can make a much bigger impact than one may think."
This was the fourth WYD pilgrimage for Sherie Cooley, Director of Religious Education and Youth Ministry at St. Francis Xavier Parish in Poseyville and St. Wendel Parish in St. Wendel. Every pilgrimage, Cooley is "blown away by the energy and fire of the young Church."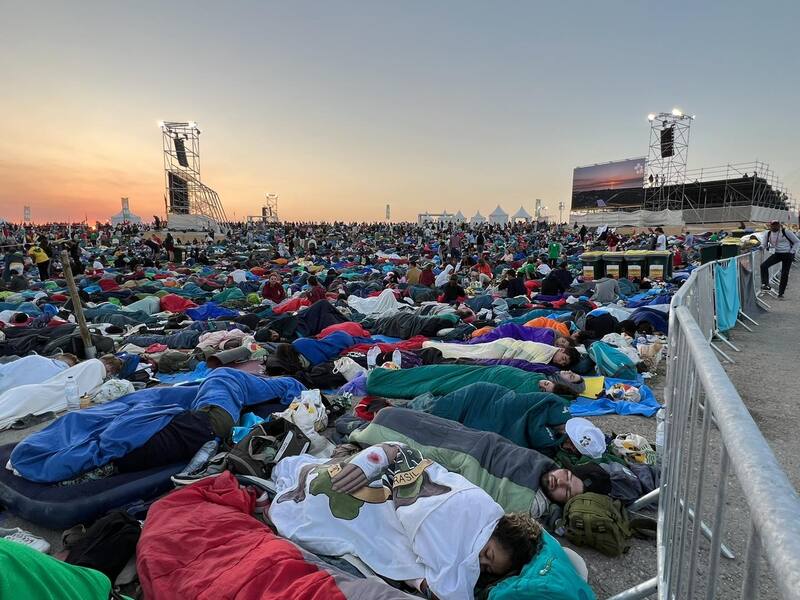 "People from all over the world are meeting each other, sharing stories and celebrating our faith together," she said. "We laugh and dance together. It feels like a taste of heaven. Even with great diversity, you see that people are all the same. The Church is so much bigger than our small communities back at home, and yet, God meets each of us in our smallness."
Bacon will never forget how clear the Lord made his love for his people.
"You could feel his presence flowing throughout the crowds of people, and you could see his love radiating through each encounter one person was having with another," she said.
Hagedorn realized he's not alone in his faith journey.
"It was very powerful to see 1.5 million people, all from different backgrounds, attend Mass at the same time," he said. "It gave me hope for the future of our faith, as well as made me realize that there are youth all over the world that have the same beliefs as me."
Cooley and Goebel thanked everyone who helped make the pilgrimage a reality and who prayed for the group. Goebel especially expressed his gratitude to his wife, Katie, for her support and encouragement.
"My prayer for our group of 30 was for each person to be brought closer to Jesus Christ through the Immaculate Heart of Mary," he said.