By Tim Lilley
The Message editor

More than 2,200 people who stand for life filled the Old National Events Plaza ballroom Aug. 10 for Right to Life of Southwest Indiana's annual banquet. The event is the largest of its kind in the country. Bishop Joseph M. Siegel attended and offered the banquet's closing prayer.
Actor Kirk Cameron, well-known for his pro-life and pro-family work in film and other arenas, served as keynote speaker. Attorney David J. Scotton, the subject of the award-winning documentary "I Lived on Parker Avenue," also appeared as a special guest of Right to Life of Southwest Indiana.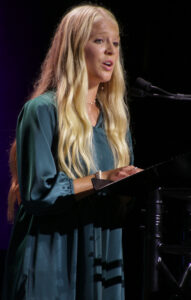 Also featured during the banquet was Gibson Southern High School student Aleks Parmer, a member of Sts. Peter and Paul Parish in Haubstadt, who won Right to Life of Southwest Indiana's 2023 Oratory Speech Competition. Aleks presented her winning entry, a moving talk about her pro-life views. 
She discussed preparing for her Confirmation, and her decision to choose Gianna as her Confirmation name in honor of St. Gianna Molla. St. Gianna was an Italian doctor and mother who, although aware of the fatal consequences, refused to terminate her pregnancy or to undergo a hysterectomy during her pregnancy with her fourth child, Gianna Emanuela. 
In her presentation, Aleks said, "If you don't stand for life, what do you stand for? None of us would be here unless our moms said yes to life." Aleks received a standing ovation for her remarks.