By Justin McLellan, Catholic News Serve Rome Bureau
Editor's note: The Message staff contributed to this story. Also, see the accompanying story by Father Tyler Tenbarge, who was in Rome for the Ordination Mass.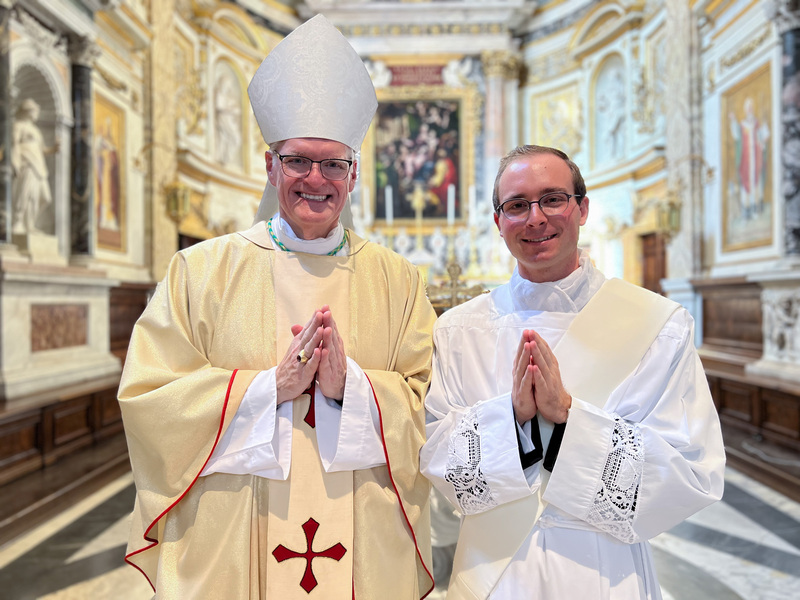 VATICAN CITY (CNS) -- Near the tomb of St. Peter, 18 seminarians from across the United States promised to dedicate their lives to Christ and were ordained to the diaconate. Among them was Diocese of Evansville Seminarian Deacon Tyler Underhill, a son of Our Lady of Hope Parish in Washington. Archbishop Paul S. Coakley of Oklahoma City presided.
For the Church's next generation of ordained ministers, "it is not enough to be good churchmen; you must be disciples," Archbishop Coakley told the new deacons in his homily during the ordination Mass at the Altar of the Chair in St. Peter's Basilica.
"If any of you seminarians were so naive to believe that priesthood would bring you a privileged existence, we're about 60 years too late," he said in his homily during the Sept. 28 Mass. "That age of Christendom -- that age where Christianity and society were so closely aligned as to sometimes be indistinguishable -- has passed."
Three U.S. cardinals -- Cardinals Raymond L. Burke, retired patron of the Order of Malta; James Harvey, archpriest of the Basilica of St. Paul Outside the Walls; and Edwin F. O'Brien, retired grand master of the Equestrian Order of the Holy Sepulchre of Jerusalem and a former rector of the U.S. seminary in Rome -- concelebrated the Mass with four other bishops and several other priests.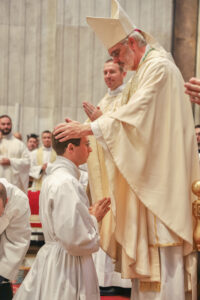 Bishop Joseph M. Siegel concelebrated the Mass, and he was joined by five priests of the diocese, including Diocesan Director of Vocations Father Tyler Tenbarge; Associate Director of Vocations Father Tony Ernst, pastor of St. Francis Xavier Parish in Vincennes and St. Philip Neri Parish in Bicknell; Father Paul Ferguson, Pastor of Our Lady of Hope Parish in Washington; Father Andrew Thomas, Administrator of St. James Parish in Haubstadt and Sts. Peter and Paul Parish in Haubstadt; and Father Ryan Hilderbrand, Pastor of St. Philip Parish in Posey County and St. Matthew Parish in Mount Vernon. Deacon Dennis Hilderbrand of Our Lady of Hope Parish, Father Ryan's dad, also attended. 
After the Gospel reading from St. John, in which Jesus tells the apostle, "It was not you who chose me, but I who chose you," each candidate for the diaconate presented himself to Archbishop Coakley, who confirmed the worthiness of the candidates to applause from their many family members, friends and seminary students gathered in the assembly.
Each seminarian promised "to discharge with humble charity the office of the diaconate," hold fast to the mystery of faith, embrace celibacy, be obedient to his bishop and conform his life to Christ.
In the most ancient part of the sacrament of holy orders, one-by-one each candidate knelt before Archbishop Coakley who laid his hands atop his head and called the Holy Spirit upon him.
The 18 seminarians then prostrated themselves below the more-than-20-foot-tall sculpture of the chair of St. Peter, sculpted by the Baroque Italian master Gian Lorenzo Bernini, to receive the ordination prayer. "May every evangelical virtue abound in them: unfeigned love, concern for the sick and poor, unassuming authority, the purity of innocence and the observance of spiritual discipline," Archbishop Coakley prayed.
Exchanging smiles and embraces with their brother deacons, they were vested in stoles and dalmatics, the vestments of deacons, before processing to the altar for the presentation of gifts.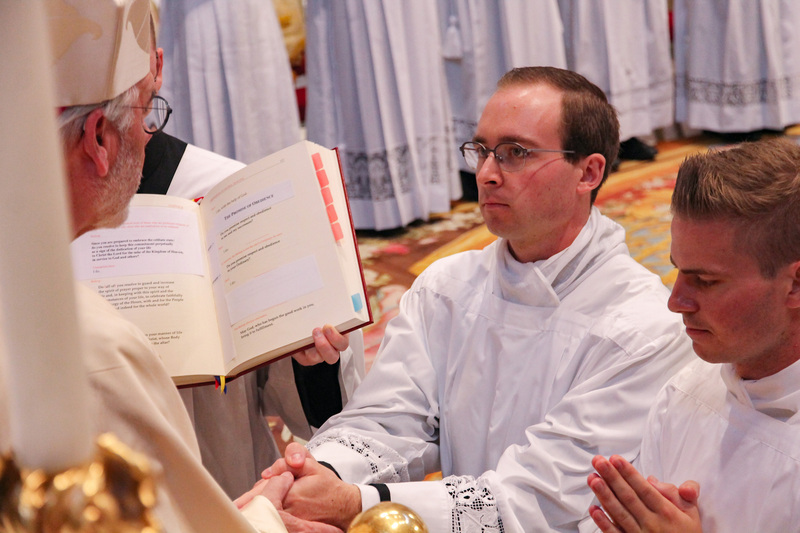 Archbishop Coakley told CNS that, although "the Church is fractured in many ways," the new deacons and others following in their footsteps "will have the opportunity to help bridge those divides and bring people together with deeper faith, deeper hope and deeper charity."