By Father Tyler Tenbarge
Special to The Message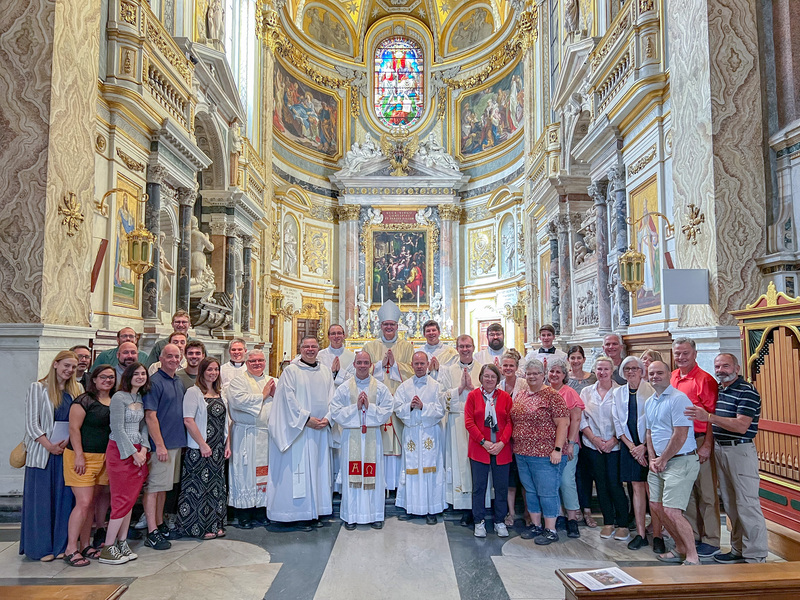 A pilgrim group of more than 25 from the Diocese of Evansville made their way to Rome for the Sept. 28 ordination of Seminarian Tyler Underhill as a transitional deacon. Bishop Joseph M. Siegel and five priests of the diocese concelebrated the Ordination Mass, which was presided over by Archbishop Paul Coakley of Oklahoma City. Deacon Tyler's family and several others joined hundreds of faithful who attended the liturgy held at the Altar of the Chair, beneath Bernini's bright Holy Spirit window.
It was a beautiful fall morning in Rome as Tyler processed into St. Peter's Basilica to be ordained. The chanting of the all-male choir of seminarians, smiling families of the candidates, and tears of joy upon the faces of the ordination class after they were vested, marked the joyous Mass in the glorious space. 
Deacon Tyler, who is in seminary formation at the Pontifical North American College, now joins his fellow Diocese of Evansville classmates Deacon Caleb Scherzinger and Deacon Phillip Rogier as transitional deacons. Deacons Caleb and Phillip, who are in formation at Saint Meinrad Seminary in St. Meinrad, were ordained at St. Joseph Parish in Jasper in April 2023. All three seminarians anticipate being ordained as priests of the Diocese at St. Benedict Cathedral in Evansville in June 2024. 
A group of about 30 family, friends and classmates celebrated with Deacon Tyler at an evening supper that day, and joined him the following morning as he preached his first homily at Chiesa Santa Maria dell'Anima, near Piazza Navona. It was the Feast of the Archangels. Bishop Siegel presided and the priests from the diocese concelebrated.
In his first homily, Deacon Tyler reminded those present that the angels each have a mission. Likewise, each Christian has a mission to defend the truth, heal the broken or proclaim the kingdom.