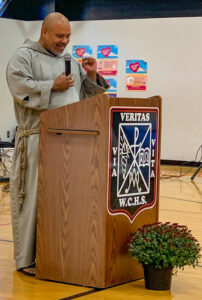 BY BERTHA MELENDRES
Office of Hispanic Ministry
BECAUSE I AM CATHOLIC!
Editor's note: The Spanish version of this feature appears below.
The Office of Hispanic Ministry held the fourth annual Encuentro de Fe, on Oct. 16, 2021, a half-day retreat in Spanish for all Hispanics/Latinos of the Diocese of Evansville, at Our Lady of Hope Parish in Washington. Being that our Holy Father proclaimed this year to be the Year of St. Joseph to commemorate the 150th anniversary of the declaration of St. Joseph as a Patron of the Universal Church, our theme for the Encuentro this year was "St. Joseph Protector of the Redeemer and my Family" Our Speaker was Franciscan Father Agustino Torres, a Priest of the Franciscan Friars of the Renewal from the Bronx, New York.
Father Agustino focused each one of his talks on one of the four dreams that Joseph had as mentioned in the Gospel of Matthew. Father urged us to learn to listen to the many ways in which our Lord may be speaking to us, calling us home to his Church and his sacraments, and to be able to do God's will just as Joseph did. He also reminded us of our own call to be saints, even if we are just "ordinary" people just as St. Joseph was, and how we can only do that by learning to hear God's voice and carry out God's will for our life, without losing hope and trusting God.
More than 200 people from the Hispanic communities of the diocese who attended truly enjoyed being able to come together after a year that has been so hard for everyone due to the pandemic. It was truly a blessing to share with others from different parishes and to celebrate the Year of Saint Joseph in such a special way. This was an amazing event, because it was really a celebration, with music and people dancing, you could see the joy in people's smiles.
The event was such a success due to our wonderful OHM staff: Kande Batz, Claudia Hernandez, Father Crispine Adongo, Sandra Bazaldua and our other amazing priests – Father Homero Rodriguez for being the Master of Ceremonies, Father Juan Ramirez and Father Paul Ferguson for being our Hosts, and Father Martin Estrada for donating a statue of St. Joseph that was raffled. We also thanks the members of the different ministries at Our Lady of Hope and many generous members of the community in Washington.
El Mazatlán Mexican Restaurant donated the food, Los Gallos Bakery donated a lot of Mexican bread, and Cherry Ghost Coffee House donated the coffee. We Thank them for feeding the hungry at our Encuentro de FE 2021. May our Lord continue to bless your generous hearts. Thank you all for the gifts of your time and talents.
The Office of Hispanic Ministry is already planning Encuentro de Fe, 2022. God willing, it will be in October 2022 at Holy Rosary Parish in Evansville, and our theme will be linked to the Eucharistic Revival. I am already looking forward to it.
BY BERTHA MELENDRES
La Oficina del Ministerio Hispano
PORQUE SOY CATOLICO!
La Oficina del Ministerio Hispano celebró el cuarto Encuentro de Fe anual, el 16 de octubre del 2021, un retiro de medio día en español para todos los hispanos / latinos de la Diócesis de Evansville, en la Parroquia de Nuestra Señora de la Esperanza en Washington. Siendo que el Santo Padre proclamó este año como el año de San José para conmemorar el 150 aniversario de la declaración de San José como Patrón de la Iglesia Universal. Nuestro lema para el Encuentro este año fue "San José Protector del Redentor y de mi Familia" Nuestro orador fue el Reverendo Agustino Torres CFR un Sacerdote de los Frailes Franciscanos de la Renovación del Bronx en Nueva York.
El Padre Agustino centró cada una de sus charlas en uno de los cuatro sueños que José tuvo como se menciona en el Evangelio de San Mateo. El Padre nos invitó a aprender a escuchar las muchas maneras en que nuestro Señor puede estar hablándonos, llamándonos a casa, a su iglesia y sus sacramentos, y a ser capaces de hacer la voluntad de Dios tal como lo hizo José. También nos recordó nuestro propio llamado a ser santos, incluso si solo somos personas "ordinarias" como lo fue San José. Y cómo solo podemos hacerlo aprendiendo a escuchar la voz de Dios y llevar a cabo la voluntad de Dios para nuestra vida, sin perder la esperanza y confiando en Dios.
Más de 200 personas de las comunidades hispanas de toda la Diócesis que asistieron, realmente disfrutaron de poder reunirse después de un año que ha sido tan difícil para todos debido a la pandemia. Fue realmente una bendición compartir con otros de diferentes parroquias y celebrar el Año de San José de una manera tan especial. Este fue un evento increíble, porque fue realmente una celebración, con música y gente bailando, se podía ver la alegría en las sonrisas de la gente.
El evento fue un éxito gracias a nuestro maravilloso personal de OHM: Kande Batz, Claudia Hernández, el P. Crispine Adongo, Sandra Basaldúa y nuestros sacerdotes. El P. Homero Rodríguez por ser el Maestro de Ceremonias, el P. Juan Ramírez y el P. Paul Ferguson por ser nuestros Anfitriones y el P. Martín Estrada por donar una estatua de San José para la rifa. Los diferentes miembros de los ministerios en Nuestra Señora de la Esperanza y muchos miembros generosos de la comunidad en Washington. El Restaurante Mexicano El Mazatlán que donó la comida, La panadería Los Gallos que donó mucho pan mexicano y Cherry Ghost Coffee House que donó el café. Les agradecemos por alimentar a los hambrientos en nuestro "Encuentro de FE 2021" Que nuestro Señor continúe bendiciendo sus corazones generosos. Gracias a todos por el regalo de su tiempo y talentos.
La Oficina del Ministerio Hispano ya está planeando el "Encuentro de Fe, 2022". Si Dios quiere, será en octubre de 2022 en la parroquia del Santo Rosario en Evansville, y nuestro tema estará vinculado al Renacimiento Eucarístico. Ya estoy deseando que llegue.