By Megan Erbacher
The Message assistant editor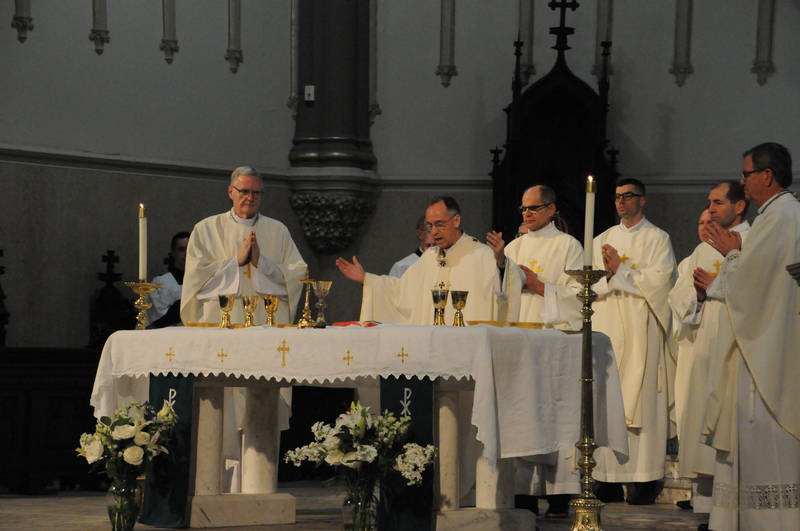 Holy Redeemer parishioner Lydia McCullough said many of her classmates don't realize the importance of being pro-life. As a pilgrim on the Jan. 23 Indiana State March for Life in Indianapolis, 16-year-old McCullough, a sophomore at Evansville's Central High School, hoped her absence from class might help her peers understand the significance of standing up for life.
"Them missing me (at school) today, maybe they will realize how important being pro-life is to me and consider really diving down and thinking more about it," she said.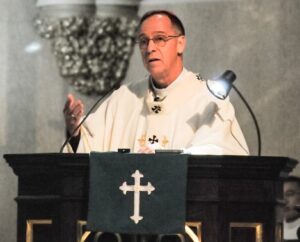 On Jan. 23, the anniversary of Roe v. Wade, about 120 high school students and adult chaperones from across the Diocese of Evansville marched in the 2023 Indiana March for Life. The day included Mass at St. John the Evangelist Catholic Church in downtown Indianapolis, followed by more than 1,100 pro-lifers marching about a mile from St. John to the steps on the south lawn of the Indiana Statehouse for a rally with multiple pro-life advocates.
Bishop Joseph M. Siegel told the Evansville pilgrims the purpose of the journey was to stand with thousands in witnessing to the Gospel of Life, which is God's teaching that every life is sacred, every life has dignity and must be respected from conception to natural death. This year's pilgrimage is different from the past, Bishop Siegel explained, not only because the Evansville group traveled to Indianapolis instead of Washington, D.C., but also because we are in a new period in the pro-life movement following the Dobbs Supreme Court decision that overturned Roe v. Wade, which had legalized abortion in our country for 50 years.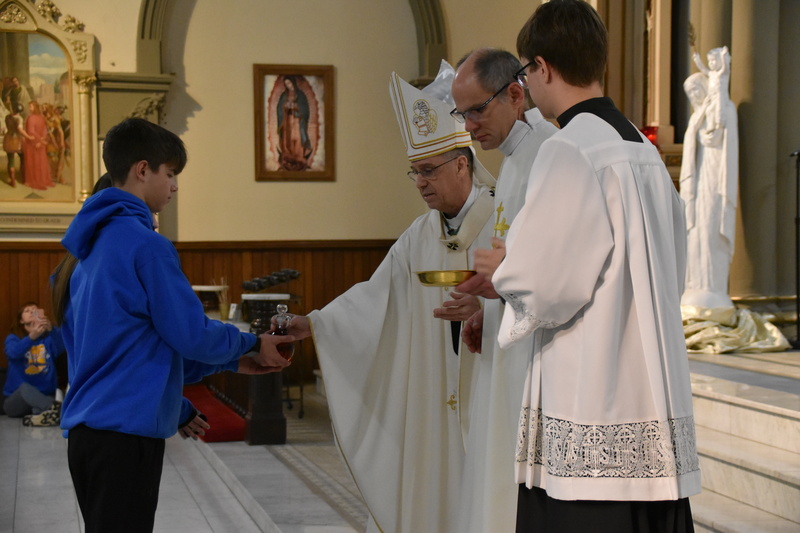 Bishop Siegel said our efforts are now focused on the state legislature and courts, working to ensure the protection of the unborn and care for their mothers throughout Indiana. Bishop Siegel stressed we must also continue to work to change hearts and minds of all, so abortion will become unthinkable and society will generously assist moms in crisis pregnancies.
Mater Dei High School sophomore Hannah Sammet, 16, joined the pilgrimage because she believes "all life should be honored and respected. I think people need to see that. I think it's very important to fight for life.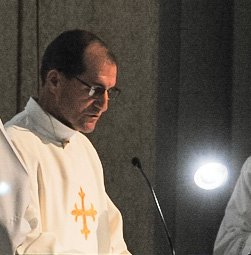 "It's important to educate people and to show other people who are also pro-life that we come in numbers," Sammet, a Holy Redeemer parishioner, said. 
Mass at St. John was celebrated by Archdiocese of Indianapolis Archbishop Charles C. Thompson, and concelebrants included Bishop Siegel; Diocese of Lafayette-in-Indiana Bishop Timothy L. Doherty; and Evansville priests Father Jason Gries and Father Garrett Braun. 
Evansville Deacon Dan Niemeier served as deacon, and he proclaimed the Gospel during Mass. Mater Dei student Mallory Kempf served as lector, and gift bearers were Mater Dei juniors Zach and Emma Schroeder.
During his homily, Archbishop Thompson said that despite the shift in the legal landscape, "the need for vigilance and perseverance in protection of life from the moment of conception to natural death, especially for the unborn, remains ever so essential."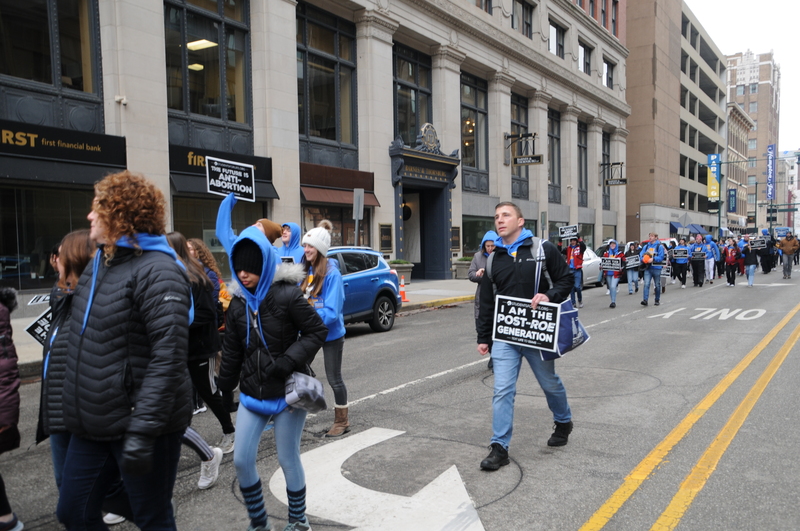 "As we strive to proclaim the sacredness of life and defend the dignity of every human person — including the unborn, the poor, the elderly, the sick, the immigrant, the refugee, the homeless — let us keep our eyes, ears, hearts and minds fixed on Jesus Christ," Archbishop Thompson said.
Diocese of Evansville Director of Youth and Young Adult Ministry Jeremy Goebel said our mission as Catholics is to pray for everyone, including those involved in the pro-life movement and for our state elected officials.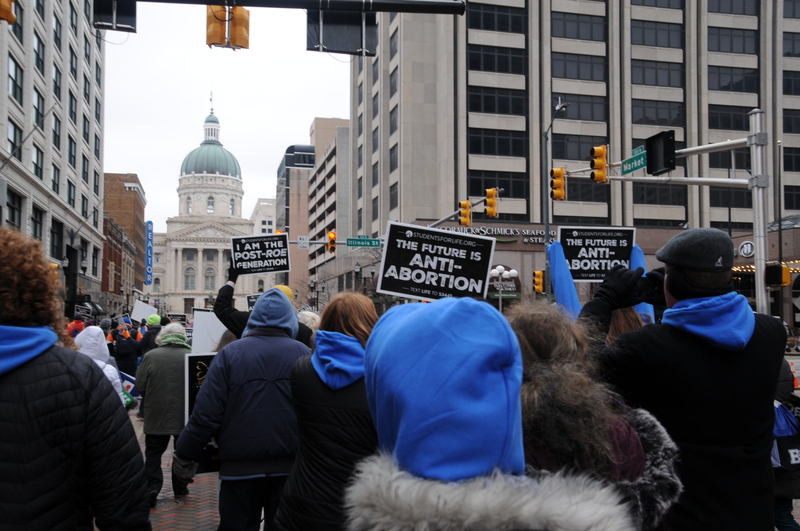 "We are the pro-life generation," Goebel said. "Today, we march as peaceful, prayerful and joyful witnesses to the Gospel of Life."
Father Jason, pastor of Holy Redeemer Parish in Evansville, said there are many ways to stand up for life, including joining pro-life groups, hosting a diaper drive for a local pregnancy center, participating in the 40 Days for Life campaign or volunteering for Wisdom Days.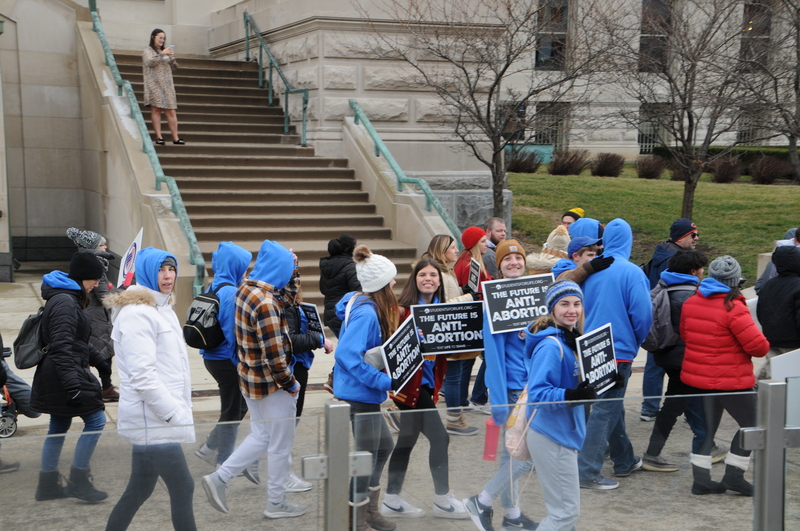 "If we are pro-life from conception to natural death, then we need to look at all areas, and that also includes those who are elderly. … It's also standing with those who are less fortunate than us, those who might be poor. … Maybe it's an opportunity to stand for those who are different than us, who have different abilities," Father Jason said.