By Victoria Arthur
Statehouse Correspondent for Indiana's Catholic Newspapers
A bipartisan measure with far-reaching support would offer a lifeline to those experiencing a mental-health crisis, and help address the crippling human and economic costs of untreated mental illness in Indiana.  
Backed by the governor's office and a growing coalition of Hoosiers, Senate Bill 1 would boost local implementation of the 988 national suicide-and-crisis hotline launched last year, and continue building an infrastructure to provide for the mental health needs of people in the most urgent situations.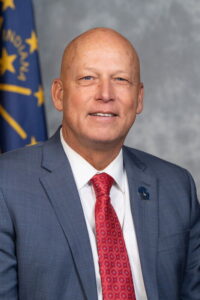 With untreated and undertreated mental illness costing Indiana an estimated $4 billion a year, the time is now to address these challenges, according to the bill's author, Sen. Michael Crider (R-Greenfield). As former director of disaster management and security at Hancock Regional Hospital in Greenfield, he has seen, first-hand, the pressing need for better mental-health services in Indiana.  
"In that role, I often watched individuals in mental-health crisis; and I often had to personally calm down situations in the emergency room," said Crider, who has a background in law enforcement. "This is an issue that captured my attention, and I knew there had to be improvement in that space. I firmly believe that if we can get help to people when they need it, they won't end up in our emergency rooms and in our county jails." 
Senate Bill 1 would allocate $30 million to build on the 988 Suicide-and-Crisis-Lifeline number introduced nationally in July; establish mobile crisis intervention teams that are trained to respond to mental health emergencies across Indiana's 92 counties; and fund additional community-based mental-health clinics statewide. Crider noted that, in 2020 and 2021 alone, more than 7,000 Hoosiers were lost to suicide and drug overdoses. 
In his 2023 State of the State address, Gov. Eric Holcomb noted that Indiana ranks 43rd in the nation for access to mental-health providers. Lawmakers recently heard a personal plea from Lieutenant Gov. Suzanne Crouch to help change that picture. 
"We know that one out of five Hoosiers struggle with mental illness or addiction, and my family is no exception," Crouch told members of the Senate appropriations committee Jan. 26 during a hearing on Senate Bill 1.  
Crouch, a lifelong resident of Evansville, said she was raised by a mother who suffered from depression and that her sister died by suicide in her early 20s. She added that her daughter was diagnosed with bipolar disorder and that, just months ago, she lost her brother to alcohol-related causes. 
"Hoosiers who inherit genes that predispose them to these conditions deserve an opportunity to be successful in life, and that's what Senate Bill 1 would provide," said Crouch, the founder and co-chair of the Indiana Mental Health Roundtable. 
A graduate of Evansville's Mater Dei High School, Crouch has stated on numerous occasions that her Catholic faith has always guided her service in public life. The Indiana Catholic Conference was among the numerous advocates for Senate Bill 1 testifying at the Jan. 26 committee hearing.
"The Church recognizes the great anguish of those who suffer from mental health challenges," said Alexander Mingus, associate director of the ICC, the public policy voice of the Catholic Church in Indiana. "And while the Church's spiritual care can, in some ways, provide a source of hope for those in despair, we recognize that we cannot do this alone – that qualified mental health services are of incredible value.
"We know firsthand, through the work of our diocesan Catholic Charities agencies, the great need for mental health services in our communities. Some of our agencies are trusted partners with behavioral-health clinics, especially in Southern and Central Indiana."
The Archdiocese of Indianapolis employs a number of licensed counselors and social workers who offer services to people with mental-illness and addiction issues. One example is a partnership with IU Health in Mooresville, where mental-health professionals employed by Catholic Charities counsel patients on-site based on their ability to pay.
David Bethuram, executive director of Catholic Charities Indianapolis, says that, with passage of Senate Bill 1, the Archdiocese and the other four Indiana Catholic dioceses could broaden their scope in offering mental-health services to individuals and families.
"What this bill does is put the right people together around the table and determine how we are going to provide mental-health services to the people who most need them," said Bethuram, who has a background in spiritual and pastoral care. 
In explaining the scope of what the Church is called upon to provide, he offers an analogy to a well-known parable. 
"What we do in Catholic Charities and mental health is that we are sometimes both the Good Samaritan and the innkeeper," said Bethuram, a member of Our Lady of the Greenwood Parish in Greenwood. "Sometimes we have to go above and beyond and ask, 'What other services and help do you need?' Right now, we don't have the capacity to help everyone. We would love to have additional therapists; but with that, we need additional funds." 
In addition to funding more mental-health professionals in clinical settings, Senate Bill 1 would establish and train crisis-response teams that include law enforcement professionals and other first responders. The need for such resources was brought into sharp focus last April in Indianapolis when Herman Whitfield, a 39-year-old pianist and composer, died at his parents' home after suffering a mental-health crisis and being tased by police.
During the committee meeting late last month at the Statehouse, lawmakers heard another dramatic example of a mental health crisis that ended in tragedy.
Jay Moser of Indianapolis described how his son, Adam, was killed by police outside his Florida home in 2021 following a frantic 911 call by his wife. One week shy of his 40th birthday, Adam Moser was a Navy veteran who had battled depression and alcohol-related issues, and was suicidal. 
"I don't blame the police; but I believe that, with training and a proper person there to care for a person in such distress, this would not have happened," said Moser, who has turned his grief into advocacy for better mental-health services. 
His daughter, Jodie Moser, also testified at the hearing and thanked Crider for bringing Senate Bill 1 forward. 
"This bill has the opportunity to not just change lives but save lives," she said. "Everyone in this state can benefit from this type of legislation, and we have the chance to not only help Hoosiers, but to be a model and an example for other states."
At press time, the Senate appropriations committee was scheduled to vote on the bill Feb. 2. 
To follow priority legislation of the ICC, visit www.indianacc.org. This website includes access to I-CAN, the Indiana Catholic Action Network, which offers the Church's position on key issues. Those who sign up for I-CAN receive alerts on legislation moving forward and ways to contact their elected representatives.