By Megan Erbacher
The Message assistant editor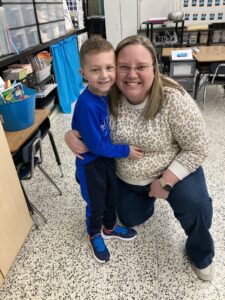 Even on days when Mason Mileham wasn't feeling well, he would still walk into his kindergarten classroom at St. Matthew School in Mount Vernon with a smile on his face, ready to work, according to his teacher, Devon Duckworth. 
"He always wanted to start the day with our schedule," she said. "And when I was done putting it on the board, he would always say, 'That's not that much!'"
On Jan. 30, St. Matthew held a special presentation in memory of Mason, who passed away in April 2022 after a courageous battle against cancer. A donation of more than $4,000 was made to Riley Children's Hospital in Mason's name, which sponsored a red wagon and a plaque in his honor. The red wagons are used to transport kids to appointments around the hospital.
The money was raised at the 2022 St. Matthew School Benefit Auction by auctioning off the kindergarten class project, a contemporary textured canvas butterfly art, which was the top seller of the event.
Mason's parents, Taylor and Ellen Mileham, were present for the Jan. 30 ceremony in the church, as well as his extended family and current St. Matthew's students and staff. Everyone was dressed in t-shirts with a gold ribbon promoting the fight against childhood cancer.
Mason's parents said they are very excited about the donation to Riley's.
"The wagon represents more than just a ride to an appointment for us," Ellen Mileham said. "It's a wagon full of our suitcases, blankets, pillows, groceries and other belongings to spend several nights and weeks in the hospital."
Susan Miles, Riley's kids caring and sharing officer, presented a license plate, similar to what is on the red wagon, to the St. Matthew community.
"We are all here today to celebrate your wonderful generosity and thank you for your very giving hearts in not only thinking about others but in putting into action all that you have," Miles said.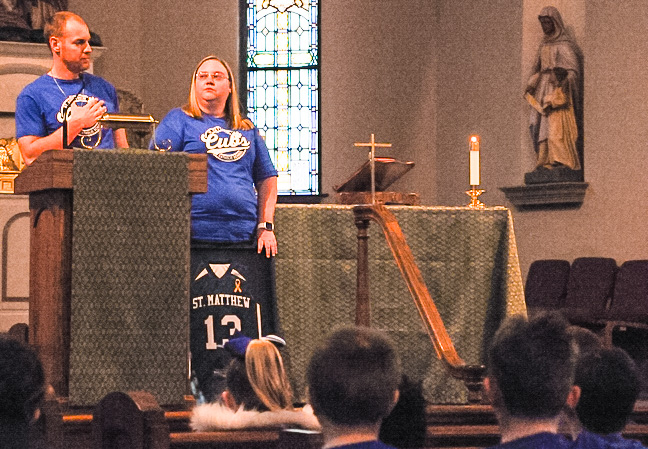 Dustin Boyer, who spoke on behalf of the St. Matthew PTO, said during this past basketball season, Mason's classmates and teammates were fighters, just like Mason was a fighter. Boyer said when the kids play, they will wear a gold ribbon on their chest to remind them how much they're going to fight for time on the court, or on the field, or in the classroom and in the community. 
"I'm so proud of the effort of the team this year," he said.
Boyer and Duckworth presented Taylor and Ellen Mileham with a framed No. 13 St. Matthew School jersey.
"Love you guys," Boyer said to them. "And I love this close-knit community. When a tragedy hits … it brings us all closer."
Another framed No. 13 jersey now hangs below the scoreboard in St. Matthew's gymnasium. It has a plaque that reads: "Forever our teammate Mason Mileham."
Sports were Mason's passion, Ellen said. He enjoyed football, basketball and wrestling. Mason played on St. Philip School's basketball team last year because St. Matthew's didn't have a team. This year was the first year St. Matthew's had a basketball team.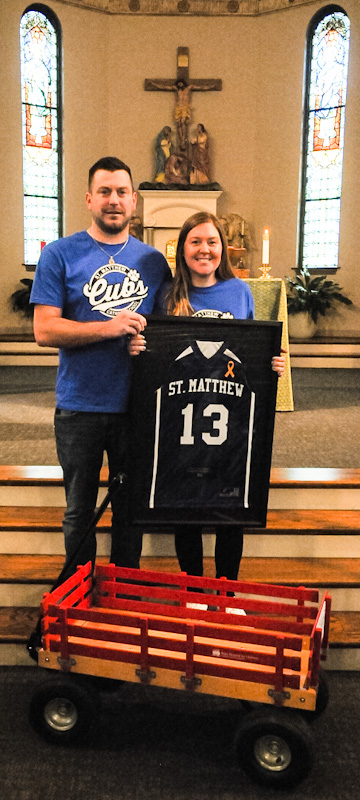 "Our favorite memories of Mason are watching him play sports," Ellen said. "He wanted to be an Indianapolis Colt or an Indiana Pacer! He loved a brand new jersey, so I have no doubt he would be so happy to have his jersey hanging in the gym!"
Ellen said she and Taylor are "so thankful to still be a part of this amazing school.
"Mason absolutely loved St. Matthew School. His teachers and friends gave him a wonderful experience. … He never wanted to miss a day of school. Being an only child, he very much enjoyed going to school to hang out with his friends and Miss Duckworth!
"Although it was not long, he will live on in his school forever. A beautiful legacy he left here on earth. Thank you to everyone who made today so special for us."
Duckworth was Mason's kindergarten teacher during the 2021-22 school year. She said he was the sweetest kid who really loved school.
"His mom said that even when he was stuck in the hospital, or at home sick, he was always asking for me to send him homework," she said. "I've never seen a kid who was so happy to get homework!"
Duckworth said Mason is still a big part of St. Matthew's family, and she keeps a picture of him by her desk to remember his sweet smile.
"We talk about him all the time," she said. "His classmates had basketball jerseys made with his name on them and dedicated their season to him. The kids know that they have a special angel in heaven watching over them."