By Megan Erbacher
The Message assistant editor
The C.K. Newsome Center in downtown Evansville welcomed about 150 people to its front lawn June 25 to encourage a "Moment to Movement" call to action for racial justice in the community. The group gathered, with many wearing face masks, on the one-month anniversary of the death of George Floyd while in police custody in Minneapolis.
The "Moment to Movement" event began and ended with live music from Watez Phelps and Alexandria Holman, and it included time for reflection, speeches and a call to action.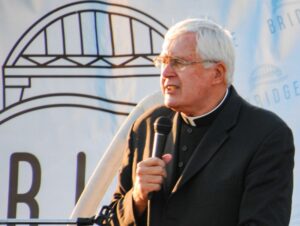 Many community leaders, business and government officials, and clergy were present, including Diocese of Evansville Bishop Joseph M. Siegel, and retired diocesan priests Father Jim Sauer, Father Ted Tempel and Father Steve Lintzenich.
Floyd's death, which was captured on video, sparked national protests including some rallies in Evansville.
"A diverse coalition of people — all races, ethnicities and ages — have taken part in this expression of pain and anger," said Rev. Joseph Easley, BRIDGE co-convener and retired United Methodist Church pastor.
The event was co-sponsored by BRIDGE (Building Respect and Integrity in Diverse Greater Evansville) and CAJE (Congregations Acting for Justice and Empowerment). The goal, organizers said, is to "funnel these emotions now into action for long-term change."
Speakers included Easley; Ange Humphrey, pastor of Fresh Air Community of Faith; Ted McCreary, who established SIMA, a program of black men tutoring kids in south-side schools; and Rev. Veltri Taylor, pastor of First Ebenezer Baptist Church.
Father Steve also spoke during the event and said, "It is time for change." He said everyone needs to "continue the movement in peaceful dialog and action.
"The events of the last month across the nation and the world challenge all of us to stand and make a renewed commitment for justice and peace for all," he added. "Now is the time to eradicate systemic and institutional racism imbedded in our lives."
Evansville's BRIDGE was established four years ago with the vision of "a community in which all people are accepted and treated with dignity." The group's mission states: "Believing that bridges are better than walls, BRIDGE seeks to foster positive relationships, understanding and dialogue across the diverse Evansville community. Partnering with all race, ethnic and faith groups, BRIDGE will create opportunities for engagement in an atmosphere of respect and openness."