The Diocese of Evansville Office of Catechesis is introducing readers to Catholics from across our 12 counties for whom sharing the beauty of the Catholic Faith is a joy.
This month, we meet Tim and Dee Ann Bell of Jasper.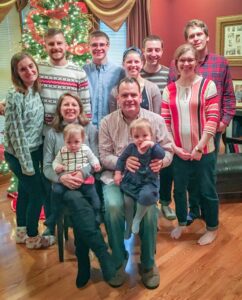 How and where do you experience God?
Everywhere, especially in nature and people. How God created everything and how all that God created works together is truly amazing. We also experience God in everyday people through their acts of kindness, their relationships, and interactions with us and among themselves.
Why is your faith important to you?
Our Catholic faith is important to us because it is the basis for everything we do in our daily lives. At work, with friends and family, and out in the community, we try our best to live our faith and help others to see how faith is integrated in all that we and they do.
How do you nurture your faith life?
We nurture our faith life by going to Mass, spending time with the blessed sacrament in adoration, reading Catholic books, listening to Catholic CD's and teaching religious education to middle school youth. It is amazing to hear students' questions and thoughts on their faith and religion. We have such a beautiful faith, it is a constant want for more.
How does your Catholic faith shape the way you live?
Our faith guides our daily decisions and those decisions are made easier by living within the laws and guidelines set forth by the Church. Life becomes more full of meaning and purpose when we follow 2000+ years of good advice. Not that life is easy, but having the Church's guidelines makes decision-making easier when problems do come along.
How do you share your faith with others?
When we are in public we are not afraid to pray before meals or mention God's hand in daily activities. If you can see God in others, it is hard not to mention God's role and plan for each of us. As we mentioned before, teaching religious education allows us to share our faith. Sharing our faith with our family is most important. During celebrations, meals, get-togethers, etc. we are constantly reminded that God lives within each one of us and we let Him be a part of everything we do.
Dee Ann and Tim Bell were born and raised in Jasper. They are lifelong members of Saint Joseph Parish. They are parents of four children and two (soon-to-be four) granddaughters. Dee Ann has been a Vacation Bible School volunteer for many years, a Catechist for eighth grade for many years and a member of the Education Commission. Tim recently joined her as a Catechist and serves on the restoration committee for St. Joseph. Both have made Cursillos, CRHPs and have participated in Catholic Heart Work Camps. They organize the annual Seder meal and also do adoration in a local chapel. Both are members of the board for the Mother of God (Geode) Grotto in Jasper. See a feature on the grotto in our Local News section.