By Tim Lilley
The Message editor
Bishop Joseph M. Siegel celebrated a Jan. 25 Mass of Christian Burial for Father Jim Endress, retired priest of the Diocese of Evansville, at Holy Rosary Parish in Evansville. More than 20 priests – all socially distanced – attended and concelebrated. Father Endress, 86, died Jan. 20 in Evansville.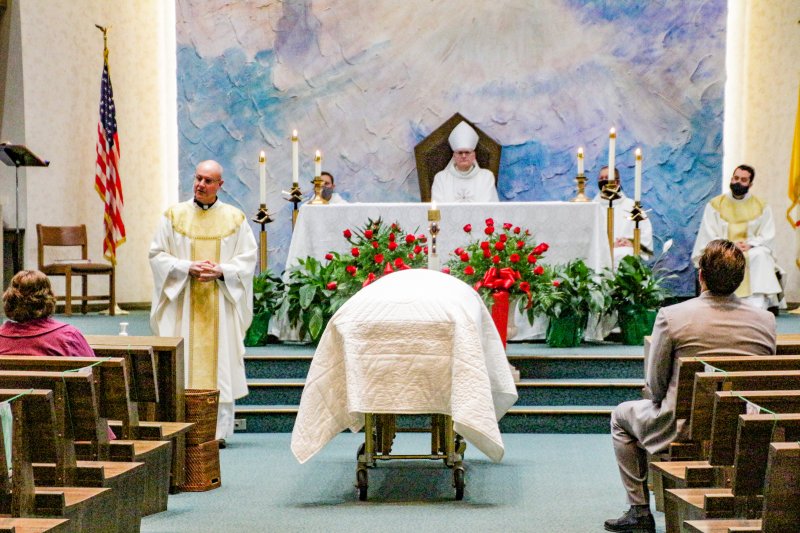 During the Mass, Father Jim's family and the diocesan family celebrated the life of a remarkable man. Father Bernie Etienne, Vicar General of the diocese and pastor of Holy Rosary, served as homilist. He characterized Father Jim beautifully.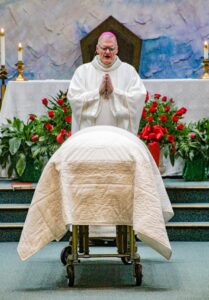 "He was a priest's priest," Father Bernie said. "His preaching and pastoral care could reach people."
Father Jim suffered an accidental-but-severe spinal injury in 1981 while serving as a U.S. Army Chaplain at Fort Campbell, Kentucky; it left him a quadriplegic. "He refused to let his disability get in the way of his ministry," Father Bernie said.
After studying theology and being ordained a priest in Innsbruck Austria, in the early 1960s, Father Jim returned to the Diocese of Evansville and began his pastoral ministry – first at Holy Trinity Parish in Evansville and then, for five years, at St. John the Evangelist Parish in Loogootee. He also taught school there.
In 1965, Father Jim joined the U.S. Army as a Chaplain and served the next 16 years at locations around the globe. He also was trained as a paratrooper and completed 83 jumps. During the late 60s, when he served in Vietnam, Father Jim earned multiple Bronze Stars for heroism under fire.
"He fought a different war (in Vietnam and elsewhere)," said his nephew, Tom Endress, during a brief eulogy at the end of Mass. "He provided God's hope and support to the soldiers." He also spoke of Father Jim's "courage, resolve and energy.
"He possessed an iron will and the heart of a warrior," Tom said.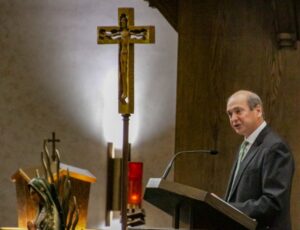 Another nephew, Dick Endress of the Chicago area, wrote the moving eulogy but was unable to travel to Evansville. At Dick's request, Tom filled in. He and Father Bernie (i.e. those who spoke on behalf of Father Jim's family and his diocesan family) agreed that he was frugal when it came to his life and his needs, but tremendously generous toward others.
After his injury and the rehabilitation that followed, Father Jim was discharged from the Army with the rank of Lieutenant Colonel. He returned to Evansville and got involved in a variety of ministries – among them, Cursillo. Along the way during his military service, he learned Spanish.
"I can't imagine the number of lives changed by his presence at Cursillo retreats," Father Bernie said. "He gave to that ministry, and it gave back to him." He also talked about Father Jim's "faithful witness of service to the Lord."
Tom Endress touched upon something that clearly explained that witness, saying, "He never considered anyone beyond redemption."
Both men discussed Father Jim's preference for privacy and humility, saying that it wasn't until the past few years that he would say much at all about his military service – and even then, he really wouldn't say much.
Both also agreed that Father Jim remained fiercely independent, always choosing to do as much for himself as possible. Tom recalled the prognosis Father Jim received not long after his paralyzing injury – the one that reported he would always need help (and, as a result, he couldn't live alone) and could never drive again.
Father Jim lived many years on his own, Tom recalled, adding, "and he drove all over the place in a van that was equipped with special controls."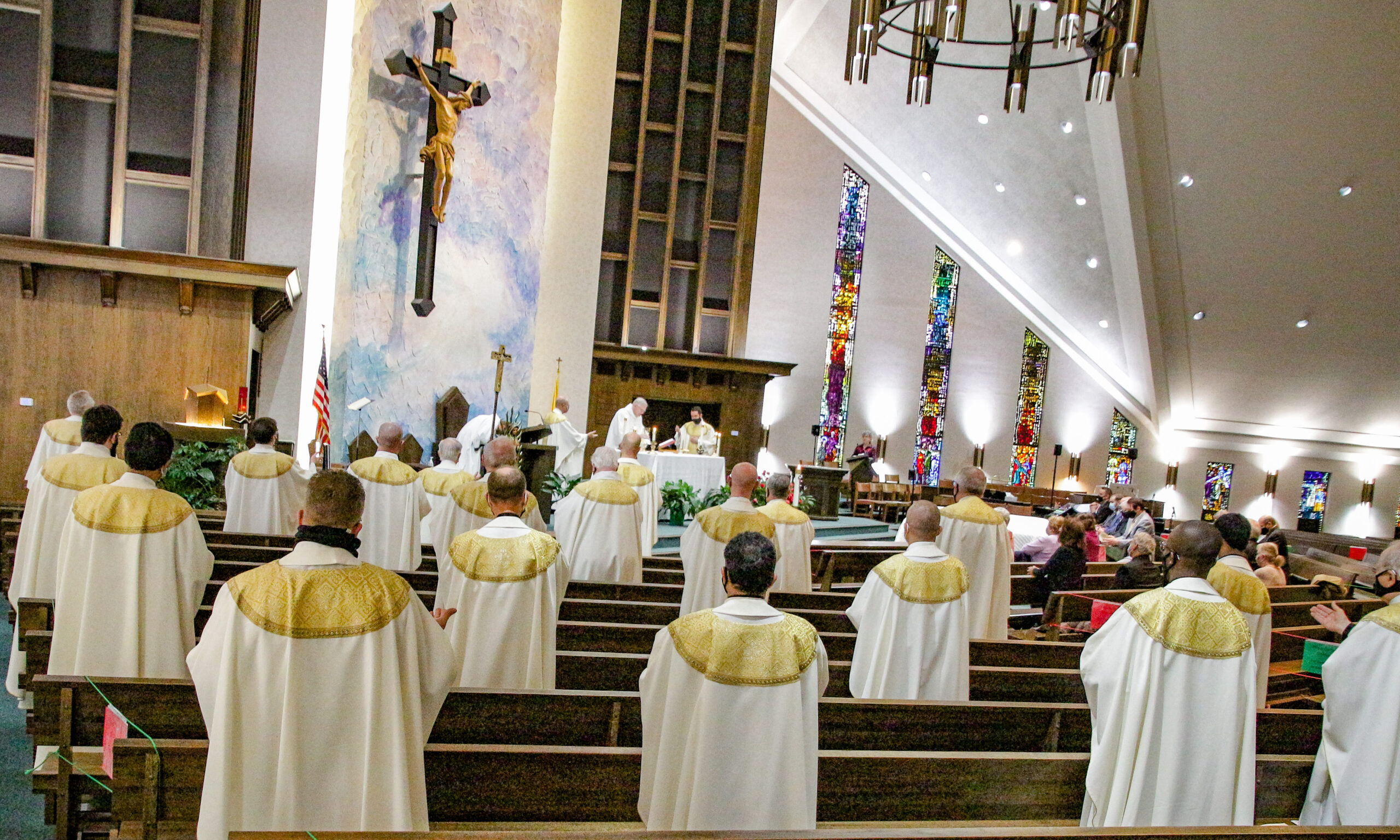 His nephew explained that Father Jim revered being a member of a large and loving family, noting that he left behind 16 nieces and nephews, 26 great-nieces and nephews, and 32 great-great-nieces and nephews. "He relished his role as patriarch of the family," Tom said, referring to Father Jim as "a family treasure."
Father Bernie explained that Father Jim had personally picked the readings for his Mass of Christian Burial – Job 19: 1, 23-27; Romans 5: 5-11; and Luke 12: 35-40. "I can't help but believe he is speaking to us through those readings," he said, noting Father Jim's choice of Job as the Old Testament book to be used for the first reading.
"Job had everything, and he lost it all," he said, "but he held strong to his faith."
In concluding the eulogy, Tom said that Father Jim hadn't just remembered where he came from. "He never forgot where he was going.
"May God speed your way to eternal life."