Special to The Message
Reverend James Richard Endress, 86, retired priest of the Diocese of Evansville, died Jan. 20 in Evansville. He was born Oct. 12, 1934, in Evansville, the youngest of six children of Edmund Endress and Emma Rastatter. He attended St. Benedict Grade School in Evansville. Raised in a very religious family, Jim then decided to become a Catholic priest. After eight years of study at St. Meinrad Seminary in Indiana, and four years at the Collegium Canisianum in Innsbruck, Austria, Jim was ordained in Innsbruck on April 3, 1960. He spent the next five years as a parish priest and high school teacher in Loogootee.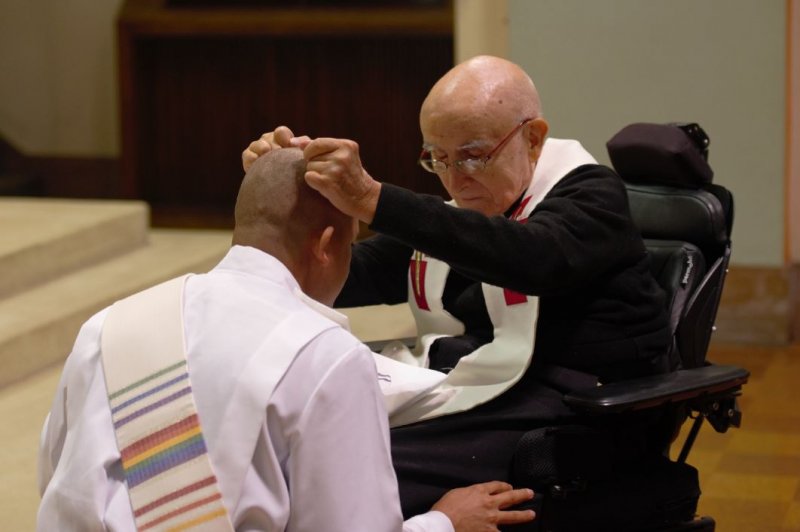 In 1965, Father Jim volunteered to serve as a chaplain with the U.S. Army. He says he was influenced to make this decision after talking with some of his former students returning from Vietnam. Father Jim spent 14 months with the 7th Infantry Division Artillery in Pobwani, Korea. In 1968 he was assigned to the 82nd Airborne where he was trained as a paratrooper, completing 83 jumps. In 1969, Father Jim was sent as a chaplain to Vietnam. He spent six months near Saigon, often accompanying platoons on combat missions. Next came six months with the 5th Special Forces operating in remote areas in the northern half of South Vietnam. During his stint in Vietnam, Father Jim received multiple Bronze Stars for heroism under fire.

In his later military career, Father Jim was assigned to several military posts in the United States. He earned a degree in Family Counseling from Fordham University. He also learned sufficient Spanish so that he could minister to the Spanish-speaking community. From 1977-1980, Father Jim was assigned to the Office of the Chaplain, U.S. Army Europe, headquartered in Heidelberg, Germany. In 1978, he was promoted to the rank of Lieutenant Colonel.

On April 13, 1981, Father Jim was involved in a bicycle/car accident at Ft. Campbell, Kentucky, that left him a quadriplegic for the rest of his life. After months of intensive rehab, Father Jim returned to Evansville and, in November 1981, he was discharged from the Army. Father Jim adapted to his new limitations with characteristic courage and resolve. He assumed a number of responsibilities within the Diocese of Evansville and provided numerous ministerial services to schools, parishes and religious communities.

Father Jim was a person of great erudition, well-read on an amazing variety of topics. He had a dry wit, a legendary frugality, a self-effacing modesty and an iron will. He had a great love of family, reveled in his many extended family relationships, and never missed a family celebration that was within his ability to attend. Most of all, Father Jim was a man of great faith and unimpeachable moral character, a person who never swerved from the simple truths and undiluted standards of conduct with which he was raised. Of him, it can be truly said: "Well done, good and faithful servant ... Enter now into the joy of your Master!" (Matthew 25:23).

Father Jim was preceded in death by his parents, Edmund and Emma Rastatter Endress; his brothers, Eugene Endress, Rev. Ralph Endress and Raymond Endress; his sisters, Marjorie Burns and Mary Minielli; and two nephews, Stephen and John Endress.
Survivors include nieces and nephews Richard (Josie) Endress, Thom (Cindy) Endress, Janet (Robert) Squires, Carol Burns, Constance (James) Sutton, Daniel Burns, James (Donna) Burns, Jeffrey (Debbe) Burns, Sharon Burns, David (Linda) Burns, Michael Minielli, Barbara (Todd) Visser, Susan (Ross) Delay, Thomas Minielli; 26 great-nieces and nephews and 32 great-great-nieces and nephews.

Holy Rosary Parish in Evansville hosted a Jan. 24 Vigil service and a Jan. 25 Mass of Christian Burial. Bishop Joseph M. Siegel celebrated the Mass, and priests of the Diocese of Evansville concelebrated. Interment followed at St. Joseph Cemetery in Evansville.
Please keep Father Jim and his family in your prayers.
Memorial contributions may be made to Holy Rosary Catholic Church, 1303 S. Green River Rd., Evansville, IN 47715; Catholic Education Foundation, 520 S. Bennighof Ave., Evansville, IN 47714 or Catholic Charities, 2111 Stringtown Rd., Evansville, IN 47711.